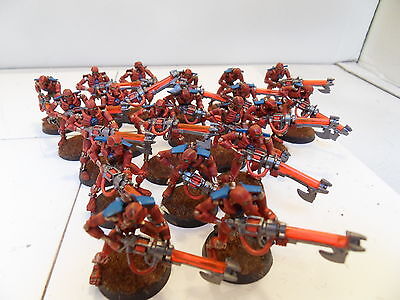 Add a caption
These were painted as a comission. View AB Studios-uk on Facebook for more photos
Click to edit caption
So your child wants to play Warhammer....
Your child comes back from school or a friends house and declares that they want to play Warhammer !. Their friends have it and they want to join in.
As parents we want our children to engage in hobbies where there might be some learning along the way so they develop good habits and are able to socialise with others. Perhaps something with maths, english, reading, art.
Well warhammer and wargaming generally has all of this and more.
Warhammer 40,000 (known as 40k) being the most popular. It is the Science fiction version set in a distant future where the future of the Human race is constantly under threat and so battles are being constantly fought.
BUT..... it can be expensive to get started and not all of our children and young people will be suited to it.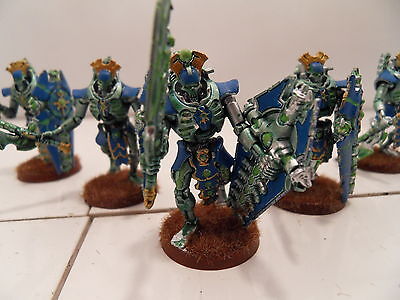 Who plays Warhammer ?
Warhammer is mainly an all age male hobby. There is no getting away from it. Not a sexist comment. Just the way it is.
There are Female gamers but they are way fewer in number than the boys.
The UK is covered in gaming clubs who will have a facebook page or website for you to visit and help find them.
Lots of schools have a Warhammer / Wargames club. Schools understand the benefits of this hobby to the education of young people. Especially when it comes to getting boys reading, doing math and arts and crafts. Things they will end up doing voluntarily as part of the hobby (just don't point that out to them !).
So, where to start..........................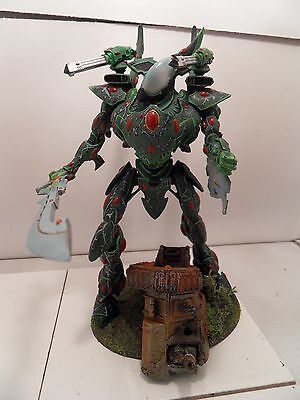 Add a caption
Eldar Wraith Knight. Currently Residing in New Zealand.
Click to edit caption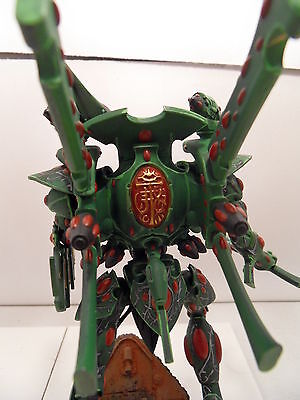 Don't get mugged.......
If ,like me, you got back into the hobby later in life you may have been one the many ,like me, who got mugged at a Games Workshop Store.
The stores are great, the staff are friendly and well trained, the display models are nicely painted and well displayed.
WATCH OUT !..... They make their money from unsuspecting parents who get dragged into the store by enthusiastic youngsters (usually the parent whose job it is to distract the children while waiting for your partner to get the shopping).
Getting started from a Store can cost you upwards of £300.00.
Thats a lot of money for something which could end up in the cupboard gathering dust when your child decides they don't have the time or patience to make and paint these models.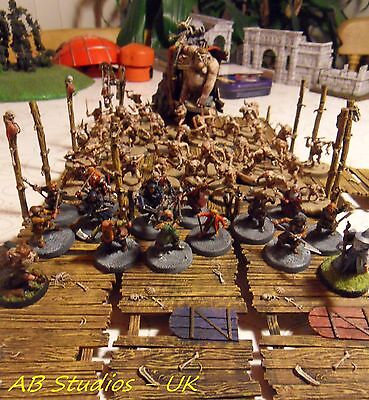 Add a caption
A Hobbit comission. Sold to an Australian.
Click to edit caption
What will I get from the store?
I am an ebay seller and a comission artist so I am going to be biased.
Please excuse that about this article. Your stuff is not going to look like the ones in the store or like my comission painted stuff (in the photos) first go.
I have been doing this for years, have a vast paint collection and dozens of brushes and techniques I have picked up along the way.
When you open a box of new games workshop product you will find a lot of grey plastic, limited instructions and fiddly models to make.
This all has to be trimmed out and glued together.
You will find the enthusiasm drops rapidly if your child was simply struck by the 'OOh Shiny' factor in store. If they are under 13 I would also advise a parent sits somewhere nearby to offer assistance or spend more time in store so the staff can assist with construction.
Plastic glues have solvents in and should only be used in a well aired area.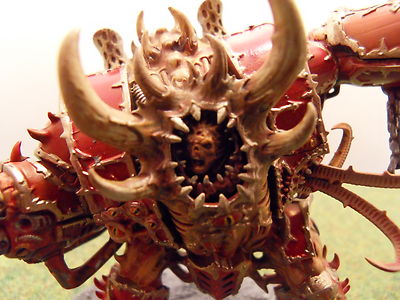 Add a caption
This ugly character is from the Games Workshop Dark Vengeance set
Click to edit caption
What are the alternatives ?
If you are going to buy from the store buy a starter set.
Currently - Isle of blood for warhammer fantasty, The Unexpected journey pack for Lord of the Rings / The Hobbit and Dark Vengeance for Warhammer 40,000.
These sets feature push fit models so you dont need the glue (but you might want some later so bits dont fall off and get lost). You also get everything you need to get started with a basic game including a mini rule book.
The other option is to buy used from Ebay. There are a lot of us selling our stuff here and prices range wildly.
You are also very likely to see that nice shiny set you just paid full retail for being offered at a great discount online.
Warhammer 40k is a complex game. But with practice the rules become clearer. There are gaming clubs all over the country and nothing brings a smile to a gamers face more quickly than sharing their passion / hobby whilst helping a newbie get started.
Do remember that Warhammer / Games Workshop is not the only games system out there. Just the most visible one. There are loads of other game systems which are simpler and cheaper. However, GW's Warhammer range remains one of the top sellers.
Spend some time researching which army best suits your child. Talk to some of the gamers in the stores and clubs or look the armies up on the internet. There is loads of information and helpful articles out there. Gaming is a worldwide friendly community who, in the main, like to share their hobby with others.
Some armies are more complicated to play and / or Paint. Some have small powerful units and some are hordes who overcome the opposition with sheer numbers. There are insectoid species, humans and humanoids. So, some of the choice will be an aesthetic one.
Once you have chosen an army have a good look on Ebay or have a chat with gamers at your local club (There will always be someone wanting to change or trade armies). You should be able to get a decent size starter set for less than £100.00. This should come with an army guide book (known as a codex) a case and some dice. Do an advanced search for ones which have sold to get a feel for the right price and don't forget to check the sellers rating or even contact them to discuss your requirements and ensure that what they are selling is what you are after.
If you are patient you should find yourself with a a fully painted army, rule book, transport case and even paints.
Please remember that painting standards vary from just dipped in a pot of paint to professional / display.
Don't be afraid to ask for more photos if you are not sure.
In most cases ,as a minimum, the army should be built already or you can ask the seller to build for you and even spray a base coat on them so they are ready to paint (for a small supplement).
You can even ask some, like me, to paint the models to a set standard so they arrive ready to play out of the box. There is a cost associated with this but it can be worth it if it means that models actually get used.
If you decide to bid rather than Buy it now make sure you set a limit and stick to it.
I see lots of people paying higher than full retail prices because they got caught up in the moment.
Table top war gaming is a lot of fun and very sociable. It will get your child away from their electronic games (and probably you as well) out of the house and socialising with other gamers.
It is a VERY social hobby.
Always remind your child(ren) (and remember yourself) that the number one rule in Wargames is HAVE FUN !. They are games after all.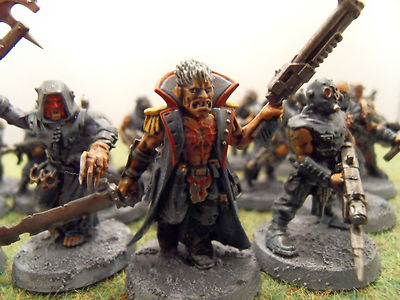 More information.......
If this article has raised questions for you or you would like to discuss your requirements please get in touch with me via the Ebay system (abstudios-uk) or find me on Facebook - AB Studios-uk