Professional High intensity discharge HID xenon flashlight torch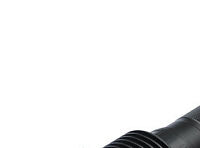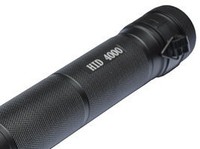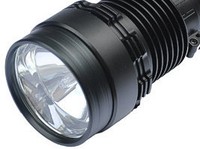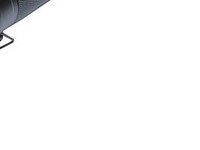 High intensity Discharge (HID) is a new type of lighting technology that's primarily different from the conventional halogen bulbs that use a heated tungsten filament. Unlike Halogen lamps, High-Intensity-Discharge (HID) lamps don't have a filament but create light by the arc between two electrodes. The arc activates the Xenon, which in turn ignites the metal halide. The light produced by an HID Xenon lighting system is greater than a standard halogen bulb and with less power consumption. HID Xenon lighting systems appear as a bright white beam which resembles natural daylight. The bright white beam offers greater visibility and is now being used on modern motor vehicles. In an HID Xenon lighting system, the voltage between the two electrodes rises firstly from 12V to 23000V and keeps stable at 8000V by using the Xenon HID ballasts system. Due to the ultra high voltage, the Xenon gas ionizes and a super-bright beam is produced, whose colour temperature is up to 12000K. The HID Xenon lighting is much more economic, more stable and much brighter than any conventional lighting.
Buying an HID torch
Unfortunately, there are some unscrupulous sellers selling these torches as 3000 - 4500 lumens when in fact they are low quality 2000 Lumen torches from China or Hong Kong. It is not easy to tell what you are buying but a good quality high power torch of around 3000 - 4000 Lumens selling for much less than about £100 ($180) would be suspect as it is too close to the trade price. It is also interesting to know that the most powerful HID torch available is 4000 lumens!
Also remember: If you buy a torch from China \ Hong Kong and it becomes faulty or you are not happy, the return shipping cost will be very high!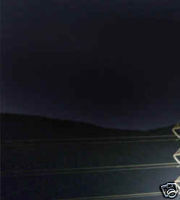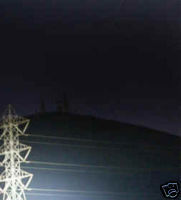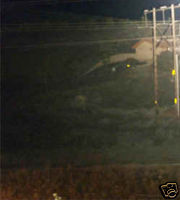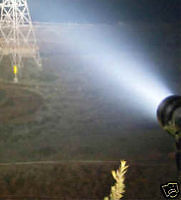 specifications for the 4000 Lumens model:
Bulb type: PHILIPS Burner, GE Burner, Korea Burner
Power and voltage: Hi: 50W/12V, Low: 38W/12V
Lumen: Hi: 4000LM, Low: 2500LM
Continual illuminate time: Hi: 80min, Low: 100min
Bright color temperature: 6000K (4300K, 5000K, 8000K, 10000K)
Irradiation distance: =1KM
Bulb life span: >3000hrs
Light starting time: =1 second to start =6 seconds to full brightness
Optical efficiency: 70LM/W
Reflector: High Efficiency, Aluminum alloy
Glass lens: High temp toughened quartz glass lens
HID flashlight ballast input voltage: 9~16V
HID flashlight ballast working voltage: 12.6V
HID flashlight ballast working current: 3.2A
HID flashlight ballast starting current: 8A max
HID flashlight ballast output voltage: 85V normal (23KV temporary starting-up max)
Battery type: SANYO ICR18650 Lithium Cell / 3X2 / 4400mAH
Battery setup style: Cartridge-style (enabling easy swap)
Battery life span: >500 times
Battery pack weight: 400G±20G
Backup light: 1W LED built-in battery pack
Dimension: L: 300mm, Head:D81m, Torch: D46mm
Material: Aerospace-Grade Aluminum alloy (6061 T6) -
Surface treatment: Flat silver Type III Hard Anodized Finish
Flashlight Color: Silver or Black
Head running temperature: 80°C max
weight: 840G±20G
Battery AC charger input: 100~240VAC 50/60Hz 0.8A max
Battery charger output: 12.6V±0.1V DC, 1.8A
Charging time: About 4 hrs
Starting environment temperature: 0°C ~ +50°C
Working environment temperature: -20°C ~ +50°C
I hope you found this guide useful and if so, please vote for it.