As a Real Madrid fan I always want to make sure when i purchase an item as authentic i expect it to be. These are the ways to tell that your real madrid jersey, is authentic.
Real Madrid is a proud club and being sponsored by adidas makes it easier to identify the fakes. All authentic adidas apparel in football will have the normal inner tags plus the smaller tag which has the date of manufacturer on the first line example if it is a 05/06 season jersey then the jersey will have been made in 2005 therefore the date of manufacture will be sometime in 2005 as seen in first picture, and the 6 digit code on the 2nd line. This code is a unque code to that team jersey and will match up with the 6 digit code on the barcode tags of the jersey as seen in pics.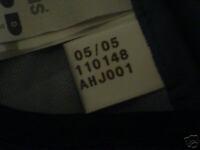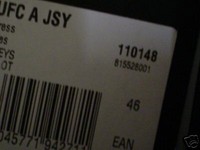 Just because the seller has tags of real madrid and adidas on the jersey dont believe it is authentic. These days it is very easy to maunfacturer a adidas tag or a real madrid. Get a photo of the back of the tags and they should have the barcode stickers which state the name of team,whether it is a home or away jersey,short sleeve or long sleeve, size and colour. 95 percent of authentic real madrid jerseys will also have their own real madrid light blue sticker barcode which is placed underneath the adidas barcode sticker with producto oficial writen across the bottom as seen in pics.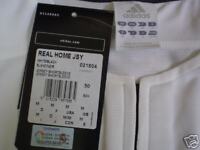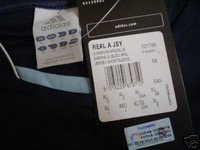 These are the main things to ask for when purchasing a new jersey being advertised as official or authentic. So if its new and you see just a photo of the real madrid adidas tags ask the seller to turn the tags around and show you the barcode stickers. If it is a 2nd hand jersey then ask for the small inner tag as seen in the first picture. This rule applies to all authentic adidas real madrid apparel. If its official real madrid will stamp their official sticker on it.
There are many more signs to watch out for but these are the basic ones and if your seller cant guarantee these then stick away from their product.
HALA MADRID!!