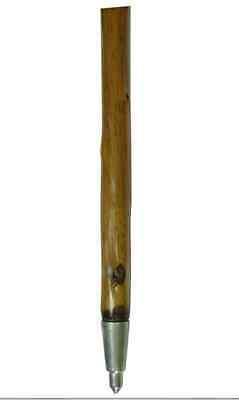 Place the new
ferrule
on the tip of the walking stick. Check the fit to ensure the ferrule is neither too large nor too small for the cane.
With the
ferrule
in place, tap the end of the walking stick smartly on the ground once or twice to position the ferrule on the stick.
Take care not to tap the stick
(shaft)
too sharply as the varnish may be damaged if the ferrule is forced on too firmly.
Taking a small hammer and a fair sized nail, tap the nail into the soft metal of the ferrule just below the point where the ferrule and the stick meet (see photograph below). Repeat on the opposing side of the ferrule. These indentations will keep the ferrule on.
You can find different sizes of Metal Ferrules, the mos typical are 22mm or 24mm .
The diameter of ferrules are in MM so you need to measure the bottom of your shaft carefully to fit it right.
Also the metal ferrule is great for rocky or Icy terrain, if you are looking ferrules for Trekking Poles you might look for
rubber ferrules
which normally are steel re-enforced inner foot for durability and grip. These
walking ferrules
are designed to offer you that little bit of extra support and grip while out walking and hiking.