In this guide you will find some useful information on Autotrader, FREE car advertising, things to DO, and things to AVOID.
It's the one thing between you and your new car...your old car.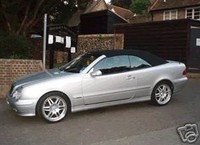 First of all, bare in mind the type of car you are selling as what works for a cheap £1000 worth car will not necessarily work for an expensive Mercedes or Porshe.
Private sale
You sell your own car through an advert in the paper or the classified magazines.
+ You might get a better price than part-ex; it gives you cash to buy your next car privately.
- You might not get the best price; you'll lose a weekend (or two) waiting for the phone to ring and may still get less than for part-exchange.
Part-exchange
The dealer offsets some of the price of your new car by taking your old one away and selling it.
+ Quick, easy, you can drive away your new car immediately.
- You'll only get what the dealer is prepared to offer for your car and he'll want a profit out of that; you have to buy your next car from a dealer.
Selling to a dealer
The dealer buys your car for cash.
+ Quick, easy, you can still buy your next car private sale.
- Dealers are choosy about what they buy and will always pay as little as possible.
Auction
Your car is sold to the highest bidder on the day
+ Quick, simple, a bidding frenzy might up the price
- Local auction brings a relatively small crowd; you might not sell it if you put the reserve too high or sell it very cheaply if too low.
Ebay
Worldwide internet auction
+ Cheap, massive audience, prices are generally strong.
- Can you trust the buyer will actually buy and pay for it?
Where to advertise
Cheap cars sell best in the local Free-ads and local paper. Few people travel 50 miles to view a £1000 car.For more expensive cars, the Free-ads are still worth a go, but Auto Trader could be a better choice.Read my Guide on Autotrader.
Best Way To sell A More Expensive Car ( 5 -10K + ):
Exchange & Mart exchangeandmart.co.uk - advertisement from 5GBP per online advertisment. Website PLUS next available Exchange & Mart issue - just £10 .
E&M website is not as friendly as the Autotrader one, BUT it is cheaper and does the trick !
AutoTrader - autotrader.co.uk
Cars priced under £1000 - £13 Other cars: £ 26
For a package: 1 week advertisement in the magazine; 2 weeks – online advertising.
MY NOTE: The Auto Trader is a great Magazine, EVERY TELESALES CANVASSER IN THE AUTOMOTIVE INDUSTRY IN BRITAIN LOVES IT!!!
Ebay
You have to register as a seller and your ad costs £***. But you can put your own pictures on the ad, choose a reserve price that suits you and it does work. Contact eBay motors for more details.

FREE Advertising:
Type this name in your internet browser motors.uk.freeads.net and add a http:// in front of it.
Other Methods of Sale:
Yahoo! Cars
Kelkoo.
Supermarkets
Local Papers
BE AWARE OF Canvassers
Once your ad's in you'll probably be contacted by lots and lots of agencies claiming to have a database of eager would-be buyers just waiting for a car like yours. All it costs is a few pounds ( average is £50-70!!!) and they'll put these owners in touch.
Be wary. Some of these are good ( you would be very lucky if you meet one), but many will take your money and you won't see any real customers (although you might be called by someone claiming to be one). If you were looking for a normal family car, would you sign up to a database or just buy the Free-ads? Me too.
For specialist cars or rarer models it might be a good thing, otherwise, forget it.
When you put an advertisement in any magazine DO include this line: NO CANVASSERS PLEASE unless you want to answer 10-15 calls a day from telesales people.
If you want to know MORE about AutoTrader , it's advantages and disadvantages READ MY Autotrader Guide where I have given lot's of information and shared my own experience selling an expensive Mercedes Convertible.
If you find this guide usefull please Vote for it.