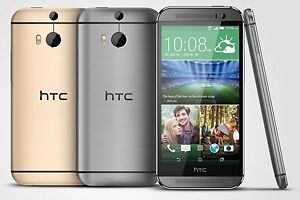 eBay Guide to the HTC One M8
eBay loves:
Very fast, great screen and beautiful build quality
Watch out for:
Camera lacks detail
Price:
£630
The original HTC One was such a beautiful design statement that the company has decided not to mess with it too much for this year's
M8 mode
l. That's no bad thing, as David Ludlow, editor of Expert Reviews, explains. The phone is one of the most striking and attractive you can buy — and this year's model packs in plenty of surprises.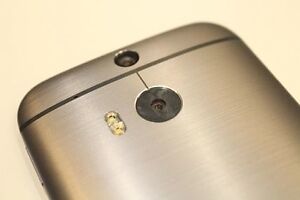 HTC has made a beautiful handset, with the One (M8) giving Apple a run for its money in terms of design and quality. It's mostly metal (with just a little plastic to ensure the antennas work), giving the smartphone a premium feel when you pick it up.

It's neatly curved, too, so it's comfortable to hold as well as attractive. You've also got a choice of colour, with metal grey, gold and silver. All look great, so it's a matter of choosing the one you like the look of.



Display
As seems to be the fashion, the HTC One (M8) has a larger screen than last year's HTC One, which had a 4.7-inch display. The 5-inch diagonal makes the new model a little larger and a little heavier, but in the hand, there's very little difference between the two phones.

We don't mind the size increase, as the resolution of 1920 x 1080 is beautiful. This LCD screen produces natural colours with pure bright whites and impressive blacks. We'd go as far as to saying that this is one of the best LCD screens we've seen in a smartphone. With 441 pixels per inch (PPI), the screen looks fantastically sharp, too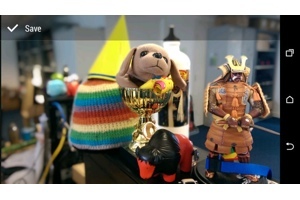 Rather than putting a super high-resolution sensor in the phone, HTC has instead gone for a 4-megapixel 'Ultrapixel' sensor. That sounds incredibly low-resolution, but each pixel is larger than you'd expect to find on a smartphone, helping improve low-light performance.
It certainly works. Taking shots at night and in poorly lit rooms, we found that we could take brilliant photos without the flash. Should you have to reach for the flash, the True Tone flash adjusts the intensity and colour of the twin LEDs to capture low-light images without bleaching out the subject.

On top of this, HTC has a Duo Camera, which pairs the main camera with a second depth-sensing camera. The combination means you can refocus a shot after it's been taken to help eliminate blurry images. Our one minor complaint is that the low-resolution of the sensor means that detail is slightly lacking in some shots.
As with every high-end Android phone this year, the HTC One (M8) is powered by the Qualcomm Snapdragon 801. It's a quad-core chip that runs at 2.3GHz, making it one of the most powerful available. We found that the phone was incredibly responsive, rendering animations and transitions seamlessly. It even coped with image-heavy and complicated websites with no problems.

The Snapdragon 801 has an Adreno 330 GPU built-in, which storms through the current crop of 3D games and will happily cope with future titles, too. It's one of the fastest GPUs available on a mobile platform and we've got no complaints about it.

Battery life
There's a slightly larger battery in the HTC One (M8) than in the original HTC One, but we were concerned that the larger screen would have negated this. Fortunately, the phone proved to be very frugal and managed to play video for 13 hours 28 minutes continuously. That's a little behind the other flagship Android phones, but use the phone carefully and it will still see you through a day's worth of use.

Storage
The HTC One (M8) is available in 16GB and 32GB versions, but there's also a microSD card slot (there wasn't in the HTC One), so you can cheaply expand your storage. This is particularly useful if you want to use your phone for playing video or music.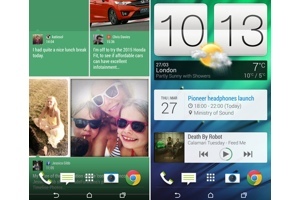 Although the latest version of Android is installed (4.4 KitKat), HTC has installed its own Sense user interface on top. That means new icons, and a selection of device-specific apps. One of the best is Blinkfeed, which lets you skim through your social media networks without having to open the main apps.

Sense takes a little getting used to, particularly if you're used to normal Android, but the system is smooth and adds some genuinely useful extras.
Beautifully made and with great hardware, the HTC One (M8) is a brilliant smartphone. It improves on the original in every way and even has a clever camera system. If you want a powerful and attractive Android phone, it's a great choice.
| | HTC One M8 |
| --- | --- |
| Display size | 5in |
| Resolution | 1920 x 1080 |
| Phone size and weight | 146 x 70 x 9.4mm, 160g |
| Built in memory | 16GB |
| Memory upgrade option | microSD card slot |
| Digital camera resolution | 4-megapixels |