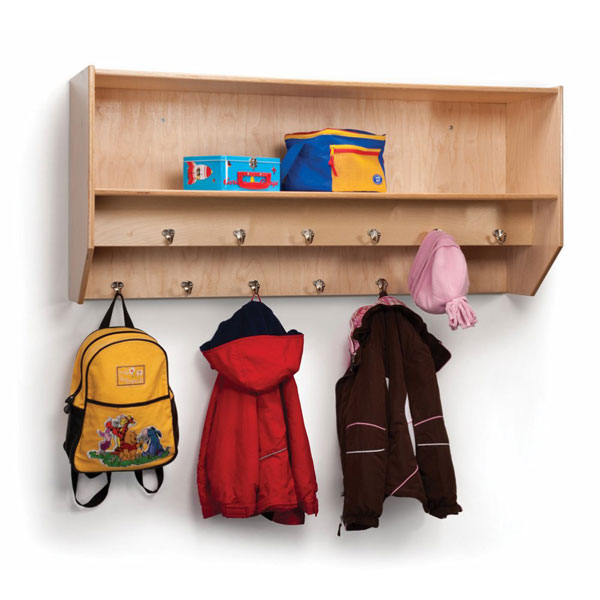 Hallway furniture creates organised and tidy spaces. Whether arriving or leaving, a hallway coat rack provides convenient storage space and easy access to outerwear and other accessories. Hallway coat racks are also decorative and stylish, helping create a positive first impression for visitors and guests. They can be a compact coat stand, a coat rack mounted to a hallway wall, or an elegant carved wooden hall tree. With a variety of colours, materials, and styles, it is certain to find a hallway coat rack in line with personal design preferences.
About Hallway Coat Racks
Hallway coat racks provide convenient storage solutions for all types of properties, including residential and commercial properties, such as an office or restaurant. They are used to store personal belongings, including outerwear and a range of household and personal items. Hallway coat racks are positioned close to an entryway or doorway in order to provide easy access when arriving or leaving a property. They typically include hooks to hang jackets, coats and other accessories such as scarves, hats, purses, bags and wraps. Certain types of hallway coat stands feature additional storage space and features, such as mirrors, benches, umbrellas stands, shelves, or cabinets.
Choosing the Right Hallway Coat Rack
A number of factors influence the type of hallway coat rack that is purchased. A key factor is space. A hallway coat rack should have proportions that suit the intended space where it will be located. The piece should not be so large that it overwhelms a space, particularly in smaller properties or narrow hallways. Similarly, a hallway coat rack should provide sufficient storage space for the number of intended users. While a large hallway coat rack may be suited for a sizeable family in a spacious home, it may not be the best storage solution for a single person living in a small flat with limited space. Choosing the right hallway coat rack will also depend on personal style preferences. Hallway coat racks are available in a range of designs and styles with a variety of configurations. The material and finish of the hallway coat rack is also an important consideration, in addition to the price of the piece.
Types of Hallway Coat Racks
Hallway coat racks are available in a range of configurations, each providing varying amounts of storage space. They are either wall-mounted or free-standing. The table below summarises some of the common types of hallway coat racks.
| | |
| --- | --- |
| Coat Stand | Coat stands are free-standing coat racks used to hang outwear, such as jackets, coats, scarves, hats, and wraps. The base typically features legs or a solid wooden, metal or stone support, while prongs used for hanging items are found at or near the top of the stand. |
| Umbrella Coat Stand | Umbrella coat stands are similar in design to regular coat stands. In addition to storing outwear, they also have a case at their base for umbrellas. These cases are also used to place other items, such as walking sticks, canes, and golf clubs. |
| Mounted Coat Rack | Mounted coat racks are fixed to a wall or other surface, such as a panel or door. They can include a single hook, several hooks, or rows of multiple hooks. |
| Coat Rack with Shelves | Certain coat racks include built-in storage, such as shelves. Shelving is used to store a variety of items, such as shoes, gloves, keys, and hats. They are also used to place decorative items, such as pictures or plants. Shelves are found at the base of the coat rack or near the top. Baskets are sometimes placed on the shelves in order to better organise items, particularly when shelves are arranged to form boxes (cubby shelves). |
| Coat Rack with Storage Bench | This type of coat rack features a storage bench at the base. Some wall-mounted coat racks include matching storage benches, which are assembled separately and positioned on the floor beneath the mounted coat rack. Benches can be designed with open shelving or feature a hinged panel covering the storage space. |
| Hall Tree or Hall Coat Stand | Hall tree coat racks or hall coat stands are large units with a combination of storage solutions, including coat hooks, shelving, storage benches, and/or cabinets. Storage near the base of the stand is often used as a seat, a convenient feature when tying shoelaces or bundling up a child before venturing outside during colder months. Storage shelves or cabinets are also located at the top. Certain units may also have decorative features (for example, stained glass), a mirror, or a top crown that is used to place decorative items, including plants, photographs, and collectables. |
Hallway Coat Rack Design
The look and feel of a hallway coat rack is influenced by a broad range of designs and styles. Traditional coat racks feature rustic, heritage or antique decorative elements and designs. For example, hooks and prongs generally have pronounced curves or scrolls, and wooden panels may feature engraved roses. Traditional hallway coat racks are classic and timeless pieces, typically made from wood. They are also made from metal and metal alloys, such as iron and cast iron, nickel, brass, and bronze, with antique or polished finishes. Modern coat racks are designed with contemporary and refined lines. They are often understated yet feature futuristic and thought-provoking decorative elements. Modern hallway coat racks are often made from metal and metal alloys, including sophisticated and subtle finishes such as brushed metal, chrome, and stainless steel. Decorative or novelty hallway coat racks feature unique designs that cater to specific or niche design preferences. They often have vibrant tones and colourful surfaces, as well as elaborate and innovative decorative features. From flags and artwork to animals and vehicles, this type of hallway coat rack leaves an obvious and immediate impression on a visitor or guest.
Hallway Coat Rack Material
Hallway coat racks are made from wood, metal, and plastic. Many times hallway coat racks integrate various materials, such as metal hooks with wooden or plastic panels and shelves. The material and finish used on a hallway coat rack achieves certain design objectives, such as evoking traditional or modern looks. The following table provides an overview of some of the most common materials and finishes used for hallway coat racks.
| | |
| --- | --- |
| Wood | Wood hallway coat racks are often traditional pieces, with rustic or heritage design features that recall a bygone period in time. Wooden coat racks complement almost any decor. They are made from a variety of wood species, including pine, oak, mahogany, and cherry. Varnishes and stains are used to enhance the surface of the wood with glossy or matte finishes. |
| Metal and Metal Alloys | Metal hallway coat racks achieve both traditional and contemporary looks depending on how the metal surface is finished. An oil-rubbed metal provides a dark and sophisticated look, while brushed metal surfaces have a soft satin or matte appearance that complements modern and contemporary decor. Common metal finishes include steel, stainless steel, iron, cast iron, aluminium, nickel, brass, bronze, and chrome. |
| Plastic | Plastic hallway coat racks typically feature contemporary and modern designs. These pieces are created using a range of styles, from sleek and minimalist to innovative and decorative. |
Conclusion
When buying a hallway coat rack, the size and style of the piece are key considerations. The size of the coat rack should not overwhelm a hallway, particularly when space is limited or a hallway is narrow. Similarly, the size of the hallway coat rack should meet the required storage needs. Researching available coat racks with help identify the most appropriate piece for the property and its occupants. Looking at a variety of hallway coat racks will also help to identify styles and designs that are best suited for the decor of the hallway.