Handy tip on how to clean Game discs, blu-ray's, dvd's & cd's.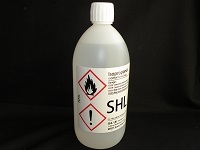 If you are getting an error code while trying to play a game then chances are the disc will need a clean and this is the ideal non abrasive cleaning solution.(Some people use Isopropanol and a cotton bud to clean dirty game console lens to fix error codes).
For years I was struggling to find a decent non abrasive cleaning solution for cleaning my game discs, blu-ray's, dvd's and cd's.
I found out the ideal cleaner to use purely by chance while visiting a dvd rental shop.
A member of staff was cleaning a dvd and I asked her what she was using.
She was using 70% Isopropanol (70% Isopropyl Alcohol or IPA) which is also known as 'rubbing alcohol' and a lint free cloth.
70% Isopropanol is a blend of SHL 99.9% Isopropanol and de-ionised water.
I used to use Lenshine (which is an anti-static lens cleaning solution for cleaning spectacles) and a micro fibre cloth but this left smudges and tiny hair like fibres on the surface of my discs so it wasn't exactly ideal.
Now I use 70% Isopropanol in a spray bottle (bottle was bought from a garden centre) and a piece of kitchen paper towel and this leaves disc surfaces sparkling clean and without damaging the surface of the disc.
Don't press the paper towel very hard onto the disc as the Isopropanol lifts any dirt or dust off easily so no need to rub too vigorously!
It dries really quick too after spraying it.
When I buy second hand Playstation games from a Games Shop (or eBay) as soon as I get home I give the discs a clean with 70% Isopropanol and a piece of kitchen paper towel.
As I sell alot of my console games on once I have completed them (or got fed up of them), I like to give each disc a clean before listing the game for auction so that I can accurately describe the condition of the game disc.
After all it is no good trying to describe the condition if the disc is covered with dust and dirt and finger prints as you can't see the proper condition of the disc!
I sometimes use it for cleaning the outside of the game case too but most of the time I always replace the game case with a brand new one.
Isopropanol also has many other uses too including:
Antiseptic and antibacterial cleaner.
Disinfectant on hard surfaces.
Glass and lens cleaner.
Cleaning and degreasing.
Anti-Foamer and foam inhibiting solution.
So you could use it for:
1) Cleaning and disinfecting earings.
2) Use it for cleaning spectacles.
3) Use it for cleaning photographic lens.
4) Use it for cleaning the glass on your plasma tv or lcd tv or computer screen (while it is turned off of course!).
5) Use it for cleaning and disinfecting kitchen surfaces or bathrooms.
6) Use it for cleaning Game discs, Blu-ray's, dvd's and cd's.
Isopropanol has so many uses and I wish that I had known about it years ago!
I usually buy a one litre bottle for just under £8 off eBay from seller 'shinyhardware' which includes the postage and packaging.
It is posted in a sealed bag (just in case in does leak during transit) and in a sturdy cardboard box too.
Here is how to find this product by this seller:
Click on 'Advanced' next to the search tab at the top right hand side of the page.
Then at the top left under Find items,click on 'by seller'.
Enter 'shinyhardware' and then click on search.
As this seller usually sells over 1000 items at a time you may find it easier to go to the sellers shop from here (click on the little red door icon next to their user name).
You can then search for 'Isopropanol' in the seller's eBay shop which is alot quicker than going through 1000 auctions!
Please add a note with your Paypal payment to state that you have bought from 'shinyhardware' as a result of this guide.
If this guide helps to increase their sales then they have promised me a free bottle at some point in the future.
Smaller bottles of 250ml, 500ml etc can also be bought if you wanted to try a smaller bottle first before buying a larger bottle.
I urge you to give it a try as an alternative mult-purpose cleaning solution and you don't need to use much of it and one small spray is enough to clean the whole surface of a disc.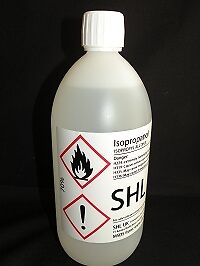 ** IMPORTANT SAFETY WARNING - Ensure that the bottle has a safety warning on it to warn other friends and family members and if it does not have one then cellotape one to it. **
** Always use as the safety advice tells you how to use it and safety guidelines are there for your safety! **
** Isopropanol is an IRRITANT so rubber or latex gloves should ALWAYS be worn while using it. **
** Isopropanol is also FLAMMABLE so it should NEVER be used near to a naked flame or on hot surfaces. **
** As with all chemicals it should ALWAYS BE KEPT OUT OF REACH OF CHILDREN. **
** If accidentally swallowed or sprayed into the eyes then seek IMMEDIATE medical help. **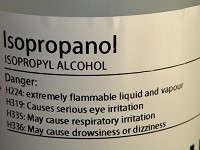 Downloadable PDF safety advice / guidelines are usually always available on eBay sellers auction pages for Isopropanol or you can use a Google search.
Thanks again to Rob from 'shinyhardware' for permission today (14/11/13) to use their eBay name and name of one of their products.
I hope that you have found this guide useful and please don't forget to vote as it is free to do so and only takes a moment.
The more votes I receive the more inclined I am to spend my valuable free time writing more eBay Guides and Reviews for you.
Many thanks.
If you have less than 5 feedback unfortunately you won't be able to vote (Sorry eBay rules and not mine!)