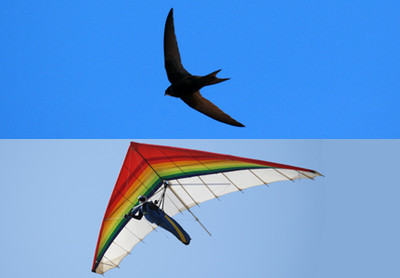 The basics
Hang gliding is a whole load of fun. You will experience exhilaration that is like a dream come true ( many people who have dreamt of flying ( sleep dreams!) no longer do once they have experienced hang gliding. I will teach you the basics, on a hill in a beautiful location int the Peak District National Park. After a initial theory introduction we will spend the rest of the day making flights - with you in control from the start - Flying solo!! Don't worry though - I will be on the ground ( ;-P!?) controlling one or more ropes to keep you safe. I can not 100% guarantee your safety - but suffice to say more people have been injured driving/ walking to / from the site than ever injured under my care as instructor over the many many years I have been instructing. Take care.
Take care when selecting your instructor / school. Many advertise hang gliding lessons - but when you turn up the " wind conditions" are not quite right - so they suggest you do paragliding - after all it's nearly the same.... It is not! The feeling of flying a hang glider is unique - paragliding is nothing like it. Whilst flying a hang glider ( from your very first flight ) you control direction and speed by moving your body - It feels natural. Move your body left to roll and turn left. Pull forward to speed up. - the glider responds - It feels alive!
Experience.
I have been teaching people to fly since 1978. I know what i'm doing and will give you a safe exciting enjoyable introduction to the wonderful world of hang glider flying. No high pressure sales patter. All equipment provided.
Ebay shop
http://www.ebay.co.uk/itm/-/131869506924?ssPageName=STRK:MEBIDX:IT