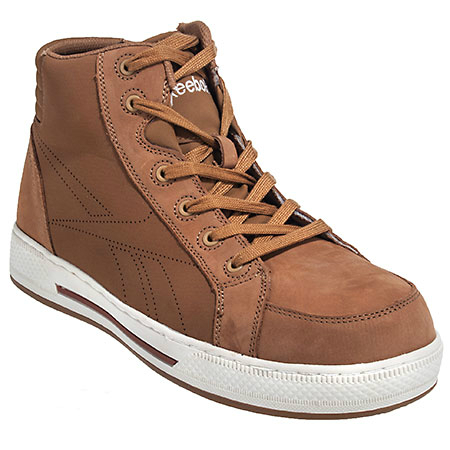 Originally, shoes were just footwear that provided comfort and protection for the feet, but in time they also became accessories worn to complement an outfit. The design of shoes has diversified greatly over the centuries according to region and culture, and as a result, there are many shoe types today. With a little patience, a buyer can find the right pair to match any type of outfit, either elegant or casual. A type of shoes that is very popular, especially among young people, are hi tops. Hi top shoes typically extend over the wearer's ankles. They are available in distinct and usually colourful designs and are popular especially among active urban young men and women. When purchasing hi tops, buyers should consider the history, types of hi top shoes available, their main features, as well as purchase options available such as online from eBay.
Getting to Know Hi Tops
Hi tops were produced by the now well known shoe company, Converse. Back then it was known as the Converse Rubber Corporation and mainly produced rubber shoes for work purposes. In 1917, Converse produced the first basketball shoes and also the first hi tops in history. They were called the All Star basketball shoes and originally were only available in brown upper with black trims, where the upper is the part of the shoe that covers the foot. These shoes had thick rubber soles and a canvas upper that covered the ankles.
Although hi tops are popular now, they did not sell very well when they were first produced. It was only after Charles 'Chuck' H. Taylor, a basketball player for the Akron Firestones, took interest in the All Star shoes did they become popular. He joined Converse and helped design and promote All Star hi tops. In 1932, his name was added to the All Star ankle patch and the Converse 'Chuck Taylor' All Star was born.
Because of the popularity of the All Star shoes, over the years, other companies decided to produce hi top basketball shoes. The new hi tops producers incorporated various changes into the original type of shoes such as uppers made entirely of leather, bright colours and prints, as well as technical innovations like air pockets in the soles for more bounce. Now, hi tops are produced by various manufacturers including Nike, Reebok, and Adidas.. There are also many different types of hi tops including sneakers, athletic shoes, skate shoes, and basketball shoes.
Types of Hi Tops
Hi tops were originally introduced as basketball shoes. Now, there are many types of hi tops to match almost anyone's style but the basic design remains: the shoes always cover the wearer's ankles. Here is a list of different hi top styles and their main features.
Hi Top Types

Features

Sneaker Hi Tops

Have rubber soles and canvas upper.

Very lightweight, breathable, and versatile.

Are meant for sport activities such as aerobics and running.

Include cross trainers and running hi tops.

Basketball Hi Tops

Have better ankle support and sometimes air pockets for extra spring when jumping.

Are popular as casual footwear because of their bright colours and stylish designs.

Skate Hi Tops

Have flat soles, a distinct skater style, and high uppers to protect ankles from injuries.
The Converse were the first hi tops ever made and they were meant to be worn as basketball shoes, but are now popular for everyday casual use. Athletic hi tops, such as Reebok Freestyle, are more suitable for sport activities instead of casual use as they usually incorporate advanced technologies for performance and better ankle support to prevent injuries. Basketball hi tops, such as Air Jordans and Air Force 1s, were initially made of canvas and rubber by Converse. Now, basketball hi tops are made of various materials including leather and synthetic materials. Skate hi tops are intended to be worn during skateboarding but are also favoured by non-skateboarders as casual everyday footwear.
How to Wear Hi Tops
Hi tops are popular because they are comfortable to wear, have interesting designs, and can be matched with various casual outfits. There is actually no wrong way to wear hi tops, but there are a few tips which can enhance one's look while wearing them.
Hi tops should be worn with casual clothes such as jeans, T-shirts, casual street-styled shirts, shorts, and the socks should never be visible above the shoes. To balance the bulkiness of the shoes, men can wear any jackets, coats, or blazers. Accessories such as scarves, caps, or sunglasses can also be worn to serve this purpose. When wearing jeans, tucking them into the hi tops allows the shoes to be displayed. Although jeans tend to crumple up when tucked in this way, it is a good look; however, excessive crumpling can be avoided by folding the jeans.
How to Buy Hi Tops
Buying hi tops is a good investment as they look good and provide good ankle support. The added ankle support is especially important when buying shoes that are to be worn for sports. Before buying a pair of hi tops, it is important to determine what they will be worn for. If one plans to join an aerobics class or go running, then athletic hi tops are the better choice. However, if the buyer just wants a pair of hi tops for everyday use and casual outings, then it is up to them to choose the style they prefer.
Just like buying any other type of shoes, it is important to try on the hi tops and walk around in them. Although different shoes have the same size, they may not all suit the buyer's feet in a comfortable way, or the sizes may slightly differ from a brand to another. Since feet tend to swell towards the end of the day, it is advisable to buy hi tops in the evening. Also, when choosing a pair of hi tops, one needs to ensure there is enough space at the toe and back of the foot if the shoes are to be worn with thicker socks.
A buyer's budget for a pair of hi tops should also be considered. Branded hi tops usually cost more but are not necessarily more comfortable. Ultimately, it is up to the buyer to choose hi tops according to their preferences. Hi tops are available in many styles and can be found in various shoe stores and brand specific shoe outlets. The next section describes how to purchase hi tops from online stores and, specifically, from eBay.
Buying Hi Tops on eBay
On the auction site eBay you can choose from a wide variety of hi tops because these are available in various styles, sizes, brands, and colours. All you need to do to find the hi tops that you want is to search for them. This can be done from the eBay home page by typing the particular hi top shoes that you want into the search bar. For example, search for 'canvas hi tops&' and a list of shoes matching the description will appear. You can then browse the list until you see something that interests you. You can also narrow it down by selecting the appropriate size displayed on the menu.
After you have found the hi tops that you want, you can select the item to read all its details such as the brand, colour, available size, price, and delivery cost. Some shoes sold are used ones so it is important to look out for this information as well. Lastly, you should see whether there is a refund policy for the shoes in case they are damaged when you get them, if they are not the right size, or if they do not fit you properly. If nothing is stated about it, you can always contact the sellers directly and ask them to provide additional details. If you are satisfied with the product, you can go on and buy it.
Conclusion
Hi tops are available in many different styles and colours. They are versatile shoes as they can be worn for sports and for casual times. However, since hi tops are now popular as a fashion accessory rather than as sports shoes, there are many designs which are not very suitable for sport activities. Therefore, it is important for a buyer to choose a pair of hi tops according to their function. If they are only to be worn casually or for everyday use, then hi tops of any style can be selected, as long as they are comfortable and match the buyer's style preferences.
Besides the style, a buyer should try on any pair of hi tops before buying them because even if they look good, the shoes are not worth buying if they do not fit well. Next, the buyer should also consider the price of the hi tops and choose the pair that is within budget. Hi tops are available at almost all shoe stores that sell sports and street style shoes. They are also widely available to be bought from online stores such as eBay.