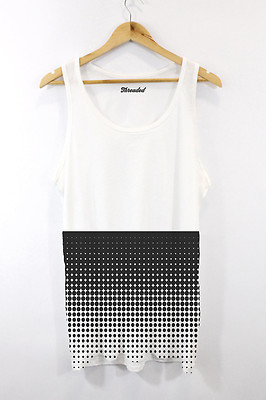 How to find on trend bargains on eBay
eBay may once have been a place to simply grab a quick bargain, without too much thought behind the quality and the style... but times have changed and eBay is now a great place to find yourself on trend styles without paying the high street or retail brand prices.

Take, for example, this halftone printed Men's summer vest top from Threaded... a similar style on the high street might set you back around £25, but can be found on eBay for less than £15.

Simply spend some time browsing for your favourite styles, keep a keen eye on the sellers feedback ratings, and snap yourself up a bargain!

eBay is a great marketplace for both buyers and sellers alike, as they clearly showcase the sellers reputation and capability with the feedback scores and the "top rated seller" status on show on all listings.

Keep an eye out for the badge indicating "this seller offers eBay premium service" to be sure that you are going to get a product that you will love!

If you can't always find exactly what you want, you might find that a lot of eBay sellers are willing to help create a style that might fit your needs - so there is no harm in using the "contact seller" option to ask the seller a question about the items that they offer!

So, with all of these great options available right at your fingertips...why pay retail prices, when you can pay eBay prices?!