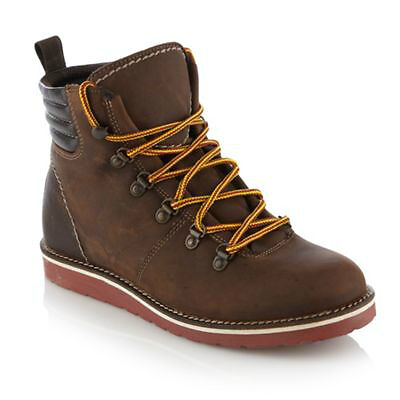 Hiking is an exciting activity that opens up the doors to the outside world. Whether a hiker enjoys short walks along winding forest trails, or chooses to complete challenging mountainside courses, wearing the right pair of hiking boots is crucial. Unfortunately, many hikers don't understand the importance of proper footwear until their feet starting hurting once they have been walking a few miles. Made especially for hikers, hiking boots are built with supported midsoles that can even stand up under the weight of a heavy backpack. Many hiking boots also have thick outsoles that securely grip onto difficult terrain. There are hundreds of different types of hiking boots sold either in outfitting stores or through online websites like eBay. Choosing the right one may seem like a daunting task at first. However, hikers should start by asking themselves what kind of hiking they are going to do, and then aim to buy a boot that is made out of quality material with a secure fit.
Types of Hiking Boots
While the selection of hiking boots may seem overwhelming at first, most boots will fit into one of four basic categories: light hiking shoes, hiking boots, backpacking boots, and mountaineering boots. Choosing the right style depends on the type of hiking the buyer is planning. For example, those who enjoy day hikes without carrying a backpack can get away with wearing light hiking shoes unless they are walking on steep terrain. However, anyone planning a long hike probably needs the extra support of either hiking boots or backpacking boots. Hiking under the most extreme conditions, calls for a pair of mountaineering boots. Be sure to take the time to learn about the various pros and cons of different hiking boot styles.
Light Hiking Shoes
At first glance these shoes probably look more like running shoes than hiking boots. This is because light hiking shoes, like running shoes, are lightweight. They are low cut shoes with a highly flexible midsole, making them a superior choice for walking on flat terrain with the occasional steep climb. However, they don't provide ankle support like other hiking boots, so they are not considered to be ideal climbing boots. Furthermore, the outsole on light hiking shoes uses a considerably smaller grip than other types of hiking boots, so they also should not be worn on steep terrain. Their flexible midsoles also don't offer the extra support that most feet might require if the hiker is carrying a heavier backpack. Ultra-light hikers, those who prefer carrying as little weight as possible on their backs, typically prefer style of shoe. More traditional hikers might only use a pair of light hiking shoes for shorter walking trips.
Hiking Boots
When the going gets tough, it's time to break out a pair of hiking boots. Sometimes labelled as Class B boots, these boots have stiffer midsoles than hiking shoes, offering more support for day hikes or even weekend hikers. The mid-cut hiking boot offers protection against debris that might get stuck inside the shoe, while the high-cut hiking boot completely shields the ankle from outside objects. A thicker outsole gives the boots a better grip during hikes on tougher terrain. However, they are heavier than hiking shoes and if the owner is not used to wearing them, hiking boots can become uncomfortable and heavy at times. Experts always recommend breaking in a pair of hiking boots by taking a few short walks before the day of a big hiking trip. Despite their extra weight, true hiking boots are a popular choice with hikers because of all the protection they offer. In fact, novice hikers who are just planning a few day hikes sometimes purchase hiking boots instead of hiking shoes because of all the extra support these boots provide.
Backpacking Boots
Long hiking trips require highly durable shoes. This is where backpacking boots, or Class C boots, come in. Larger and heavier than most other hiking boots, backpacking boots all have a high-cut for complete protection against trail debris. A thick and strong midsole, unconditionally supports the foot while hiking all types of different terrain. The top of this boot is padded for extra ankle support, and the feet appreciate this extra care since most backpackers often carry along heavy packs. Thick and sturdy outsoles grip tightly to different terrain elevations, making these boots a decent choice for hiking in the backcountry. However, all this extra support on the bottom also makes these shoes unusually heavy when compared to other hiking boots. Serious hikers love the secure fit of backpacking boots, but those who may only take occasional day trips, might not appreciate toting all of the extra weight around.
Mountaineering Boots
The toughest climbs call for the hardiest boots. Heavier than backpacking boots, mountaineering boots were designed to prevent climbers from falling off steep slopes. Their outsoles are just as thick and sturdy as backpacking boots, but they are made out of heavier materials, such as polyurethane. This allows the hiker to strap on crampons for glacier or ice travel. Mountaineering boots feature a high cut that thoroughly protects the ankle, as well as incredibly stiff midsoles that can support the weight of crampons underneath. Use mountaineering boots for outdoor hikes in winter, or while climbing steep hills or mountains.
Hiking Boot Materials
Hiking boots come in several different materials, and the quality of the material affects the price and durability of the boot. The longest lasting boot in the boot family, albeit the most expensive, are leather hiking boots. Furthermore, leather boots must be broken in before starting any long hike. Split grain leather boots are a reasonable alternative to full leather. However, they are not water resistant like leather unless treated with a waterproof liner. Split grain leather is commonly used for hiking shoes because it is lighter than full leather. Synthetic boots and shoes, made out of polyester or nylon, are lighter than their leather counterparts, require less time to break in, and are are typically a cheaper option. Oftentimes manufacturers of hiking shoes use a split-grain leather, with nylon or nylon mesh pieces, to decrease the weight of the shoe. However, synthetic materials are not as durable as leather and they can potentially get scuffed up quite easily during long trips.
Fitting Hiking Boots
The fit for hiking boots must be perfect. After all, the last thing a hiker wants after spending all day in their boots, is sore feet because due to incorrect footing. Experts often tell buyers not to pay too much attention when it comes to the size of hiking boots since it is common for a pair of boots to be a size larger or smaller than normal shoe size. The best way to determine the correct size is to visit a local outfitting store and have a clerk measure a foot to get the correct size. Try on several different pairs of boots made by different manufacturers, since some brands run larger than others. If the boot fits correctly, it should be snug all around the foot but have a little bit of wiggle room on the toe. Once a boot is chosen, it can be bought in the store. However, smart shoppers who want to get a great deal often chose to purchase the boot online, using a website like eBay for a discounted price.
Buying Hiking Boots on eBay
A good pair of hiking boots is a quality investment, but if you don't want a new pair of boots to set back your bank account, try shopping online. Retail outfitting stores sell hiking boots, but they usually charge premium retail prices caused by high overhead costs. Savvy shoppers can simply skip the store process altogether, unless they want to visit an outfitter simply to learn their correct hiking boot size. Instead of buying boots in a store, more and more shoppers are turning to websites like eBay where they can find high grade merchandise offered by sellers all over the country. Furthermore, online shoppers are not hindered by the limited selection found in many retail stores since with the thousands of auctions eBay has every day, a buyer is sure to find a boot in their correct size.
Finding Hiking Boots on eBay
eBay's search engine allows buyers to easily find a product they are looking for. For example, if you have already visited a local outfitting store and know the exact size and name of the hiking boot you want, simply type it into the search engine. eBay will automatically list all results that match your search terms. However, if you want to browse the hiking boots currently being offered, then you will need to do a broad search. Buyers who want a pair of heavy duty backpacking boots can search eBay using the terms "backpacking boots" or "leather backpacking boots" to find relevant results. Play around with the search engine to get a variety of results for auctions that meet your needs.
Conclusion
Anyone who enjoys hiking knows that one of the most important purchases he or she could make is a pair of hiking boots. These durable shoes protect the feet on different terrain levels, while providing additional support for heavy loads. Choosing the correct hiking boot begins with understanding what type of boot is needed. Beginner hikers who enjoy day hikes, can choose between a light hiking shoe and a hiking boot. Serious hikers planning a longer trip, will need either a hiking boot or a backpacking boot. Mountaineers or those who hike in winter weather should purchase a mountaineering boot to satisfy their needs. Be sure to pay attention to the boot material, since shoes made out of high quality fabrics are more expensive, but will also tend last longer. Finally, visit a local outfitting store to get an accurate size for the hiking boot, but save money by purchasing the boot online from eBay for an excellent deal.