Power tools are the most useful equipment a DIY enthusiast can buy, and there are many models available to add to a collection. Hitachi power tools offer high quality for simple repairs around the home and professional projects. The most popular power tools in the range include drill sets, saws, and impact drivers. Armed with information about what's available, buyers can choose the right tools for the job.
Hitachi Power Sources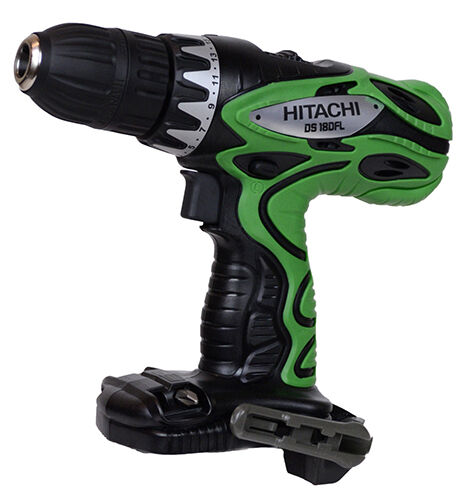 Corded tools offer more power than their cordless counterparts, but the cable can get in the way, become tangled, or create a tripping hazard, in addition to limiting where work can be done. Cordless Hitachi power tools work everywhere, but the battery life is limited, so they may run out of power before the job is complete. A solution is to buy a spare battery so that one is always fully charged. Batteries range from 9.6 to 18 volts, with the higher voltages providing more torque.
Hitachi Power Drill Sets
Hitachi power drill sets create holes in metal and wood, in addition to driving in screws. Hitachi's driver drill kit powers through tough jobs with its two-speed transmission and 22-stage clutch controlled by a one-touch knob. It has a 12V, 1.4Ah battery and a lightweight design with a non-slip grip that reduces fatigue and allows for precision drilling.
Hitachi Power Saws
The fan-cooled motor for the Hitachi circular saw runs for longer at maximum power. It has an electric brake that enhances user safety. The saw makes accurate cuts with a 50-degree angle adjustment and has a built-in spotlight for greater visibility. The left-mounted 6.5-inch blade is easy to change. The Hitachi jigsaw has a four-mode orbital action that provides accurate and efficient cutting. Its post-style batteries mean that it weighs 40 percent less than an average tool and has three times the power capacity. Every toolbox benefits from the presence of the Hitachi reciprocating saw to cut through tough materials. Its ergonomic grip ensures comfort until the job is done. It has a triple seal design to keep dust and debris out, and the carbon brushes are replaceable, which extends the saw's life.
Hitachi Impact Driver
The Hitachi impact driver can tighten or loosen screws and nuts at an astonishing speed. It has a high level of driving torque that enables you to take on heavy-duty jobs, such as tightening carriage bolts and sinking decking screws. This tool works equally well for metal, wood, and concrete with a no-load speed of up to 2,600 RPM and impact rate of 3,200 BPM.