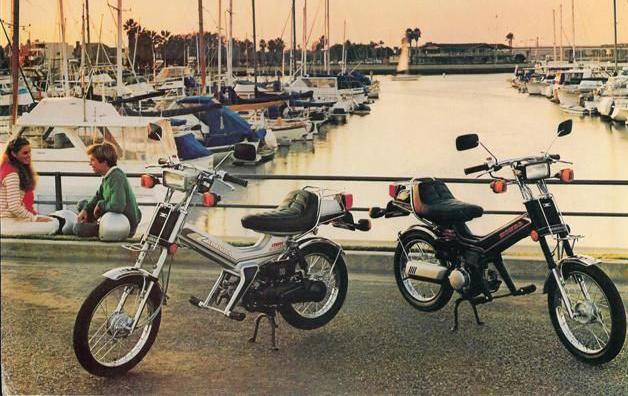 An urban scooter or moped for commuting in the city, the Honda Express NU50 is a classic from the Honda marque, popular with scooter fans and those who like to run performance modifications on bikes. For consumers in the market for a vintage moped, learning about this model can help them determine whether this scooter works for them.
The Design of the Honda Express NU50
Honda developed the Express line of mopeds as a response to the oil crisis of the 1970s. As such, models such as the NU50 and the NC50 give commuters a very fuel efficient way to run short-range commutes. These bikes are also user-friendly and intended to give riders who are not used to motorcycle riding an easy way to ride a motorised bike. The NU50, sometimes referred to as the Urban Express, is small and light, with a body design similar to a road bicycle in many ways, making it easy for the layperson to handle on the road.
Engine and Performance Details on the Honda Express NU50
At the heart of the NU50 is a belt-driven, variated 50cc engine that Honda carried over from the NX50. The NU50 is capable of achieving slightly higher speeds than its predecessor, however, and can reach a speed of 55 kph, making it a perfect inner city vehicle. This scooter features all of the standard features from the Express line, including a CDI ignition, a 12-volt battery, oil injection, and signal blinkers. Upgrades from previous Express bikes include larger wheels and sizeable shocks for better handling in diverse conditions. Honda also created a Deluxe version of this classic moped, the NU50m, sometimes referred to as the Urban Express Deluxe. This bike is identical to the NU50, but comes with an electric starter and a larger battery.
Honda Express NU50 Accessories
Owners of a Honda Express NU50 can retrofit one of these mopeds with a range of accessories. A popular option is to integrate a lock box onto the rear rack of this Honda moped, providing secure storage when travelling around town and running errands. Front bike baskets are another option, giving riders a quick and easy way to stow items when riding. Given the popularity of these classic urban scooters, NU50 owners can also find a wide range of new and used parts for repairs and refurbishments, including engine components, body components, and key frame accessories such as mirrors and headlamps.