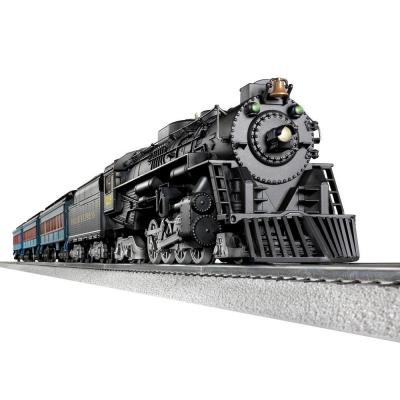 Hornby model stream trains are a fantastic hobby for all ages. Hornby model steam trains are renowned for their intricate detail. The product offers collectors the opportunity to grow their collection with additional locomotives,, tracks,, coaches, wagons, buildings plus much more.
Founded by Frank Hornby in the early 1900s, the products were designed to offer an educational toy alternative for children. The Hornby name is considered a leader in its field and offers a rich history of quality products. Now readily available from a variety of locations both in the local high street shops and online, a Hornby model makes an easily accessible and perfect gift. Auction sites like eBay offer a plethora of products ready to browse from the comfort of your own home.
By purchasing a first model train set,, you enter into a world thriving with other train enthusiasts and model makers. This hobby will see any individual well supported with literature i.e. magazines and specialist books, forums, clubs, social media groups on Facebook and twitter and live events.
What is a Hornby Model Steam Train
Hornby has an extensive history providing high quality model steam train sets, locomotives, packs and models. Because of this extended history, Hornby models are also seen as toys, an enjoyable hobby and valuable collectable items for display.
In order to complete your first Hornby Model Steam Train model purchase, there are a few basics you need to know. These are:
How to lay down a track.
How to add electrical connections.
How to create a scenic layout.
There are books available for the complete beginner to seasoned professionals to assist in the creation of a Hornby model; however here are a few basic rules to follow to assist any first timer.
Use the Trakmat. Each set will come with a Trakmat which goes underneath the set. This mat offers a drawn layout of where to put the track, accessories, buildings and other scenic elements like trees and shrubbery.
Always place the Trakmat on a flat and secure surface. This can be an existing table, a table specifically built or on a large, flat piece of wood resting on another secure surface. Each a viable option, think about how long the set will be up for and who will be using it to help make the decision.
Seek out diagrams and pictures of track layouts. This will offer a solid understanding on how each set is supposed to be put together but also the possibility of extensions.
Hornby Train Sets
Whole Hornby Model sets can be purchased alongside individual locomotives. The types of Hornby model sets available are:
Analogue train sets.
Digital train sets.
Theme sets, for example Thomas the Tank Engine.
As well as the actual set itself (all train, track, building components), hobbyists can expect to find in each pack:
A Midi Mat.. This is a map of the full scenic layout. This map is from a 'bird's eye view perspective and so, offers the hobbyist an image of what it could look like all set up as well as what additions may be available.
Mains transformer and controller. These are the devices required to bring the train to life, racing around the track once it is built. They plug into any home power supply. Whilst each set comes with its own transformer and controller, Hornby also offer a range of different products to accommodate the complete beginner to the seasoned professional. These products include (but are not limited to):
| | |
| --- | --- |
| DCC select controller | The DCC select controller can control up to 60 locomotives and provide power to up to 10 at any given time. The design is easy to use and offers a large LCD display screen. |
| Hornby RailMaster PC Model Railway Control System | This control system links up via a USB port to any computer. This means it can be operated via touch screen technology as well as comes with a vast amount of other features and design functions. |
| eLink and RailMaster Combination Pack | Again, this product is a system that links via USB port to any computer. All systems are then passed onto the device and manageable from there. This new technology offers a real leap forward in Hornby Models. Train and hobby enthusiasts alike are able to keep up with the current trends of the 21st century. |
Hornby offer a wide variety of different train sets including, but not limited to, Euro Star, The Flying Scotsman, British Pullman Venice Simplon-Orient-Express, West Coast Highlander and specific event sets.
Hornby Locomotives
Locomotives can be purchased as individual trains or in sets. Within the product range are steam locomotives, diesel and electric locomotives, digital locomotives with sounds, DCC ready locomotives,, DCC fitted locomotives,, limited edition locomotives and Thomas & Friends locomotives.
Train Tracks
The train tracks are the tracks on which the train travels on. Tracks will come as a part of any set as well as individually. When purchasing extensions to an existing track – always ensure the current track will support and match the extensions.
Train Parts, Scenery and Accessories
Whether building a set piece by piece or starting with a complete set, there are accessories available for every model. These include:
Trakmat Accessory Packs. These packs can offer a variety of individual or a selection of the following; buildings, sheds, railings, signals and signal boxes, platforms, platform shelters etc.
Scenic Materials. These materials can sit on top of or alongside the Trakmat and offer a diverse array of shrubbery and trees as well as other ground based materials like gravel and pitch. These materials can add to the authenticity of the model adding to the overall picture.
Skale Lighting. Using a skale lighting system each building can be wired to light up.
Additional Power and Control Packs. Whilst each set comes with at least one power and control pack, to realise the tracks full potential and control more than one train at a time, an additional power and control pack will be necessary.
Each Hornby accessory is designed to be a perfect companion to any of the other products available.
How to Buy on eBay
When it comes time to purchase the desired Hornby product,, eBay is an excellent choice to do this. The auction site offers literally thousands of different products around the Hornby brand. These products include Trakmats,, scenic materials and individual accessories, skale lighting products, power and control packs, locomotives, full Hornby sets and packs, tracks and much, much more.
This amount of choice and eBay's reputation for excellence, choice and reliability means that it should be any buyer's first point of call. To make the transaction even easier, eBay offer easy and safe payment options via Paypal or direct debit.
To search for Hornby products (either individual items and accessories or sets and packs) this is done by visiting the Collectables porthole. From here, follow the prompts to Trains/Railway Models where a more detailed search using the filter options is available.
If the type of product wanted is known but not the specific model number, the search box, which is conveniently located on each page is available for a more general search. Once this general search is completed, the user can then either browse the products available or use the filter function to refine the search. This will hopefully lead to the desired product ready for either purchase or bidding.
When buying on eBay, if it is a specific locomotive or accessory desired, due to the shear amount of different products available on the market, it is vital that the exact production details are known. This can be assisted by the photographs posted by each user to check the product and the product quality. Don't forget there is an option to Ask the Seller questions which will enable additional details to be obtained before committing to a purchase or bid. eBay do offer a BuyingTips page for more information.
When the desired product is ready to be bought, you can either place a Bid,, Buy it Now, or put down a Best Offer.. PayPal is an easy to use payment option offered by eBay. All eBay users are protected by the Buyer Protection Program.
Conclusion
A Hornby Model Steam Train is the perfect intergenerational project or centre piece to a family home. It offers both train and hobbyists enthusiasts a unique challenge that requires dedication, determination and skill to complete. Upon completion not only will the individuals involved enjoy a real sense of achievement and pride in their work but also will be able to enjoy hours of pleasure with family and friends using the set.
The rich history of Hornby as a leader in its field means that the product will always be of a high quality. eBay's fine selection of Hornby products mean the choice has never been greater. Whether you are a train enthusiast, doting parent looking for that perfect gift for a child or looking for a new hobby, creating working model train sets has never been easier with Hornby Model Steam Trains.