The benefits of Mandelic Acid are significantly lost if it is applied as a peel. Mandelic Acid dramatically improves acne and post-acne pigmentation, but clinical research shows that this is achieved by regular application of leave-on treatments. This guide will tell you what Mandelic Acid is and how you can best take advantage of its exciting properties.
There is a lot of misinformation about how Alpha Hydroxy Acids are best used, particularly when it comes to the selling of 'peels.' Some peels on offer can be extremely damaging. Others simply offer no real long-term benefit, despite the inconvenience and downtime involved.
Mandelic Acid in particular has become known as an excellent choice for treating adult acne, fading hyperpigmentation and reducing the effects of sun damage. To best understand why Mandelic Peels are not an effective way of benefiting from Mandelic Acid, it is important to understand what Mandelic Acid is and why it is so beneficial to the skin.
What is Mandelic Acid?
Mandelic acid is an alpha hydroxy acid (AHA) extracted from bitter almond. It has a long, safe history of use in medicine as an oral antibiotic, but has only recently become popular in skincare. Its use in skincare was pioneered by Dr Fulton, one of the researchers who developed Retin-A. In his view mandelic acid is the best skin active to come along since Retin-A. Clinical trials showed that regular application of leave-on treatments (serums/lotions) significantly reduced both acne and melasma.
What does Mandelic Acid treat?
Mandelic acid is an appropriate treatment for a wide variety of skin concerns, from acne to wrinkles; it is especially good in the treatment of adult acne as it addresses both of these concerns. One of the advantages of Mandelic Acid is that it is safer to use on darkly pigmented skin than glycolic acid or tretinoin (Retin-A). 5% to 10% glycolic acid and tretinoin can trigger hyperpigmentation in darkly pigmented skin.
Mandelic acid has excellent results in the treatment of acne. It can improve inflammatory pustular, comedonal, and papular acne and has been shown to be effective even in individuals resistant to antibiotics (systemic and/or topical). Results can be visible within days of starting a mandelic acid skincare regime.
Extensive trials show that as well as treating acne, mandelic acid has other significant long term benefits for the skin. The diagram below shows some typical issues seen in damaged skin that topical mandelic acid can improve.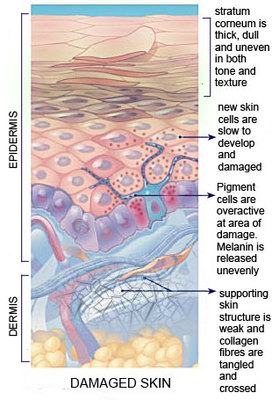 So How Can You Best Take Advantage Of The Benefits of Mandelic Acid?
The first and most important point is that
one-off peels are of little benefit
. People searching for dramatic improvements are easily persuaded that a home acid peel will give quicker, more effective results. Some sellers take advantage of the 'drama' involved in a peel to sell products. Peels are cheaper and easier to produce because they do not require advanced formulation or added skin conditioning agents.
However,
the truth is that home peels are not the most effective route to skin renewal.
The main benefits of using Alpha Hydroxy Acids are derived from the triggering of optimum skin renewal at the deeper levels of the epidermis.
Optimum cellular renewal is best achieved through regular daily application
, not by one off peels . One off peels are stressful to the skin, potentially damaging and highly unpredictable.
The best way to take advantage of the benefits of Mandelic Acid is through regular application of high quality, leave-on treatments. Leave-on treatments do not require neutralisation and therefore continue to deliver benefits over an extended time. This is important when using Mandelic Acid as its antibiotic properties are best enjoyed in a time-released application.
By including Mandelic Acid in your regular skincare routine your skin will benefit from Mandelic Acid's antibiotic qualities. It will also provide daily exfoliation (without visible peeling!) AND optimum cellular renewal.