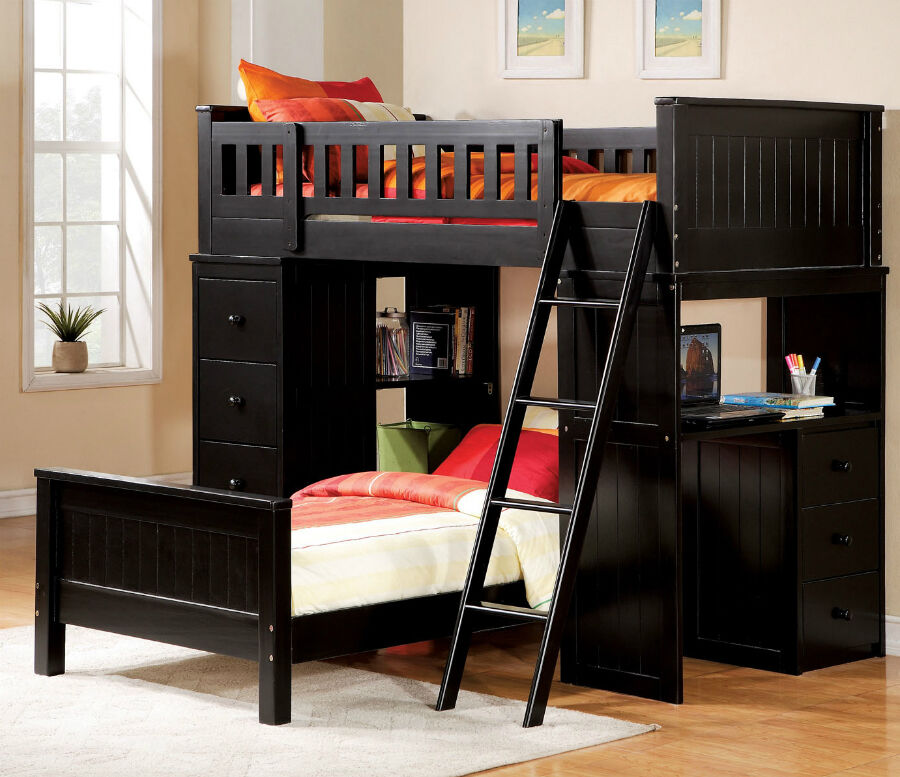 Often bought for and used by children, but suitable for anyone, cabin beds are a great way to utilize storage opportunities and save a lot of space. Cabin beds are beds built on top of various different storage uses, from wardrobes and draws to shelves and computer desks. Some cabin beds even have slides, which can make getting out of bed fun.
Whether looking for something for a studying teenager or an adventurous toddler, eBay has a large selection for buyers to find which bed is needed to suit theirs or their children's bedrooms. This guide will inform buyers on how cabin beds save space and give tips on how to find the perfect one for them.
Types of Cabin Beds
There are a lot of different types of cabin beds with a variety of storage options. A cabin bed describes any bed with any storage use underneath, in their frames. Some cabin beds may only have a couple of draws and shelves and require no additional support to get into bed. Some, however, may require ladders due to the amount of storage space underneath. Cabin beds can consist of a number of accessories, including:
Wardrobes.
Cupboards.
Shelves.
Bookshelves.
Desks.
Additional beds.
Slides.
Open space.
Things to Consider When Buying a Cabin Bed to Save Space
The first thing to consider is what space is trying to be saved. For example, is someone studying and not able to fit a desk and or bookshelves in their room? Alternatively, is there a build-up of toys that need a place to be tucked away? Maybe having regular guest means that an extra bed or pull out sleeper chair would be useful.
In addition to thinking about the what, consider whom it is for. There is no use buying a cabin bed with a slide and a castle tent for a teenager, who is in desperate need of study space and a bookshelf. Age must be considered for safety reasons. It will not be safe for very young children to have to climb up and down a ladder. Be sure that a product is suitable for the desired age before making an incorrect purchase.
Accessories for Your Cabin Bed
Maybe the needs of storage are so specific that it is best to buy the cabin bed frame separately and fill it will all the accessories and furniture to suit those needs afterwards. Providing the correct measurements are taken and considered when purchasing, buyers are able to put anything they like in the space provided. Below are a number of ideas of individual and separate items:
| Item | Options |
| --- | --- |
| Chest of Draws | With a choice of numbers of draws, made from various materials, with a number of different colours and designs. |
| Wardrobes | Small children's wardrobes can fit well under a cabin bed; they are made from various materials, with a number of different colours and designs. |
| Desks and Computer Furniture | A range of desks and cabinets designed for study with options for built in shelves; made from various materials, with a number of different colours and designs. |
| Ottoman | Storage boxes in a range of sizes, useful for clothes, linen or toy storage. Strength and weight capabilities depend on the Ottoman's material. |
| Chairs | From computer chairs, to large comfortable loungers. Available in a range of colours and designs. |
| Beds | Single beds, blow up beds, and fold out beds are all-suitable to slide into the space. Available in a range of types and sizes. Suitable for extra or regular guests. |
eBay offers other accessories to go with all beds to look nice, and to make sleeping experiences as comfortable as they can be. Options include:
- Duvets
- Pillows
- Duvet Covers
- Pillow Cases
- Sheets
- Cover sets
- Mattresses
- Mattress Toppers
- Mattress protectors
- Electric Blankets
- Cushions
All of the above are available in a wide selection of materials, colours, types, designs and strengths.
Buying Cabin Beds Online
A lot of people have busy schedules and lots of responsibilities, making their time limited. It is not always feasible to be able to walk around a furniture shop searching for the perfect cabin bed. Shopping online allows people to view more beds than would fit in any one showroom or store. People are able to browse in their own time, whether it is on their lunch break, or once they have put their children to bed. Searches can be saved for family and friends to view and give their opinions. A child might prefer a cabin bed with a tent and may want to choose the colour.
Regarding brands and popularity of products, the Internet gives the opportunity to reassure users by looking at reviews and ratings on various websites. They may not always find the information that they hope for, but it is best to be entirely sure before making a purchase for this type of item, as it is expected to last a number of years before it is time to replace it.
Using eBay to Buy Cabin Beds
Cabin beds are available on eBay in many different shapes and sizes. To find the right one, start by selecting Home & Garden or Home, Furniture & DIY. From that selection, move on to Furniture. On the next list there will be an option for Beds & Mattresses. The easiest way to get the search down to cabin beds of a specific nature, for example, one with a slide, is to simply type in those key words in the search box, i.e. 'Cabin Bed with Slide'.
If looking for a fast purchase, select the 'Buy it now' option. If hoping for a bidding war with other potential buys for the lowest possible prices available, then opt for items up for auction.
Be sure to utilise the options available, so as to find the most suitable and affordable cabin bed, faster and most conveniently. There is an option to select the maximum that the user is willing to pay. That way, no beds out of the desired price range will appear in the list. Users can also search specifically for new items, or used items. Generally, used items will cost less. Be sure to get as much details as possible on the condition of the bed. Used could mean anything from used once, to used for a number of years and has broken parts.
If the detail required is not provided, don't be afraid to contact sellers directly. That is what the messaging options are for. More often than not, users will send a friendly reply in a reasonable amount of time. If pleased with a user and purchased product, there is even an option to add them into a list of favourite users, so if in the market for another cabin bed at a later date, or know someone who is, referral and accessibility will be easy.
The process of buying a cabin bed, whilst saving space, is really simple. Ensure that the bed size is suitable for the bedroom it is going to be in, and consider those measurements during the purchase. And it's a good idea to be familiar with eBay's terms and conditions too.
Safety Considerations When Buying a Cabin Bed
As well as ensuring the safety of the person, using the cabin bed to sleep, study, slide, etc, it is important to consider any safety issues surrounding the actual purchase. Everything that one needs to know about a user is there, at a buyer's disposal. Feedback in always an important factor to take into account; how much of it is positive? How much of it is negative? How much of it actually exists? Ratio is important. One negative feedback out of thousands may not be enough to throw a buyer off, but one negative feedback out of one feedback is something to be aware of.
All statistics will be shown, just be sure to look at them carefully. If a user specialises in selling beds, the decision to buy from them will be easier. If they have only ever sold one bed read the feedback received from that transaction. Maybe that is the one negative out of the thousands of positive feedback ratings. Maybe it received the highest rating possible and the buyer had only nice things to say. When decided on an item and a seller, make the transaction using PayPay, as it is safe and secure.
Conclusion
If not convinced that cabin beds save space before, there's no reason not to be convinced now. No matter what age or purpose, on eBay there are cabin beds to suit all. There are cabin beds for boys, cabin beds for girls and unisex cabin beds for both. There are cabin beds for children who want to play in a princess tent, and there also beds for the adventurous child who wishes to slide out of their slumber, and also cabin beds for teenagers in need of study space and room for their textbooks.
What buyers choose to do with their space is their own decision. There is the option to buy a bed frame on its own and fill it up with whatever they please, whether it is shelving units, a resting place such as bean bags or chairs, the options are all at hand.