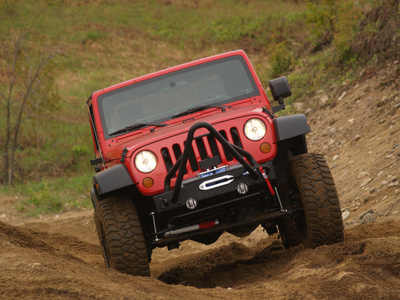 A Jeep is a four-wheel drive vehicle that many people enjoy taking off road and on outdoor adventures. Jeeps come in many varieties, but all are heavy-duty, sport utility vehicles. The base model Jeep can be taken off road, but it is better suited for driving on paved roads. For this reason, many owners choose to customise their Jeeps. This not only improves the appearance of the Jeep, but also its performance. Whether raising up the Jeep for off road use or purchasing new tyres, the possibilities for customising a Jeep are almost endless. Before making any modifications to a Jeep, owners should take the time to research the different customisation options available. Then they can begin shopping around for the best brands and best prices for the parts that they need. No matter if you want to completely rebuild your Jeep with custom parts or enhance the appearance with seat covers and a few stickers, you can find everything that you need on eBay.
Choose Your Customisations
With so many ways to customise your Jeep, it can be hard to decide where to start. You should take the time to learn about the different options available and choose the customisation options that best match what you are trying to achieve. Some methods of customisation can be employed without making significant changes to the Jeep itself. Others require replacing parts of the Jeep and making other alterations. Several of the top customisations are listed below.
Soft Tops
Many Jeeps come with removable hardtops. The disadvantage to this type of top is that once it is removed, it needs to be stowed somewhere. If you are out driving around without the top and it begins to rain, you and the interior of your car may get wet. A soft top has quick-release fasteners that make it easy to set up and remove the top as needed. Soft tops are made from heavy duty materials like vinyl-coated polyester and cotton. They are waterproofed, weatherproofed, and designed to hold up against even the harshest of weather conditions. For people who enjoy spending time outdoors during the spring and summer months, Jeeps with removable soft tops are must-haves.
Tyres
One of the biggest reasons that people buy Jeeps is so that they can take them off road. Many people choose to customise their Jeeps by replacing the standard tyres with larger tyres. These larger tyres provide greater ground clearance for your Jeep, as well as having a wider surface area to provide you with better balance and traction on the road. One thing to keep in mind is that larger tyres make the Jeep sit higher up from the ground. Because the vehicle's centre of gravity is higher, it is easier for the Jeep to tip over. Therefore, care should be taken when driving around corners and making sharp turns.
Lift Kit
If you plan on taking your Jeep off road, then a lift kit is another must-have. Larger tyres give the Jeep a greater ground clearance, but the lift kit raises the Jeep even more. There are two main types of lifts that you can purchase for your Jeep. They are detailed in the table below.
| Life Type | Description |
| --- | --- |
| Body Lift | Spacers are placed between the frame and the body to make the Jeep appear higher |
| Suspension Lift | Replace the entire suspension of the Jeep to raise the body and the frame; available in short-arm and long-arm varieties |
When choosing a lift for a Jeep, it is important to determine how much time and money you want to invest. A suspension lift provides better performance, but because the entire suspension needs to be replaced, you should expect to invest more time and money.
Racks
Jeeps are not known for their roomy interiors. Thus, travelling with lots of gear can be cumbersome, especially if you need room for passengers. Racks can be installed on the front or the back of a Jeep to haul cargo. Most of these racks are designed to hold as much as 130 kilograms of gear.
Fender Flares
If you install larger tyres, then you should also consider installing larger fender flares. These are placed around the wheel wells of the Jeep and protect the body from flying debris. When going off road, the tyres kick up rocks and mud. These can damage the paint on the Jeep. Wider fender flares provide more coverage from this flying debris.
Lights
Added lights on a Jeep can make it easier to see in the dark. Light bars can be attached to the top of the windshield or the grill guard. These are usually five or six round lights that are controlled independently of the other lights on the Jeep.
Seat Covers
One of the simplest and cheapest ways to customise a Jeep is to add seat covers to the seats. Not only do they improve the appearance of the interior of the Jeep, but they also protect the upholstery from wear and tear. They come in a wide range of colours, designs, and fabrics. Seat covers are easily installed and easy to clean.
Stickers
Stickers are another inexpensive way to customise a Jeep. When using a Jeep for travel, you can purchase stickers to show where you have been and what you have done. Additionally, you can apply stickers that represent your favourite brands or show your sense of humour.
Find Jeep Parts for Your Customisations
Once you have determined which customisations you wish to apply to your Jeep, you can begin looking for them. Custom parts are usually sold by third party or aftermarket companies, which means that they are not Jeep brand parts. However, they are made to fit your Jeep. It is important to research the brands before making your purchases, as some are of better quality than others. When shopping for custom parts, you need to consider the condition of the parts as well as their cost.
New vs. Used Parts
There are both new and used parts available for Jeeps. New parts have never been used on another vehicle, so they show no signs of damage or use. Used parts may show some signs of wear and tear, but they are often priced much lower than new parts. Before making a purchase, it is important to examine the condition of the parts to make sure that they are still in usable condition. When buying new parts, you can be sure that that quality is top notch.
Cost
If you plan to make several customisations, then you should budget out how much you can spend on the total project. If you spent too much on the fender flares, then you might not have enough for the tyres. Additionally, you should be sure that the cost of the parts is representative of their condition. When shopping for used parts, the better the condition, the higher you should expect to pay for the parts. Likewise, if the parts show significant signs of wear, then they should be priced much lower than retail.
How to Buy Jeep Parts on eBay
eBay is a large online marketplace that allows buyers and sellers of Jeep parts to interact in one convenient location. New and used parts from all manufacturers can be found on eBay. Additionally, since all of the parts are sold by individual private sellers, the prices are much lower than can be ordered or purchased anywhere else. You need to be able to use all of the search features on the site to effectively search for and find the parts that you need.
Searching for Jeep Parts
Start with a basic keyword search to perform a general search for the part you are looking for. Be sure that you are specific with your keywords. A vague search like 'jeep parts' likelys returns multiple irrelevant listings that you then have to sort through. Instead, be a bit more specific with a search like 'short arm jeep suspension.' Once the initial results are returned, select different options and features, such as the condition and the price, to narrow the list down to a smaller number. From there, read item descriptions and look at photos of the items to find the parts that you wish to purchase.
Conclusion
The Jeep is one of the most popular sport utility vehicles for taking off road. Because of their popularity and solid reputation, a number of companies make parts for owners to customise their Jeeps. By customising the vehicle, owners can enhance the performance of the vehicle. These modifications can be made to suit any activity that the owner desires. Custom parts range from oversize tyres to auxiliary lights to racks for carrying extra cargo. Jeep owners need to take the time to learn about the different options available and make a decision as to which parts best meet their needs. Additionally, they should evaluate the brand, condition, and cost of the parts before making any purchases. Customising a Jeep can quickly become expensive, so it is important to budget accordingly. When looking for great deals on Jeep parts, shoppers can find everything they need to customise their vehicles on eBay.