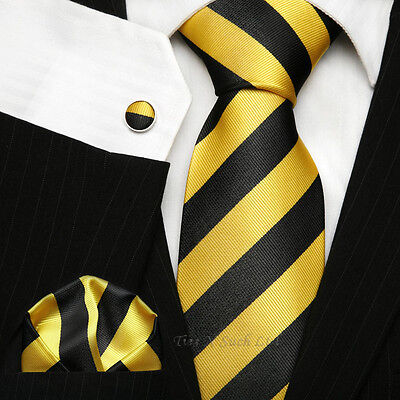 Striped Designer Ties
Designer ties help make an audacious statement about one's persona. Each tie will signify whether you are businesslike, casual, or a formal kind depending on the color, design, and the wardrobes they are worn to compliment. They help enhance one's personality and helps to bring in better opportunities in life. A nice looking tie can also act as a colloquial piece when socializing with people.

A tie speaks a lot about one's personality. It shows whether the person is somber, strong-minded, quiet and composed, or exciting and enjoyable. A man's preference about the color of the tie, its cut and design speaks a lot about their personality.
Designer ties are available in a variety of colors from black to white and anything in between to match your suit perfectly. It's vital to pick colors depending of the environment and accession. For work place, the appropriate colors would be grey, blue, and gold. Standard shades pose a thoughtful and more confident feel while lighter shades depict a pleasant atmosphere. The choice entirely depends on individual personality.

However, when not at work, the choice widens. Designer ties help enhance the attire and grace the occasion with more fashion and style. The approach to smartness can be brought through elegant silk ties, bright red or green ties, or just simple slim ties. Designer ties offer many patterns and styles to match different occasions. Bright colors like green will make a perfect combination with your outfit to grace an occasion at night or any informal gathering.

Designer ties come in different patterns and styles. Checkered and Striped ties are appropriate for office wear. However outside work one can experiment with many colors and combinations. While choosing ties, do not compromise on the material used. Usually designer ties come in fine fabric of silk which do not get crumpled and get out of shape easily. It is however, advisable to take good care of them if you wish them to stay and look good for a longer period of time.