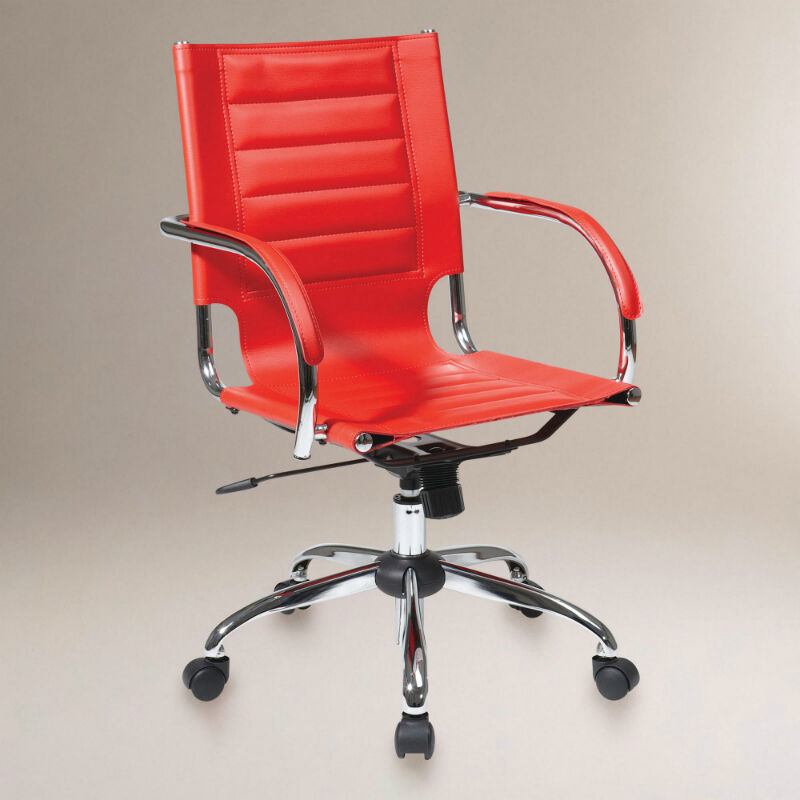 There is nothing more uncomfortable than sitting for hours in hard, painful office chairs that leave employees feeling stiff and achy at the end of a workday. There are many ways to improve staff morale, such as celebrating special events, giving workers frequent breaks, and making employees feel important, but one thing that makes everyone feel better is for bosses to provide comfortable office chairs for staff members.
Feeling comfortable while working eases the distraction of trying to twist around in a hard chair and find a good position to work from. It eliminates the agitation of worrying about a damaged back or neck, and can allow employees to freely work without those distractions, which may lead to an overall loss of productivity.
Ergonomic chairs may seem like an expensive investment to employers, but in the long term, they pay for themselves with the increased output the employers give over time. Improving situations at work with small luxuries, such as good office chairs, can go a long way when it comes to improving staff morale. It is a simple solution to creating a more positive work environment. There are several key ways that great chairs can improve the morale of an office staff, such as easing pain, increasing productivity, and creating happiness.
Easing Pain
The central reason to purchase good office chairs and furniture for an office is easy to explain; it is all about comfort of employees and reducing pain. Some office chairs are stiff, offer no back, neck, or arm support, and simply put, make it hard for employees to sit comfortably. Since most office employees have to sit for hours on end at work making phone calls or typing on a computer, it is important for the body to be in a comfortable position lest long-term pain and problems may occur.
It goes without saying that employees who feel comfortable are going to work more and have to get up and stretch less, since an ergonomic chair provides all of the support needed to make sitting for long intervals more pleasurable. Feeling healthy and comfortable at work makes employees more prone to working for longer stretches, and therefore increasing the volume of work as well as their happy state while sitting at their desks.
Medical Issues
Chairs that are not designed for comfort can also lead to issues for employees such as carpal tunnel syndrome, back problems, or repetitive motion problems, which can result in long-term injury or muscle pain. Having these types of issues and pain definitely causes a loss of morale amongst even the most hardworking staff of employees. These issues can also cause employees to have to seek treatment, which creates negative feelings toward the company and may result in loss of motivation to work or leaving the job altogether.
Increasing Productivity
Employees who are comfortable are happy, and therefore more productive. Employees who are sitting in chairs which feel good do not feel the need to stop working to rub tired shoulders or stretch aching backs. Being comfortable allows workers to get more done over the long haul, and sit for longer stretches of time before having to get up and move around. Chairs that support the lower back, have armrests for both arms, and help keep employees sitting upright keep staff members feeling good and healthy, which increases the amount of work that can be done comfortably.
For employers considering purchasing ergonomic chairs, it is important for bosses to realise that office chairs simply may be the single most important pieces of office equipment that they purchase for employees. Top-of-the-line computers or wonderful desks do not make as much of a difference in morale as comfortable, supportive chairs do. Most office workers spend most of their waking hours sitting in chairs, and employers know that wherever people spend most of their time, they need to be comfortable to be happy.
Creating Happiness
Employees who are sitting in good chairs which keep them in an upright, comfortable position are going to be pain free, and therefore feel better and healthier. This creates a more positive outlook and attitude about work, and happy employees are an asset to any company, financial or otherwise. A happy work environment creates an overall sense of well-being amongst employees, which ensures long-lasting employer/employee relationships as well as more lucrative financial gains for a company.
Happiness as Motivation
Happy people tend to be more motivated to work, and an atmosphere of comfort and health makes employees feel better and more productive. Disgruntled employees tend to be responsible for a high turnover rate, and unhappy employees do not put their all into their jobs, resulting in shoddy performance or less than productive results. Happiness starts with comfort in the work environment, which can translate to overall production and create a great environment for bosses and employees.
Employee Value and Appreciation
If there is one thing that employees do not like, it is the sense of being undervalued and unappreciated. When bosses put their employees first, it creates the sense that every employee is valuable and a worthwhile asset to the company. This creates very high self-esteem for employees and improves the entire company's sense of morale as a whole. While small things such as financial bonuses, vacations, or events help employees feel valued, bosses that take their daily comfort into consideration, such as purchasing good office chairs, are sure to receive high marks from their workers.
Feeling Valued Through Comfort
Employers may not think about just how important comfort is to employees and how much it makes a difference in morale, but the fact is, great morale equals employees who are more willing and motivated to work. Employees who have special health considerations, such as pregnancy, bad backs, arthritis, or other health concerns feel extra special when they know that their bosses are recognising their need for comfort and appreciate them enough to provide it. These employees are likely to tell everyone they know how much their company cares about them, creating a positive word-of-mouth campaign for the company, which can create a domino effect of positivity.
Employers should remember that many employees consider their office a "home away from home" of sorts, so it should be furnished with that in mind. Comfortable office chairs can reduce stress and alleviate pain and achiness to create a soothing, productive work environment filled with happy employees.
Selecting the Right Office Chairs
Employers do not just want to select office chairs that happen to be in the preferred price range. Good chairs may cost a bit more, but they are likely to hold up better in the long run, and provide all of the needed support for arms, backs, and legs. Good chairs which are ergonomic can also alleviate stooping over desks and damaging individuals' backs due to bad posture while working.
| Chair Seat/Back | Chair Materials | Chair Arms | Chair Features |
| --- | --- | --- | --- |
| | Leather for durability and aesthetics | Cushioned or padded for arm comfort | Swivels for easy range of movement |
| Has high back for lumbar support | Cloth/fabric for comfort | Can be raised or lowered if desired | Rollers to make travelling from one side of a desk to another easy and stress free |
| Provides adjustable seat height so feet sit flat on the floor | Mesh for ergonomic options | Should be thick enough to rest arms on easily and comfortably | Extra padding in lumbar area for back support in the lower region |
Choosing office chairs is sometimes tricky, but for employers who know exactly what type of chairs fit the bill, finding the right ones is simple. Chairs that look good in the office and complement the existing decor, along with offer the right support and features for employees are the perfect chairs to purchase.
How to Purchase Office Chairs on eBay
If you are an employer looking to buy good office chairs for your staff, eBay has many options available. There are a few things you need to consider when you are looking for good office chairs. First, search "office chairs" to bring up all of the relevant results. When you are looking for chairs, consider whether the height can be adjusted, so they can be customised for each employee's height and weight. Another factor to look for is arm support. Chairs with good arm support lower the incidence of strain on the arms and wrists while typing on a computer, and help ease back pain.
Chairs should be durable and made of a functional fabric, such as leather, so be sure to narrow your search using keywords that include material. Chairs that swivels are a better bet than stationary chairs, due to the fact that they are easier to reach for things and manoeuvre around a workstation without having to lean, reach, or strain any muscles. Chairs with adjustable tilt also create more customised experiences for the users of the chairs. You can use keywords to find tilt or swivel chairs. For the best experience buying office chairs on eBay, look for merchants who are Top-rated sellers and have established a good amount of positive feedback from purchasers.
Conclusion
For employers who want to change up the work environment and produce better results from employees, creating comfortable workspaces is one of the easiest ways to do that. Purchasing good chairs for workers can bolster their comfort, which leads to happier and healthier employees and can radically improve productivity from employees. When employees feel valued, respected, and taken care of by their employers, it also creates a domino effect of positivity and good will for the companies themselves.
Employees want to do their best to continue working for great companies when they feel appreciated and like that their comfort is important to their bosses. Office chairs come in many styles and designs, so employers have a wide selection to choose from that should fit their personal budgets, the style of the offices, and the features that are most important. Employees enjoy their comfortable chairs, and love feeling that their employers value them not just as workers, but as people who need to feel comfortable and happy to do their best work.