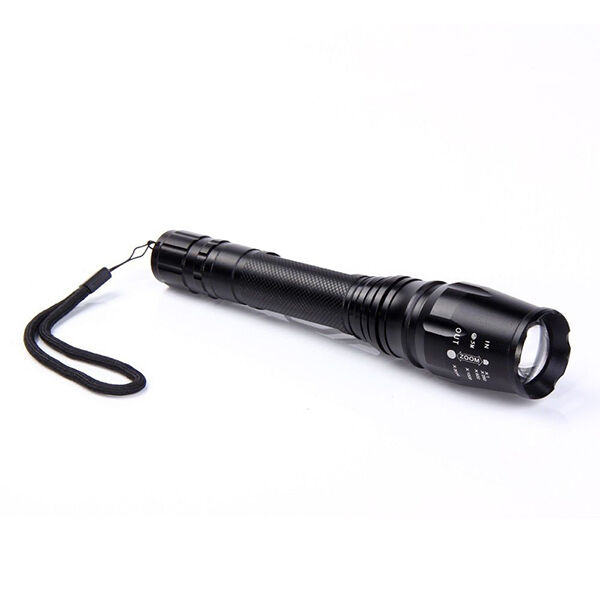 A lumen is a unit of measurement that is applicable to all light-emitting devices. It does not equate to the power of a device, but simply the total amount of visible light the device produces (as detected by the human eye). One lumen is roughly equal to the brightness of a single candle, so this is a good starting point when trying to picture a lumen count.
A helpful analogy is comparing the lumen count to the volume flow of water from a hosepipe (litres per second, for example). However, the lumen count refers only to the brightest spot of the device, and as such other features should be considered when buying aflashlight, lantern, or torch. This guide will assess the importance of lumen count when purchasing a lighting device, as well as examine how to purchase items on eBay.
Lumen Count and Related Features
When a torch or lantern is advertised, one of the key selling points will be the lumen count. Most modern light sources that are battery powered will use some form of LED (light emitting diode) arrangement, rather than a single bulb as seen in older models. This means that different combinations of batteries, LEDs and lumens will produce different results.
Brightness
When it comes to the brightness of a flashlight or lantern, a 200 lumen (lm) torch will not necessarily be twice as bright as a 100 lm one, as the angle of distribution and lens focus will spread the beam(s). However, it is possible to see from the table below the equivalent of lumen compared to other light sources:
| | | |
| --- | --- | --- |
| Lumens (lm) | Light Bulb Watts (W) | Fluorescent LED Watts (W) |
| | 25 | 6.23 |
| 600 | 40 | 10 |
| 900 | 60 | 15 |
| 1125 | 75 | 18.75 |
| 1500 | 100 | 25 |
| 2250 | 150 | 37.5 |
| 3000 | 255 | 50 |
Battery Consumption
The amount of lumen that an LED or group of LEDs produce will have an impact on the battery life of the device. Most commonly, torches will use AAA batteries , but it is not uncommon to find more powerful torches that use D batteries , or even those that are either solar or wind-up. All of these will have different power outputs, but the number of batteries used will also affect the lumen count and brightness of the device. It's always worth checking whether the device comes with batteries included, or whether they need to be purchased separately.
Number of LEDs
There are various configurations and arrangements of LEDs, from single LED flashlights to lanterns that have over 30 individual LEDs. Again, lumens of the LEDs do not necessarily equal brightness, as it depends on how focused the beam of light produced is. Often lower budget torches will have LEDs arranged in circles, which means that the beam produced appears in bands of light. Some flashlights will have adjustable lenses to better focus the beam, or further disperse it if is required.
Use
The use of the device will significantly impact of the lumen count required, as well as the brightness and intensity of the beam. For general use, a simple torch with a few LEDs and medium lumen count will produce a beam that will light the way to a fuse box in a blackout, for example. However, when a greater light source is required, for example when camping or for security personnel, either a single but powerful LED flashlight, or a lantern that is powered by multiple powerful LEDs requires a higher intensity beam. In either case, these features coupled with a high lumen count and adjustable lens will be ideal.
Buying Considerations for Flashlights, Lanterns, and Torches
When it comes to picking out a light source, it's important to understand the needs of the user. The situation it is going to be used in is key, as an inadequate product for the situation could be hazardous. Below are listed some of the variables that can be selected from on eBay:
Torch Type
There is a range of different torches available for a variety of needs. For example, a standard torch may be what's needed for everyday use, but it will not stand up to the test of a more demanding environment. There are torches that are specifically designed to be worn on the head for activities, such as running or caving, and again these have different strengths and lumen counts, but will be more robust and suited to the needs of the user. There are also diving flashlights that are specially designed to withstand the water and pressure they will be exposed to.
Features
There are a number of features that can add to a torch or flashlights use. Some are specific to the type of torch, but some are to make the equipment easier and more convenient. Being waterproof is essential for diving torches, but will also come in handy when being used outdoors in harsh environments. An adjustable focus is useful for when the torch will be used in a number of different environments. Some torches and flashlights use UV light, which is handy in any number of situations, and those that are rechargeable or have batteries included could end up saving you money.
Brand
Brand is a useful way of measuring the lumen count across models, as each brand will use the same parameter for their lumen count across all their models. There are plenty of different manufacturers, and some specialise in particular types of equipment. Here are some popular ones to look out for:
* Cree
* Maglite
* Surefire
* Lenser
* Luxeon
There are of course others available, but these ones tend to be quite popular on sites such as eBay.
Material
The material of the torch will again reflect the environment that it will be used in. Plastic torches won't be particularly hard wearing, but then again metal ones may be quite weighty. Be sure to look out for rubber coated ones if it is going to be used in an environment where it stands a risk of damage.
Condition
There are plenty of torches, flashlights and lanterns available on eBay that are bothnew and used. Used ones might offer a more affordable option, but it is nice to know that the item is in full working order and is still under warranty when buying new. Overall, It really comes down to personal preference.
Cost
When it comes to purchasing an illuminating device, the cost will be a deciding factor. Those that have a high lumen count and intense beam, as well as specialist torches, will be at the higher end of the budget. However, there are plenty of affordable options available.
Buying a Torch, Flashlight, or Lantern on eBay
When shopping online, eBay is an excellent place to find a huge variety of products and manufacturers. By visiting theSporting Goods page and navigating to Camping category, you will find thousands of items in the lights, lanterns and torches section. There are some useful features to help you out once there:
Refinement
It is possible to use the left-hand refine to narrow down the results desired. Features such as torch type, features, brand, battery type, battery number, LED number and material are all available, as are the condition and price. Multiple refines can be applied at once, and the search bar can be used to search for relevant keywords.
Product Pages
Once the necessary search and refinements have been made, a list of relevant products will remain. By clicking on any of these, a detailed product page will be loaded. This page will show further information about the particular product, such as a description, image gallery, and seller name and delivery/purchase options. This is handy when researching whether a product is relevant or a good fit.
Seller Information
By clicking on the seller name, their profile page will load and their vital stats will be shown. Their track record will be measured by the feedback and comments that previous customers have left, and details of their delivery and returns policy will be included. It will also be possible to contact the seller to ask any questions that there may be surrounding a particular item.
Auction or Buy Now
There are two different ways to purchase on eBay. Some listings will be auctions, where bids (or maximum bids) can be placed during the time limit with the highest bid winning. Bids can be replaced if someone else places a higher bid. Other items will be labelled as 'Buy It Now', where the item can be purchased directly without having to wait for a time limit to expire. Either is a valid and useful way of shopping on eBay.
Conclusion
When it comes to lumen count for flashlights, lanterns, and torches, there are a number of factors that it affects. The LED count and positioning, the battery type and number, as well as the beam width and intensity, will all contribute to the brightness of the equipment. However, as a general rule, the more lumens there are the brighter the torch will be. Shopping on eBay is easy and intuitive, and with their buyer protection policy it is a safe shopping experience.