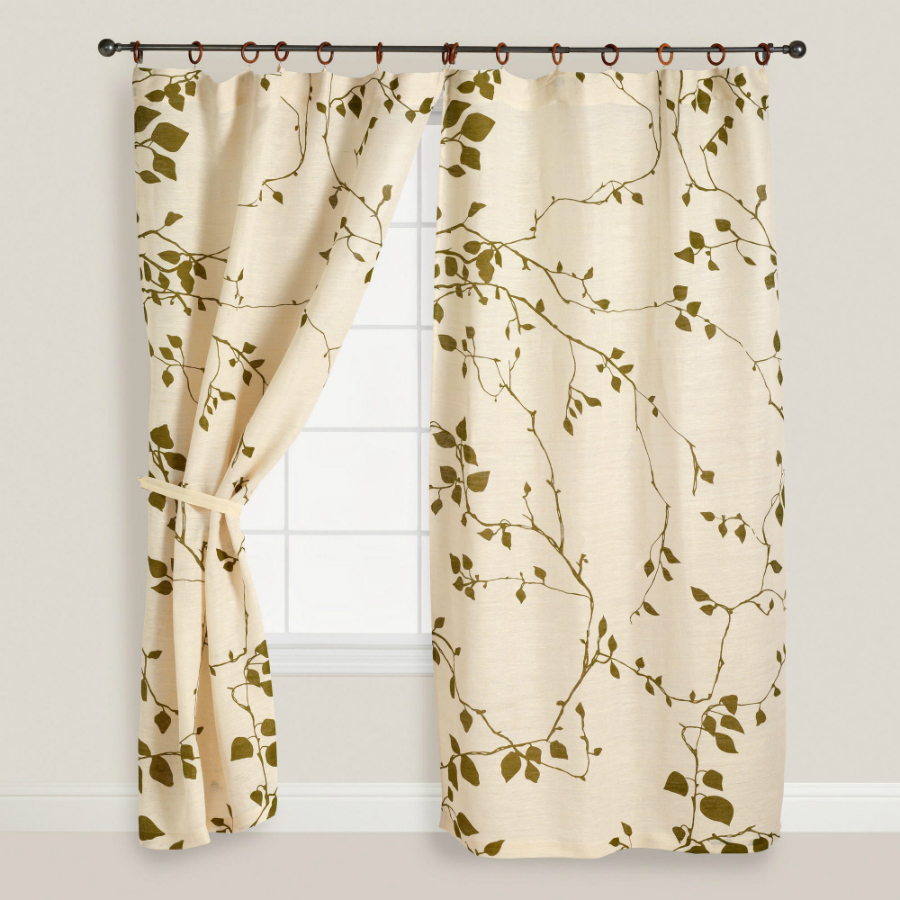 Embarking on a venture to make your own curtains can be an exciting and fulfilling project for homemakers to delve into, with the potential to save money in the process too. This guide will look at the steps required to undertake such a project and also how to go about buying the necessary equipment needed.
A whole range of equipment can be bought on such websites as eBay, because many people list their used goods at reduced prices to ensure quick and definite sales. As such, searching around on eBay can unearth some great deals.
Different Styles of Curtain
Before you begin to make a set of curtains, it is useful to be acquainted with the mixture of curtain styles commonly found in homes. There are many ways to decorate a window, where style needs to be considered along with the amount of light desired to seep into the room.
Curtain Headings
The headings of a curtain come in various styles, and some of the most popular are highlighted below:
Table Top – table top headings are made from hoops which hang fromthe curtain pole for a neat and tidy finish. They are also easy to fit and give off a casual appearance, making a room like stylish but also orderly.
Pleat – pleats are a formal and traditional curtain heading that can be personalised if needed. Some of the most commonly found formats that they come in include pencil, double pencil, inverted, box and goblet pleats.
Eyelet – chrome ring or eyelet's come with holes in the heading that the pole can be fitted into. In this sense, heavier fabrics can be supported by the chrome ringed headings in a number of styles and colours.
Lined or Unlined
Curtains also can be lined or unlined in their final design also.
Lined –lined curtains are generally considered the most efficient way to hang curtains. They are the most popular with homeowners and give a more traditional and professional feel to a room. Their lines add to their thickness, meaning that less light can pass through and stop interfering neighbours peering through the window. Their increased thickness also helps preventing any potential draughts that may pass into a room.
Unlined – The alternative are unlined curtains, which are generally less expensive but perhaps don't have the distinguished and customary appearance of their lined counterpart. They do allow a nice amount of air into the room however, also having a softer feel and can be machine-washed at home easily, although some versions do have the tendency to fade.
Basic Considerations for a Curtain Project
Before choosing how much fabric is needed for the curtain project take into consideration a few other basic aspects that can help with the venture.
- Firstly, what is the purpose of the curtains in the first place? For example, are they going to be drawn on a regular basis? If so, a more expensive and durable fabric may be needed.
- Is the window susceptible to regular, strong sunlight? Top floor bedroom windows may need thicker, darker, lined curtains for example to stop unwanted light waking up those who are sleeping.
- Are they purely for decoration? Some home decorators like to establish a room with a certain style in which the curtains can form one of the main components.
- The list of potential curtain designs and colours is potentially limitless with thousands of styles on the market. Any colour scheme already implemented in the room or other ornamental features of the room can influence a choice.
- Are the curtains covering a full-length window? If so, then think about whether they would look best touching the floor exactly, not touching it at all or settling down fully on the surface.
Equipment Needed
As noted previously, any of the potential apparatus required for a curtain project and the fabric needed for it can be found on eBay. To make accurate measurements and efficient cuttings the following equipment will be needed:
Measuring Tape -a measuring tape will be required to stretch across the window to make precise readings, as a ruler will obviously not be long enough.
Writing Utensil/Paper - to make notes of the figures will require a pencil and paper to ensure they are not forgotten.
Calculator - to work out how many panels are needed, sometimes a calculator is needed to be there at hand.
Stepladder -for high windows, reaching the top of them is not possible without some extra height. For safety reasons, it is wise to use a stable stepladder, which allows for easy access to taller distances.
How Much Fabric Is Needed?
Once the correct style of fabric has been sought out, a rough estimate is needed of how much to buy, either from a decorating outlet in store or online. Of course, the measurement of the windows is the main factor in this. Remember that unlined curtains will differ because less material is needed so they don't fold over to create the lines. Lined curtains on the other hand will require you to be more generous with the measurements.
Use a measuring tape to note down the width of the window and multiply it around between 1 and 3 times depending on how many folds you wish to appear when the curtains are finally hung up.
For the length, the curtain should again fall below the bottom of the window comfortably. Extra room in the length measurements should also be given for the hem that will be sewn into the bottom edge of the curtains. Add anywhere upwards of 2 ½ inches for the hem depending on the style that is required, remembering that they need to be turned also during this process.
For the top of the fabric, then the heading should have already been considered. For example, table top curtains require less fabric than pleats. If using a curtain pole, then it s best to measure from the bottom of the rings where the curtains will hang. For curtain tracks, then measure around 1/2 a centimetre above the top edge.
Fabrics will come individually in panel sizes, which may not cover the entire window. In this sense, more than one panel will most likely be needed. Remember that being over generous with the measurements will lead to fewer mistakes when coming to make cuts in the fabric. Also, as some modern day curtains incorporate patterns into their design, they will need to be matched up together. If designing a pair of curtains that will be drawn regularly, the panels will need to match up in this sense, on the two different sides.
To make sure that the correct measurements are taken down and a sufficient amount of fabric used, then read up further from specialist home décor websites and magazines about how to take down measurements more accurately for different curtain and heading types.
Buying Curtain Fabric and Accessories on eBay
When starting the curtain project independently, knowing exactly the items that are needed along with how to buy them quickly can be extremely useful. eBay is perhaps the most efficient place to look as all these items can be searched for on the same website and potentially found at a lower price than elsewhere.
To seek out fabrics on eBay for curtains then it is best to enter into the 'Curtains and Blinds' section inside the 'Home, Furniture and DIY' category. By typing 'fabric' into this section, it will bring up all the relevant results for this. If looking for accessories to help with the design and how much fabric to choose, then scouting the 'Curtain and Blind Accessories' category can also provide more options to look at.
However, this will only bring up the fabrics that have been listed in this category. Some eBayers may list similar items in different ways and not classify them at all. Typing in 'curtain fabric' and searching across all the categories may bring up alternative results.
Using the menu bar on the left hand side can narrow down listings even further and produce more applicable results. It is possible to choose between certain colours that may be required for a certain room, such as beige or black, or even those that are multicoloured. For which room the curtain fabric will be suited can also be selected alongside some top of the range brands.
Other aspects such as the buying format, condition and price range can also be selected to help with shopping on eBay. Remember to stay safe on the website by reviewing the Safety Centre guidelines and paying with PayPal to complete the transaction.
Conclusion
Measuring your windows at home carefully with the right equipment will provide the best way to find out the correct amount of fabric for your next curtain project. Researching the specific ways to find these measurements in relation to the style of curtain, heading and hemming can help with this.
Remember to use eBay for any of the tools needed to go about doing this, and stay safe when using the site by reading up on the item. And keep in mind, it also possible to ask the seller anything you want to know in regards to the item.