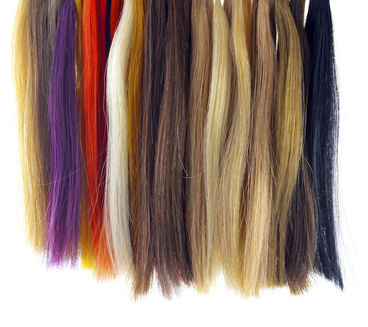 Hair extensions offer a simple way to add volume and length to your hair. The increasing popularity of these hair accessories means that they are becoming more affordable. A wide range of hair extensions are available to suit every budget and hair type, and salon application is no longer the only option. If you are considering applying extensions to your hair, knowing how much hair to buy is an essential part of the process. The amount of hair needed is affected by the type of hair extensions that you want to wear and individual factors such as the thickness, length, and condition of your natural hair. Hair care is always important to consider.
Unfortunately this means that there is no set formula to work out how much hair you need. However, understanding how the application method and your own hair influence the overall look are crucial factors in making an informed decision. Hair extensions are available from hair salons, specialist suppliers, and online sources, such as eBay's Health and Beauty.
Materials Used in Hair Extensions
Hair extensions are categorised according to what they are made of. The material used affects the thickness and texture of the extensions. Hair extensions are usually made of either human hair or synthetic materials. The thickness of human hair can vary according to where it is sourced. The texture of synthetic hair is far easier to regulate as it is created in a controlled environment. Matching the texture of the hair extensions to the texture of your own hair is as important as choosing the right colour, so take the time to find the perfect fit.
Human Hair Extensions
High quality human hair extensions look more realistic than synthetic hair and can be styled using the same appliances and products that you use on your own hair. Remy hair is 100 percent natural human hair that usually comes from a single donor. Remy hair is not a brand; it merely means that all of the hair cuticles are intact and are facing in the same direction, making the hair less likely to tangle or to become matted.
Virgin hair has never been coloured or treated with chemicals and is the most expensive option for hair extensions. Very few suppliers have access to genuine European hair and most donors are Indian, Chinese, or from another Asian country. This means that the hair tends to be coarser than European hair. Hair that has been chemically treated tends to be finer and resembles European hair more closely. If the extensions that you choose are particularly fine you may need more hair to create the look that you want.
Synthetic Hair Extensions
Synthetic hair extensions are made from manufactured materials and are easier to match to natural hair. However, these extensions cannot be coloured or styled as they do not retain oils or moisture. They are damaged easily by heat, but tend to cost less than human hair extensions. If you are experimenting with extensions for the first time, choosing synthetic extensions allows you to see whether spending a considerable amount on human hair would be worthwhile, and whether you are comfortable with extensions.
Application Methods for Hair Extensions
Although the type of material used does play a small part in determining the amount of hair needed when inserting hair extensions, the application method is the most important factor. Different application methods come in different measurements. There are three main application methods: strand by strand, weft, and clip in.
Strand by Strand Hair Extensions
The strand by strand hair extension application method is most often used in hair salons, but can be used at home provided the person applying the extensions is fairly skilled. Extensions are applied to individual strands or small sections of the natural hair. Bonding methods include glue or keratin that is activated by applying heat or cold fusion, weaving, or simply usings clamps.
Weft Hair Extensions
Weft extensions are strips of hair that are woven together at the top, with hair strands flowing freely from the top of the weft. These extensions are normally woven or sewn into the natural hair, but some use glue to attach the weft to the hair near to the scalp.
Clip In Hair Extensions
Clip in hair extensions simply clip into the hair. They are the easiest to use and can be inserted and removed with a minimum of fuss and are usually the least expensive option. The quality and cost of clip in extensions vary, but they come in a range of colours and styles. Buyers with very fine or thin hair may find that clip in hair extensions are not the right choice as they can slip out. Clip in extensions can be categorised as weft extensions as they are constructed in a similar manner.
Determining How Much Hair You Need When Buying Hair Extensions
When it comes to choosing the amount of hair that you need, the table below can be used as a rough guide. However, always consider your natural hair when buying extensions as its texture and thickness dictates how much hair is required.
Application Method

Amount of Hair Required

Strand by strand

Average of 100 to 150 strands for volume and length

Average of 75 strands for volume only

Average of 200 strands for very thick and short hair

Weft

Measured in grams

75 to 250 grams, depending on length desired

Clip in

Measured in strands, weight, or length depending on manufacturer

Usually sold as half or full head
Hair tapers towards the bottom, so the longer the extensions, the thinner the hair becomes at the ends. Buyers purchasing weft hair can use the information in the following table to determine how much hair is needed. These measurements are for a full head of hair.
| Hair Length (in) | Hair Extension Weight Required (g) |
| --- | --- |
| 12 | 75 to 100 |
| 14 | 100 to 125 |
| 16 | 125 to 150 |
| 18 | 150 to 175 |
| 20 | 175 to 200 |
| 22 | 200 to 250 |
If you want very long and thick extensions, consider buying extra hair or double drawn wefts. Double drawn hair extensions are thicker than single wefts. These hair pieces do not taper towards the end, but they tend to be more expensive than single wefts and are fairly difficult to source.
Buying Hair Extensions on eBay
eBay sellers offer a large selection of hair extensions at competitive prices. To search for the perfect extensions, simply type a phrase, such as "double drawn virgin hair extensions", into the search field that can be found on any page, to see the listings available. Narrow your search by choosing the most appropriate category and the desired item characteristics. For more control over your search, use the advanced search function.
Before Buying on eBay
Before you buy on eBay, learn all that you can about the item and the seller. Clicking on an individual listing takes you to the item listing page. Here you will find the full item description, buying options, the seller's accepted payment methods, the terms of the seller's returns policy, if any, and the seller's feedback information. If you have any questions about an item, contact the seller via the "Ask a question" link. Sellers who specialise in hair accessories and extensions should be able to confirm how much hair you need to buy to create the effect that you want by applying extensions.
eBay's seller feedback feature allows you to see what other buyers think of a particular seller's products and customer service. Click on the number next to the seller's username to view this information. Detailed seller ratings provide additional information about aspects such as the seller's communication and the accuracy of the item description in the listing.
Conclusion
As everyone has different hair, finding hard and fast rules for the amount of hair needed when buying hair extensions is difficult. The extensions chosen should match the texture of your hair. In other words, if you have fine hair, then choose fine extensions rather than coarse versions. This means that those with fine hair and fine extensions may need to buy more hair than others to add volume to their natural hair.
The application type is the most important deciding factor when buying hair extensions. Strand by strand application methods require hair sold by strands and the average amount of hair required is between 100 and 150 strands. Weft extensions are measured in weight and the amount of hair required varies according to the length of the extensions. Clip in extensions are similar to weft extensions, but are measured in weight, strands, or length depending on the seller or manufacturer. If in doubt, ask the seller how much hair is needed for a full or half head of hair, taking the condition and character of your natural hair into account.
It is important to remember that longer extensions may require extra hair as extensions that are not double drawn tend to taper towards the ends. Knowledgeable eBay sellers, especially those with salon experience, should be able to answer your questions and provide some guidance.