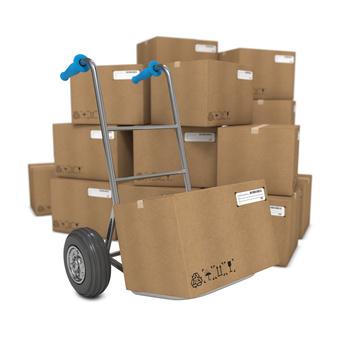 Success is business is measured in terms of profits and losses. All too often, entrepreneurs cannot see the forest through the trees. They focus on how to maximise profits by setting price points or strategising employee pay rates, but often overlook small issues like boxes. It may come as a surprise to you that a box can play a big part in how successful your business is, but if you rely on shipping, or you need a lot of storage, then you need boxes.
Boxes are great packing supplies that are readily available through shipping stores, department stores, and even online websites like eBay at very reasonable prices. Utilising a simple box cuts down on shipping costs, protects merchandise in route, and can even be recycled for use at a later time. Boxes do not come in one size fits all, and a good business manager needs to understand some packing basics in order to successfully run a shipping or storage company.
Buying Wholesale
One of the best ways to maximise profits is to purchase boxes at wholesale prices. This allows you to save on operating costs. There are two ways to locate wholesale boxes: either find a local wholesale packing dealer or shop through eBay. If you are happen to live in a large city, then there is probably a wholesale dealer close by. eBay is the better option if you live in a small town, or if you need several different box sizes that your local shop does not have.
Wholesale prices hinge on how much of the material you buy, with the price per item going down as you purchase a larger order. For example, buying 100 boxes is cheaper than buying 1000, but each box costs less if you purchase 1000. Therefore, if your business has a growing need for boxes, purchasing larger orders saves money in the long run.
Sizing Boxes
Bigger is not always better when it comes to boxes. For one thing, shipping companies often charge more for larger boxes than smaller ones, even if they weigh the same. The reason for this is simple: bigger boxes take up more space than small ones, and space comes at a premium price for shipping companies. Items can also end up getting easily damaged inside a large box, even if they are surrounded by packing materials.
Consider for a moment how boxes are shipped: the company places them all in a storage container, often stacking one on top of the other. A box that is large and almost empty is likely to get crushed and possibly even arrive in an unattractive condition at your customer's front door. Nothing says bad publicity and diminished profits quite like delivering damaged merchandise to a customer.
Picking the Right Size
The box should be able to hold the item comfortably with several centimetres of spare room on either side, including the top and bottom. Fill in the extra space on the bottom with packing material, place the item inside and then fill in space around it. The item should be completely covered with a thick layer of filling that keeps it from moving inside the box.
Boxing Items Together
Sometimes it does make sense to save on shipping costs by packing different items together. After all, it costs less to send one large box than two medium sized ones, or even four small ones. The best bet for all of the items to arrive safely is to use a combination of small and large boxes. Individually pack each item inside a small box, wrap it in the filling material, and then place it inside a larger one. You use more boxes this way, but it is a professional packing job that customers appreciate most of all. Besides, if you are saving money by purchasing wholesale boxes, you can afford to use multiple boxes.
| | | |
| --- | --- | --- |
| Box Size (feet) | Box Size (metres) | Shape |
| 4 x 4 x 4 | 1.2 x 1.2 x 1.2 | Square |
| 6 x 5 x 4 | 1.8 x 1.5 x 1.2 | Rectangle |
| 6 x 6 x 6 | 1.8 x 1.8 x 1.8 | Square |
| 7 x 5 x 5 | 2.1 x 1.5 x 1.5 | Rectangle |
| 8 x 8 x 8 | 2.4 x 2.4 x 2.4 | Square |
Make sure that the big box is strong enough to hold all of the items without breaking. Do not assume that simply because a box is large that it is strong. It is always a good idea to reinforce heavy boxes with packing tape just in case of accidents.
Box Material
The material a box is made out of affects its strength. As mentioned above, it is a mistake to base a box's strength off of its size. Instead, you need to focus on the material. Boxes today are usually made from sheet of cardboard, two sheets of cardboard, or plywood. All of these types have their uses.
Single Wall Boxes
Single wall boxes are lightweight, and business owners like this because it allows them to save money on shipping costs. They only use a single sheet of cardboard throughout the entire construction of the box. This makes them ideal for short-term storage or local deliveries, but they are not typically strong enough to hold up under international travel. Their sides easily collapse, especially when it comes to the larger boxes.
Double Wall Boxes
Double wall boxes contain two layers of cardboard rounding the sides that reinforce the box. This type of construction is usually only found on larger boxes, but some medium ones offer it as well. Boxes that are made for moving often used double ply construction because it is stronger and holds up better than single ply inside a moving truck. If you often ship items overseas or in large containers, consider purchasing double ply boxes for extra protection.
Wooden Crates
Wooden crates are usually only found in packing supply stores because the average consumer does not need them. They are used for shipping very heavy items such as machinery and metal parts that would rip open the sides of a cardboard box. If your business sells these types of items, you should do a cost analysis to see how effective using wooden crates would be compared to cardboard boxes. Crates are more expensive, but they provide better protection and result in greater customer satisfaction.
Storage Practises
If you own a store, then chances are you have a storage area. How big of a space you have likely depends on the size of your store, as well as the amount of merchandise you need to store. Storage space comes at a cost, and monthly rent is tied to the size of the storage facility. One of the best ways to save on operating costs is to rent a small storage facility and then use good storage practises to maximise the entire space.
Boxes are ideal for organising because they allow you to collect items into a single container and then safely store them one on top of the other. When it comes to storage boxes, strength is a main factor. Purchase double ply cardboard boxes to ensure that the boxes placed on top do not crush the boxes on the bottom.
Every business owner has their own method of organising their storage facility. Some use the same size because they find it easier to move items. Others use different sizes, taking care to always stack the biggest boxes on the bottom. Most use a marking system that denotes what is inside the box and where it should go. Find a system that works for you and make the most out of your storage area.
How to Buy Packing and Postal Boxes on eBay
eBay is an ideal place for business owners to get the box supplies they need in a single, convenient location. You can purchase however many boxes you wish in any amount, since many of the dealers sell everything from single boxes to wholesale orders. Plus, eBay's competitive environment encourages sellers to offer their boxes at shockingly low prices, passing on the savings to you.
Searching for Boxes on eBay
The quickest way to start your search on eBay is to type 'boxes' into the search engine and pull up all current listings. Many times, the list is too long for casual browsing, so you need to add several limiters to cut it down to size. If you are looking for heavy duty boxes, try searching for "double wall boxes". If you prefer lightweight boxes, then a search for "single wall boxes" should get you where you need to go. It is even possible to find environmentally friendly options such as biodegradable boxes.
Conclusion
Utilising the space-saving capabilities of boxes is one way to save in your daily business expenses. Whether you need boxes to help organise your business and maximise your storage space, or you use them primarily for shipping, they are a part of your business that you cannot do without. Therefore, it makes sense to learn some money-saving techniques when it comes to using them. Try buying boxes wholesale from eBay if you use them often, it saves in the overall cost per box.
One should purchase boxes in different sizes that fit the items you ship, and combine smaller boxes into larger ones to save on shipping costs. Use single wall boxes for short shipments and double wall boxes for international shipments and storage. Rent a smaller storage facility and stack boxes from the floor to the ceiling in order to make the most of your space. Follow all of these tips to cut down on your business costs while expanding your profits.