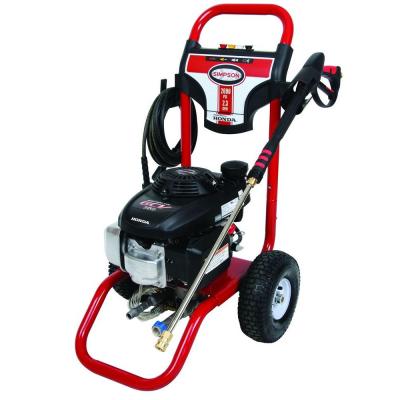 Pressure washers are great tools for cleaning dirt and various types of spots from corners that are hard to reach. These washers use high-pressure levels to clean the toughest grime on various appliances and they are often employed in commercial, industrial, and residential settings. One of the most common uses for a pressure washer is for cleaning vehicles. There are multiple types of pressure washers to choose from, depending on one's cleaning needs. Buyers can choose from tools with different power levels that are suitable for particular car cleaning purposes.
In order to be able to make a good choice when it comes to shopping for power washers, buyers should first determine the types of items that need to be cleaned, as well as the temperature of the water the tool uses. Buyers should also consider how much they are willing to spend and the brand that would fulfil their needs. By doing some proper research before buying a pressure washer, buyers can make sure they make a wise investment and buy a pressure washer that can perform well for the years to come.
Why Buy a Pressure Washer?
Using a pressure washer is an easy and efficient way to clean your car. Regardless of the type of vehicle you intend to clean, a pressure washer can help you do a thorough job. In addition to offering you a sparkling car, pressure washers can also be used for other cleaning purposes, including patios, garden furniture and equipment, boats, and more. Car cleaning may often prove to be a difficult task, especially when the dirt present on it is not very recent. Car pressure washers often come with a range of different nozzles and attachments for different uses. Using these tools is an excellent way to get a car clean and shiny without having to use the services of a car wash facility.
What to Look For in a Pressure Washer
As with shopping for many other products, choosing a car pressure washer may not be too easy, given the wide range of models available on the market. A good way to choose one that is ideal for buyer's needs is to consider the important features of these tools. The type of energy the pressure washer needs in order to work, the frequency with which one is planning to use the tool, the output pressure, portability, and flow rate are all important aspects to take into account before making a purchase. You should also make a distinction when it comes to the way you intend to use the tool. If you are buying one for using at home, you should probably opt for a smaller tool. However, if you intend to use the tool commercially, a powerful product may be the right answer for you.
Output Pressure
While the output pressure level of a machine may go up to 8000 psi, such high pressure machines are not needed for cleaning a car. In the majority of cases, you may notice that a pressure washer with an output pressure level of up to 1500 psi can do the job just fine. You should be careful when choosing the output pressure level of such a tool, as in this particular case, more power is not a better. If you use a machine with a high output pressure, you risk damaging the paint on the car. As such, for the safety of your vehicle's appearance, it is better to opt for a machine with an output pressure of less than 1500 psi. The chart below illustrates the different levels of pressure required for various cleaning tasks.
| Output Pressure Level | Recommended For |
| --- | --- |
| under 1500 psi | cars, lawn furniture, motorhomes, lawn equipment, grills |
| 1500 to 1800 psi | footpaths, retaining walls, decks, patios |
| 2000 to 3000 psi | fences, driveways, and siding |
| 3000 to 4000 psi | heavily stained concrete and stripping paint |
Even though pressure washers with an output pressure level of more than 1500 psi are not suitable for using on a car, they may prove useful for cleaning some of the areas associated with the vehicle, such as driveways. You may of course use the same pressure washer for the car and the adjacent areas, but sometimes you may find that a more powerful tool is needed for getting rid of the those stubborn motor oil stains on the driveway.
Flow Rate
Power washers with a low flow rate may be beneficial to a car, as they are able to transfer less quantity of water to the surface of the vehicle. This way, you can benefit from less water waste and the cleaning often becomes faster. A machine with a flow rate of 6 litres per minute or less is a good choice for most types of vehicles. The flow rate is measured in litres per minute and, as in the case of output pressure, it cannot be modified by the user on a particular machine.
Gas or Energy
The type of fuel a power washer takes is another important aspect to consider before making a purchase. Gas washers are some of the most powerful and efficient tools of this kind, but they are mostly suitable for industrial use. Gas models are often employed for stubborn stains. If you are an eco-friendly consumer, you may find that electric power washers are not only quieter, but also more environmentally friendly. In addition to that, the electric models are cheaper to operate than gas pressure washers.
How to Use a Pressure Washer Efficiently
In order to be able to transform the appearance of your vehicle with a pressure washer, you need to use it correctly. If you want to obtain excellent results and protect yourself when cleaning your vehicle, you need some extra accessories, including a garden hose, protective goggles, and a special cleaning solution that can be used with power washers. Ear-protection may also be needed for those who are working with a gas-powered pressure washer, as these tend to be more powerful, therefore louder. Any pressure washer you buy from a specialised store or online should come with the manufacturer's instructions, so you should make sure you read these prior to using the machine for the first time.
You may also need to purchase some extra nozzle accessories if the ones that come with the machine are not satisfactory. Remember that in most cases you should turn the pressure washer on after you connect it to an outside faucet via a garden hose. If you do not have too much experience using a pressure washer, you should hold the nozzle firmly with both hands, at least until you feel comfortable handling it. For great results, you should only use a cleaning solution approved by the manufacturer and point the trigger to the car at a shallow angle, at least one metres away from the car.
How to Buy Pressure Washers on eBay
Whether you are looking to buy a pressure washer for your car or intend to use it for a car wash business, chances are you have problems deciding on the right model. Fortunately, you can choose to shop for a pressure washer on eBay and compare as many products as you wish before actually purchasing one. eBay is a good place to start the search for a pressure washer because the website offers a good selection of industrial and business devices suitable for all needs and budgets.
Finding a pressure washer on eBay is not difficult, as the search system of the website allows you to locate the type of item you need quickly and easily. All you need to do is type the words 'pressure washer' into the search bar that you can find on the home page of the website. You can then start to browse immediately through the results you get. By narrowing the results according to your preferences and budget you can speed up the search process even more. Make sure you check the condition of the item carefully if you opt to buy a used pressure washer. You should also pay attention to the location of the seller in order to avoid hefty delivery fees.
Conclusion
A pressure washer can make your car look just like new without too much effort. By opting for a portable machine that is easy to use, you will be able to transform the chore of washing your car into a pleasant activity. Shopping for a pressure washer does not need to be hard work, as all you need to do is have a close look to the different types, accessories, and options and compare a few models. You should make sure the device you choose is the right one for how often you intend to use it and that it is as powerful as you need it to be. By choosing to buy a new or used pressure washer on eBay, you can make the task of choosing a device simpler, due to the large selection of products available on the website and the intuitive search system that allows you to locate exactly what you need in a matter of minutes.