A shed is an essential item for the everyday gardener, but did you know you could save time and money by building a shed of your own? It can be a fairly simple first DIY project, and by building your own you can customise it to suit your requirements.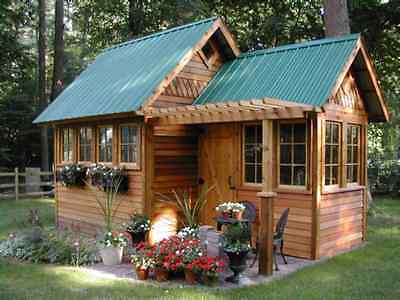 What's in your shed guide
Back to basics
Construction methods
Creating the shed structure
Building the shed
Shed extras
Additional security
A
shed
requires a stable base to keep it in place. The best way to achieve this, if you do not already have any solid surface available, is to lay a concrete base. Once you have completed the base, proceed to assemble your shed and secure it in position. This guide provides an outline to get you started, although this can be customised to suit your individual requirements.
Making plans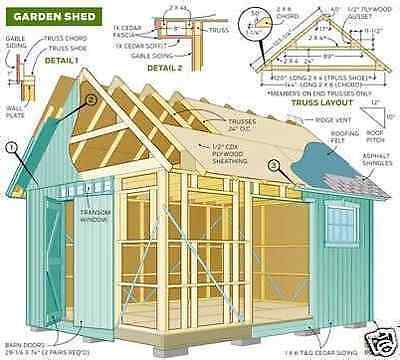 Consider the optimum site for your shed in terms of your requirements.
The ability to access all areas of the shed is important for general painting, maintenance and repair. Take note of any nearby trees,
as they may cause damage to your foundations in the future. If you are planning on building a children's shed, or creating a
workshop
, natural
light and view are important considerations, if you are building a shed simply to store your old junk and gardening tools then location and light requirements become less important.
Choose a suitable shed plan that gives comprehensive information on the types of materials required, exact measurements and also how the structure should be put together. Select your plan before beginning the build, as this will give you an idea of the area you require for the base.
Planning permission
Planning permission may be required if you live in a listed building, if you plan on connecting your shed to the main property, or if your shed is less than a metre away from the garden boundary. If in doubt, check with your local authority.
The base
A concrete base is the most secure and suitable base, especially for larger structures. It is possible to install a concrete base with minimal help, but you may need an extra pair of hands for the main structure. Allow space for a lip around the shed structure when installing the base; adding 150mm to the overall measurements should be sufficient.
Allowing for extra space around the structure will ensure that you don't require a wooden floor, which will save on
timber
costs. If installing a concrete base seems like too much effort, then a wooden base is the next best alternative.
Concrete base method

1. Dig 150mm into the ground to lay 100mm of

hardcore

.


2. Lay your 100mm deep concrete base on top of this, using wooden shuttering around the edges to keep the concrete above ground in place.

3. You are now ready to build your shed and affix it to the base.

Timber base method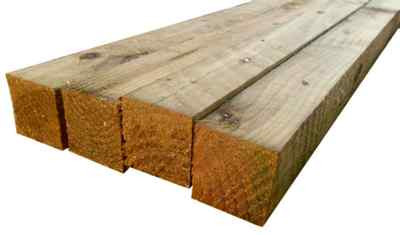 1 Take six, four-inch concrete blocks and use them to mark out the four corners as well as the middle of the two lon
gest sides of your shed base. When happy with the positioning, bury them into the ground so that only an inch of each block can be seen above ground level.

2 Position a four-inch by four-inch pressure-treated fence post across each pair of concrete blocks. This ensures the shed base is suspended from the ground allowing air to circulate underneath.

3 Position the wooden shed base over these three beams and secure it in place. You are now ready to build your shed and affix to the base.

Gather your shed plan and follow the instructions to build your walls and roof. This step-by-step video tutorial provides a visual guide to the process: http://www.youtube.com/watch?v=P_MAn0ojufk. Alternatively, if you are using a ready-made shed you can begin fixing this to the base straight away.

Once you have your base in position and you are happy with it, it should
be relatively easy to position your shed. Stand two adjacent wall sections next to each other in position on the base, and screw the edges together. Repeat this process again with the remaining sides. When the walls are positioned correctly you can then screw them to the wall plates or the timber floor if you are using timber.
For additional security and stability when using a concrete base, it is a good idea to fix your shed sides to a
pressure treated timber
plate, which have fixed to the concrete base using
anchor bolts.
Securing the roof
A shed roof generally consists of two sections that screw together. These should be fitted one at a time before securing them together. Once the roof is in place, the next step is to install shed roofing felt, which can be secured with clout nails or a bitumen-based adhesive.

Your shed can be as basic or as impressive as you like. Source an electrician to install power and
lighting
if you intend to work at night time. If you will be spending a lot of time in your shed throughout the winter months you could also add some insulation to the walls and roof space, which will double as sound insulation if you work with noisy tools. There are endless ways to 'pretty up' your shed too, and even make it into a mini-office where you can get away from the distractions inside the home.

Painting
Some sheds may come already treated with wood preservative, or stained a certain colour. However, you can also think creatively about decorating your shed – inside and out – with a range of oil-based
shed paints
suitable for outdoor use. Add bunting, an armchair and kettle and you have the perfect set-up for afternoon tea!
If your shed will be used primarily for storage, consider building one without windows. Having your contents on display could encourage opportunistic thieves. Position your shed door where it can easily be seen from the house, and consider installing an outdoor
security light
for added piece of mind. If you plan on storing expensive equipment in your shed, it may be worth installing an alarm. Check out eBay's
Home & Garden
section for all your shed necessities.
---