Check out the seller...
That sinking feeling once you've bought an item when you realise that the seller has awful feedback. Before you click, check fellow buyers' feedback, which is a pretty good indication of who you're dealing with.

If the seller has previously sold designer handbags, have a look at the ended listing as well as the corresponding feedback (you can search the comments by date).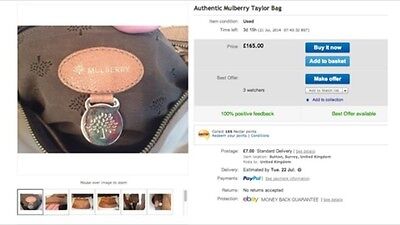 Ask questions about the item...
If you have a question about the listing, be it about the size, colour or authenticity of the handbag, don't be afraid to ask the seller. If the seller dodges the question or seems vague, avoid.

How much is it appropriate to pay?
The price of the handbag depends entirely on what the seller wants for it, and unfortunately that can be well above the RRP. Google the bag to see how much it normally costs, factor in the state of it (is it new? Used? Does it have scuffs or marks?), and then decide how much you're willing to pay.

If that's less than the buyer wants, it's always worth getting in touch to ask if they'll accept a lower offer, even if the ad doesn't have a 'Make offer' option. If the seller accepts, great, if not, then save the search and wait till someone else puts it up for sale.