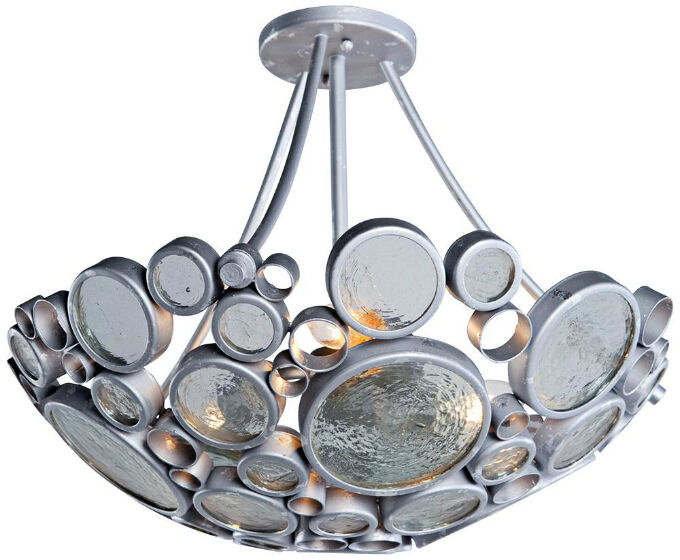 As fixtures that provide illumination, ceiling lights are a common sight in any household or modern building. Whereas standing lights or wall lights might offer a different decorative effect, ceiling lights are some of the earliest forms of lighting, and those in the hallway date particularly far back.
About Hallway Ceiling Lights
The hallway is a very important part of a household, being the first interior impression for guests and visitors. The earliest ceiling lights were in the form of early chandeliers, displaying collections of candles from suspended fixtures. Presenting guests with grandeur alongside function was always the intention of hallway ceiling lights. Beginning with candles, they evolved with technology to become oil wick lanterns, gas lanterns, gas lighting fixtures, and, eventually, to the filament light bulb we know today. Ceiling lights have been present in buildings for over seven hundred years. Hallway ceiling lights often have to fulfil a different function to those in the lounge of the kitchen. The need to present enough light to enter the home without overpowering what is often a short space has led to a plethora of options to choose from. Selecting the right arrangement of components to a ceiling light is paramount to achieving the desired effect.
Choosing A Hallway Ceiling Light
Ceiling lights are often chosen to reflect the current styling of a room. Whilst they can be focal points for the room, choosing the wrong ceiling light can detract from the existing style which has been created. A range of options in type, material, function, and style presents fantastic potential for customisation.
Type of Hallway
The type of hallway can rule out entire lines of ceiling lights, depending on their size and style.
| | |
| --- | --- |
| Entrance Hall | Grand entrance halls like those seen in Victorian manors and stately homes can reach vast sizes. Designed to portray elegance and luxury to any would-be visitors, large entrance halls are the perfect place for the more complex ceiling light fixtures like Regency Chandeliers. |
| Foyer | Foyers, though smaller, are still rooms within their own right. These types of hallways present a unique challenge when trying to provide enough illumination for guests, but being dim enough to provide the right atmosphere without overpowering the small space. |
| Porch/Entryway | Porches and entryways are the smallest of hallways, often only a small space in which to remove coats and shoes before proceeding into the house proper. Semi-flush lights are common here. |
| Corridor | Some buildings don't have hallways in the sense of an entrance to the building. Houses built during the Industrial Revolution were made much smaller and so a lot of homes today open onto a corridor which leads to the rooms of the house. Corridors are almost always fitted with semi-flush or shallow suspended ceiling lights. |
The position of the light also comes into play, depending upon the type of room. Corridors will often have a ceiling light(s) in the most functional places to avoid hazards and guide users, whilst larger hallways will optimise their lighting position for decoration. Large chandeliers are often placed in the most visible area, rather than where they are most needed.
Type of Hallway Ceiling Light
Choosing the correct type of hallway ceiling light can drastically change the ambience of the room, both in lighting levels and personality.
| | |
| --- | --- |
| Suspended | Suspended lighting hangs from the electrical lighting fixture and is both the most decorative and largest of all ceiling lights. Chandeliers are always suspended and are common in larger hallways. Suspended lighting can be shallow or low, shallow being closer to the ceiling and space-saving. |
| Fixed | Fixed ceiling lights are semi-permanently attached to the ceiling, offering greater stability and safety against the potential damage or problems of suspended lighting. |
| Recessed | Recessed lighting offers the most minimal of all ceiling lights in terms of space. Designed to sit level with the ceiling, they are fitted within holes to impose a clean and simple aesthetic to the room. |
Material of Hallway Ceiling Light Shade
Ceiling lights can throw different levels of light depending upon the light shade and its material, whilst also complementing to the décor of a room.
| | |
| --- | --- |
| Metal | Metallic ceiling light shades are normally in one of two styles; traditional or modern. Traditional metal ceiling lights often also feature glass and are normally made of brass or copper. Modern metal light shades are almost universally chrome or aluminium. |
| Plastic | Plastic is a very common and inexpensive ceiling light shade, which is difficult to tie with a particular style. The variety of finishes, colours, and shapes available when using plastic makes them a viable option for any style. |
| Glass | Glass shades were one of the earliest types of hallway ceiling light, being present on chandeliers when electric bulbs began to replace candles. Modern glass shades can feature suspended pieces which fragment and refract the light to create pleasing shadows and effects of light. |
| Fabric | Fabric ceiling light shades are treated with heat resistant chemicals to negate the risk of overheating and ignition. Often cheaper than plastic, fabric ceiling light shades are very common but normally only offer an understated approach. |
Purpose of Hallway Ceiling Light
Much depends upon the purpose of a hallway ceiling light, for many fixtures and shades become unsuitable for different purposes.
| | |
| --- | --- |
| Statement | Statement hallway ceiling lights are designed with decoration rather than function in mind. Larger fixtures like Chandeliers and Pendant lighting are examples of statement lights. |
| Task | Task lighting refers to ceiling lights which have the aim of providing lighting for a task or job. Task lighting often uses brighter LEDs with spot bulbs for easier maneouvering, and are common above desks, dressers, and doorways. |
| Decorative | Decorative hallway ceiling lights can be seen as similar to statement lights, though don't necessarily have to be as large in size. The only requirement is that they are aesthetically pleasing and many are designed to be as attractive when switched off as when switched on. |
| Ambience | Ambient ceiling light fixtures concentrate on light levels and their effect on the environment. They are particularly useful if they combine uplights and downlights to provide shadows and emphasis. Ambient ceiling lights are often featured in conjunction with other forms of lighting. |
Style of Hallway Ceiling Light
Choosing the style of a hallway ceiling light will almost always depend upon the style of the home or the room, unless operating a complete renovation.
| | |
| --- | --- |
| Classical | Classical hallway ceiling lights include Chandeliers and suspended Candelabras, whilst modern Pendant ceiling lights attempt to replicate this effect. Classical ceiling lights work best in large spaces. |
| Traditional | Traditional hallway ceiling lights can be seen as anything from the 1960s onwards, so does away with the luxurious gold Chandeliers of the 1920s. |
| Modern | Modern hallway ceiling lights operate with function in mind, but still maintain a decorative effect. Modern ceiling lights can be made from a variety (or combination) or materials to provide almost any effect desired. |
| Minimal | Minimal hallway ceiling lights are almost universally flush or recessed types of lighting.. In an effort to impose a clean and minimalist movement upon a space, they always sit flush with the ceiling to provide a flat surface which is decorated in block colour. |
Conclusion
Hallway ceiling lights are not only a necessary piece of technology in the home for after dark, they also offer a wide array of possibilities to complement and enhance a home's décor. Selecting the right hallway ceiling light can mean the difference between guests shielding their eyes, stumbling their way across the foyer or admiring the ambience of the space. Choose the right combination of options to ensure that the desired function and purpose is fulfilled. The hallway represents the chance to make a good first impression and the impression will be heavily influenced by the lighting. What good is great décor if a guest can't see it?