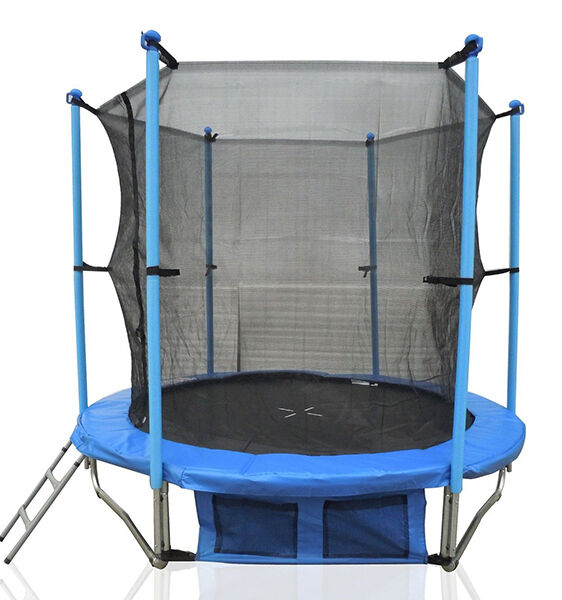 The trampoline is used for a variety of different purposes. It's been used in a recreational sense, for fun, and it has been utilised in a more serious manner, also. Across the world there are trampoline competitions, in which competitors perform tricks and stunts to impress judges. Since the trampoline's invention as we know it, it has also been used by space centres to train pilots and astronauts and also to maintain the physical fitness of elite athletes.
Those from the world of skiing, diving and gymnastics all utilise trampolines to enhance their performances in their respective fields. Trampolining is also now an Olympic sport and has been since 2000. There are also denominations of trampolining that translate to other sports. The versatility of the trampoline is part of its appeal.
However, if one is looking for a trampoline for recreational purposes, there are many options available online. eBay allows for the purchase of not only trampolines as a whole but also spare parts and accessories should they be required. This guide will take you through the most efficient and the most affordable way of purchasing the parts of a trampoline that may need replacing.
Types of Trampoline
Before purchasing any replacement parts for a trampoline, it would be wise to understand which type of trampoline the parts are being bought for. Here is a list of the types of trampoline that are generally owned and could require replacement parts:
* Competitive Trampoline - These trampolines tend to be used in competitions by professionals or in some circumstances used by schools to teach the art of trampolining. They tend to have steel frames and the majority of competitive trampolines can be folded in half to allow for easier transportation. The trampoline 'bed' is made of a strong fabric that is rectangular and comes in a regulation size of 14ft 0.5 inches in length and 7ft 10 inches in width.
* Recreational Trampoline - This type of trampoline is less robust in its build and is used as a source of fun or for hobbyists to practice on. The springs tend to be weaker in order to produce less of a bounce. The material of the mat is different also. It is traditionally made from a canvas that is woven a lot tighter than that of a competitive trampoline. Recreational trampolines come in a variety of not only sizes but also shapes. They can be found in both circular and rectangular forms. Size can vary enormously but the general size guide suggests that 8ft, 10ft, 12ft, 13ft and 14ft (these are all in diameter) are the most widely used options available. Most trampolines used for recreational purpose either have 4 or 6 'legs' as part of the frame, with 6 being considered the safer and more stable option.
* Mini Trampoline - These are known by other names such as trampettes but are based on the same design as the recreational trampoline. They are circular and are traditionally found to be 3ft 3in in diameter and around 30cm in height. They tend to be used for maintaining physical fitness. Physicians also recommend them to athletes for their rehabilitation qualities.
Components of a Trampoline
There are a number of components that make up a trampoline. The majority of these parts can be purchased at reasonable prices on eBay. Here is a table containing the components that make up a trampoline, those of which can be replaced affordably:
| | |
| --- | --- |
| Component | Function |
| | This is the padding around the outside of the trampoline and on top of the springs. They are used to protect the jumper in case of a fall onto the springs or the outside frame. Pads come in a variety of thicknesses. |
| Trampoline Springs | The springs on a trampoline provide the bounce. They are found round the edge of the trampoline, connecting the mat or bed to the frame. The longer the spring the larger the bounce. |
| Trampoline Frame | The frame of the trampoline provides the structure. It is traditionally made of steel. |
| Trampoline Mat/Bed | The trampoline mat is the material in the centre of the trampoline that is bounced upon. It is connected to the springs that are then connected to the frame. Competitive trampolines have beds made of a woven material. Recreational trampolines tend to have mats made from canvas. |
| Trampoline Safety Enclosures | Safety enclosures can be placed around the edge of the trampoline to stop the bouncer from falling off the mat. Those with children or beginners who wish to attempt tricks generally use them. |
| Trampoline Covers | This is used to protect the trampoline from rain, UV rays and other debris. They can be purchased either as 'tie on' covers or elasticated covers . |
| Trampoline Ladders | A ladder is an additional accessory that can be purchased to ensure safety when climbing on and off the trampoline. |
What To Consider When Buying Replacement Trampoline Parts
When purchasing trampoline parts online it may be wise to take these factors into consideration:
- If buying replacement parts second-hand, what is the quality like? Be wary of rust or other more substantial damage.
- Is the replacement the same size?
- Is the replacement of a similar or better quality?
- Is the replacement part from a known brand?
- If buying replacement trampoline pads, are the pads thicker than the recommended 20mm?
- Is the replacement part desired for the correct type of trampoline? Different trampolines use different springs, frames and mats.
Buying Replacement Parts Online
There are a number of trampoline specialist sellers online and some high-street stores who may also sell replacement parts for a trampoline. However, it is always best to utilise the facilities available on eBay to find a deal that is both affordable and tailored to the buyer's needs.
Despite this, there is a selection of online trampoline discussion sites from which it may be a wise idea to browse in order to see what others have said about specific replacement parts.
As far as trampoline replacement parts are concerned, eBay offers a vast selection of brands and sizes for replacement parts.
Using eBay to Buy Replacement Trampoline Parts
Once style, size and price assessments have been made, visiting eBay to find a comparable product is the next logical step in purchasing your trampoline replacement parts. Whereas some high-street sellers and trampoline specialists lean towards the higher end of the price scale, the very same product can more than likely be found on eBay at a discernibly more affordable price.
eBay is full of those wishing to sell their goods at second hand prices, as well as those wishing to make a quick sale.
The purchase of second hand goods from eBay need not be a daunting one. Be wary of negative comments in the transaction history of the seller but it may be best to contact them directly. Ask of them the history behind the product and if possible, ask for more pictures of the product in order to see any product damage. Here is a checklist that may be useful when deciding who to buy from when purchasing your replacement trampoline part from eBay:
- How many products has the seller sold before?
- Has the seller sold similar products in the past?
- What do the comments say about the seller?
- Is the product description coherent and plausible?
- Can you contact the seller directly?
What is more, take into account the breakable nature of some replacement trampoline parts during postage. Be sure to check out the delivery options available during the transaction, including the likes of postage insurance.
Conclusion
With the popularity of trampolining and its various denominations always increasing, there isn't a better time to go to eBay to find your replacement parts and accessories.
Be sure to read up on trampoline parts before commencing with your purchase of our replacements. It may be wise to start off with recognised and trusted brands. Use high-street chain websites to find out specific brands and then go on to search them out on eBay.
With a commodity such as trampoline replacement parts it is best to make sure one is aware of the safety precautions that should be undertaken whilst using a trampoline. Be sure that there is always a 'spotter' present to prevent any falls from the trampoline. Also, make sure that an adult is always present when children are using a trampoline. Before the use of a trampoline, always check that it has been assembled correctly and is safe to use.
Remember that it may be a wise idea to browse other seller's websites before deciding on which product to purchase from eBay, if not only to feel the benefit of a more reasonably priced purchase.
Once a decision has been made on the desired trampoline replacement part, keep wise to eBay's terms and conditions. Reading the terms of buying a product from eBay is always the best thing to do in order to ensure a secure purchase. PayPal is often the best way of completing a safe and honest transaction.