We at Al-Dukkan are committed to supply you with our greatest tips and tricks, which will not only assist you whilst purchasing the perfect Shisha/Hookah but also equip you with enough tricks to enjoy the greatest Shisha experience.
This guide will take you through everything you need to take into consideration when buying a Shisha/Hookah. For most first timers it could be almost impossible to choose the right Shisha, and that's why we at Al-Dukkan are taking this opportunity to highlight the main points you should take into consideration before choosing the perfect shisha, such as the origin of the shisha, materials, height, head (bowl) and price.
Firstly Al-Dukkan would like to thank you for taking the time to read our guide and recommend you have a pen and paper to hand to write down some of the greatest forgotten about hints.
Origin Of The Shisha
Modern hookahs are typically manufactured in China by companies based everywhere such as The United States etc. However traditional hookahs come from Egypt, Syria, Lebanon, Turkey, and a few other countries in the Middle East and along the Mediterranean. Modern hookahs are made on assembly lines with modern manufacturing techniques while most traditional hookahs are made by hand. Distinguishing a modern hookah from a traditional hookah is fairly easy to do. The distinguishable factors include construction, styling, and performance.
In general, modern hookahs are constructed with lighter weight material and no visible weld lines. They are commonly composed of threaded components that are screwed together, which can also be easily unscrewed to fit into carrying cases. Some of the higher end modern shishas have better finish work than traditional hookahs, because they mix chromium into the final plating stage.Traditional shishas are generally
larger and constructed with heavier metals. They also tend to use combinations of metals, such as stainless steel with copper and brass. Modern hookahs typically use mostly stainless steel and may mix in other elements for the finish. The best traditional hookahs use brass around critical points, such as the hose port and check valve. The major advantages of using brass in these points come from the brazing process in which the brass combines with the steel. The brazing process adds a lot of strength to these welds points. The weld points are usually highly visible on traditional hookahs and some shisha buyers are surprised or disappointed to see a new shisha that appears so unfinished. However, other shisha buyers love this aspect to traditional shishas; they feel like they own a unique hand-made antiquity..
Traditional hookah manufacturers have been honing their designs for many generations. In terms of performance, traditional hookahs tend to smoke better than modern hookahs. There are many exceptions, but traditional hookahs typically use one central tube that runs the full length of the stem. The hose and purge valve line are typically one tube as well. The tubing used in traditional hookahs tend to be wider gauge than what is used on modern hookahs. The result of this manufacturing means less restriction and easier smoke draw.
Price
The old saying, "you get what you pay for" is the greatest way in evaluating the shisha you are intending to buy. If your buying an item priced below £40 in most cases you will be receiving something junky, which wouldn't provide you with much of a life span, however looking at another higher end shisha at maybe 15 to 30% more wouldn't just provide you with a piece of mind, but also a life long service, but that only comes with the right level of maintenance which I will touch on later on of course. Popular name brand shishas will also always be 10 - 15% more than equally good hookahs that have no name recognition. Generally, this price hike is worth it to get a hookah you can be sure you'll be happy with.
Height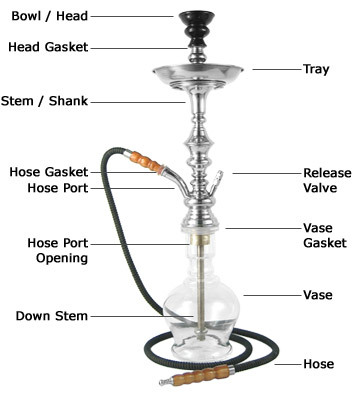 Choosing your ideal size of shisha could often be difficult, however this is just a matter of preference. Experienced Shisha smokers often like to go for shishas in the range of 28 to 32 inches (71 – 81cm). These heights are often selected for its ease of handling; however, someone that intends to travel may prefer a smaller sized shisha. Conversely, someone who may want to smoke on his outdoor patio may want a taller shisha, which could be placed on the floor beside the high table.
Having said every
thing I would just like to say that height does play some part in performance. A larger vase and stem is what will provide more smoke upon inhaling. This therefore doesn't mean smaller sized shishas don't create thick smoke, surprisingly some smaller sized shisha smoke extremely well.
Head/Bowl
The head or bowl on modern shishas is generally made with ceramic rather than the clay that is used for traditional hookah bowls. The difference is that ceramic doesn't conduct heat as well, resulting in a lower quality smoking experience. Even distribution of heat means less burning of tobacco and less rearranging of coals. It also lengthens the duration of the smoking session, since harsh smoke doesn't diminish the flavour.
Now we've covered what we feel are the most important things to consider when purchasing your shisha.
PLEASE BE SURE TO ADD A "YES" HELPFULNESS VOTE IF YOU READ THIS GUIDE! I HAVE WORKED HARD TO MAKE THIS TO HELP PEOPLE LEARN HOW TO BUY THE RIGHT SHISHA.
Al-Dukkan would like to thank you for taking the time to read through our guide. Please do contact us with any further questions/ queries you may have and it has been a pleasure sharing with you our knowledge on how to buy the perfect shisha!
Don't forget to give us thumbs up if you felt this guide was helpful to let us know we did well and share the guide with friends and family.
Please find all the items above available in stock for instant delivery!
Don't forget to add Al-Dukkan to favourite your sellers to receive some smoking hot deals on shishas/ hookahs and other related products. Thank you