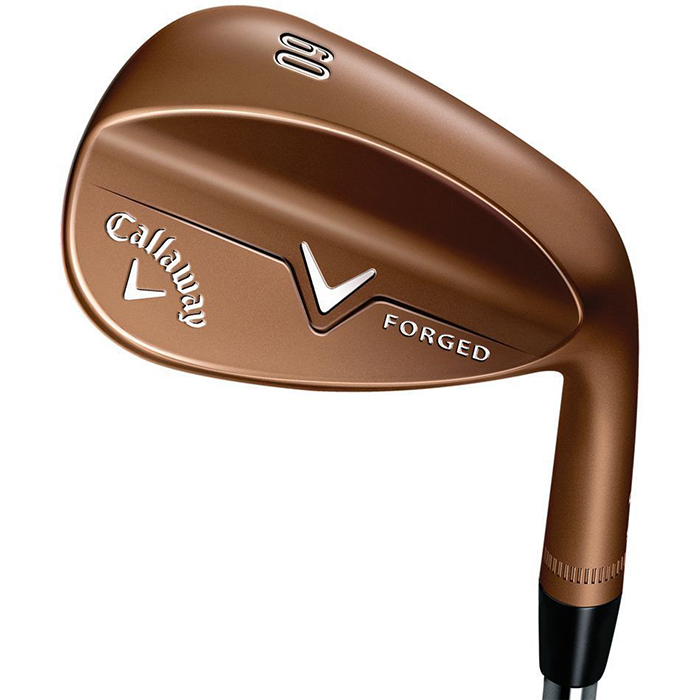 Before advising on how to buy, it's worth reprising the various types of wedge available.
Wedges are specialised irons designed with a more lofted face. Compared to other golf clubs, they are capable of greater accuracy and sensitivity, particularly around the greens. They are typically used for golf shots played within 120 yards of the flag.
There are four main types - pitching wedge, gap wedge, sand wedge and lob wedge.
Pitching wedges are generally treated as the 10-iron of a matched set and follow the normal loft progression of the numbered irons. Many retail matched iron sets will include the pitching wedge, even when the other three types of wedge are not included. These are usually available to buy separately as a three club sub-set.
Wedges feature the shortest shafts and highest lofts of any golf irons and are often identified by their degree of loft rather than by their name. A lob wedge, for example, might instead be called a 60-degree wedge. Sand wedges (credited to the American golfer Gene Sarazen) were invented to make shots out of sand bunkers easier. The typical sand wedge will have a loft of around 56 degrees.
If you're a beginner, you don't need to worry too much about the full range of wedges - just concentrate on the pitching wedge. Gap and lob wedges tend to be favoured by more experienced players, but sand wedges are a fairly common purchase. However, not even a sand wedge is absolutely essential when you're starting out for the first time. For those of you new to the game, it usually makes more sense to familiarise yourself with the very basic clubs first.
Because wedges focus on precision - trying to hit approach shots as close to the hole as possible - they are often referred to as the scoring clubs. Approximate distance ranges are summarised below.
Deciding Which Wedge to Buy
As previously mentioned, wedges are for shots from within 120 metres of the green, where accuracy and height are favoured over speed and distance. The most common is the Pitching Wedge, for your final approach shot; a full shot onto the green. A Sand Wedge helps you out of a bunker. It's more severe variant, the Lob Wedge, gives your shot more height to help with pitching and chipping. The fourth type of wedge, the Gap Wedge, is somewhere in between the Pitching Wedge and the Sand Wedge.
The choice of club will depend on your own skill and experience as a player.
If you're a beginner with your own set of clubs, a pitching wedge may already be included as part of your set of matched irons. There will come a stage when you feel confident enough to add a second wedge to your bag. This would logically be a sand wedge. The combination of pitching wedge & sand wedge is perfectly adequate until you've really honed your skills and developed reasonable consistency in your short game.
Once you pass that point, it's worth considering what practical benefit there may be in adding more loft (via a lob wedge) or infilling (via a gap wedge). You will need to have established good, sensitive swing control before you're able to exploit the full value of these additional clubs.
Buying Golf Wedges
If you strip away all technical stuff, golf is the skill of moving an object from A to B. You have to treat your body as a machine. The wedge is an extension of the machine; so the wedge must be matched to the machine.
Try lots of different clubs. Talk to your friends, talk to professionals, borrow wedges and find out what works for you.
You will find that the wedges that work best lie completely flat as you address the ball. The technical measurements have nothing to do with your height; it's all about the distance between your wrist and the ball.
The main difference between men's and ladies' wedges is the length of the shaft. The point to note here is that you can easily adjust your grip by moving your hands up or down the handle so that the club lies at the correct height for your swing. Nevertheless, although most wedges come in a standard length which is about right for nearly everyone, different shaft lengths are available.
Try Before You Buy
Golf clubs, wedges especially, are such personal choices that it always makes sense to compare the feel and performance of a variety of club types and manufacturers before you decide to buy.
Golf professionals' shops give you the best opportunity to try the clubs in situ, although of course there may be pressure to buy. Volume retailers offer a more neutral environment but you will probably be able to do no more than handle and feel the clubs. Ideally you should establish a shortlist of acceptable clubs before you start the buying process on eBay.
Clearly, it will rarely be possible to test pre-owned clubs before you buy, but you can certainly make a sound judgement based on the performance of new clubs from the same manufacturer. Don't forget to ask for help and advice from your club professional and from golfing colleagues.
eBay searches will reward the most detailed product description you can give so make sure you have all this information to hand before you start.
Buying Golf Wedges on eBay
Now that you've worked out which golf wedges you want, find them quickly on eBay. While you shop, don't forget balls, tees, shoes, and appropriate clothing for the course. To start shopping -
* Go to eBay
* Click 'Sports & Leisure' from the main menu
* Click 'Sporting Goods'
* Click 'Golf'
* Click 'more categories' to reveal an additional drop-down golf menu
* Click 'Golf Clubs'
* Click 'Club/Set Type'
* Click 'Wedge'
While you shop, don't forget balls, tees, shoes and appropriate clothing for the course. To start shopping, go to the Sports and Leisure category. Click the Sporting Goods portal and click Golf.
Categories
The Categories list on the left side of each page will help you narrow down your listings by item type. You'll find links for Accessories, Apparel, Bags, Balls, Books, Videos, Golf Club Components, Footwear, Golf Carts, Cars, Schools, Lessons, Experiences,Tee Times, Green Fees,Training Aids, and Other Items. As you refine your search you'll be able to narrow down your choice by subcategory.
At any point you can use keyword search (top right hand panel) if you prefer. Once you get to the appropriate section of the website, you then need to decide exactly what and how you want to buy.
* Do you have a particular brand in mind?
* What type of wedge do you want to buy - pitching/gap/sand/lob/extreme-lob/ultra-lob/x-wedge?
* Do you want to specify the degree of loft (from 52 to 60 degrees) in the buying process?
* Are you buying new or used?
* Alternatively, do you want to set a price?
* Do you want to buy now?
* Alternatively, do you want to enter a time-limited bidding process?
All these questions take the form of clickable boxes on the website, and it's a simple matter to progress the purchase from this point, particularly if you have prepared the answers in advance.
Buy Now or Auction Format
If you're a newcomer to eBay, you may feel safer with the 'buy-now' format.
When you become more practised, the auction format is potentially more rewarding, particularly if you're buying in larger volumes, for example a complete set of golf clubs rather than just one individual wedge.Product Presentation
The way products are presented on eBay will give you an indication of the seller's professionalism. Uncluttered pictures are the best way of demonstrating product detail and quality although be aware that this can increase the potential sale price by up to 15%. Also look for honesty, particularly in the description of used goods. Information should include; brand, age, condition and so on. The disclosure of imperfections will prevent any future misunderstandings. Reasons for the sale can also be quite informative and sometimes reassuring.
Seller's Trading Record
You will find 'top rated sellers' (regular eBay sellers who've established an excellent trading record) indicated against some sale items and they obviously represent the highest possible level of security for buyers.
Payment Information
Make sure you understand the total price of the item, and the payment options.
Check that postage costs are included and search for any possible conditions of return. An online payment system such as PayPal effectively gives two-way protection and means that payment can be made without any hassle.Buyer protection
In the very unlikely event that you do not receive your item or it is not as described, eBay Buyer Protection your purchase price plus original delivery cost.
Next Steps
If you can't find exactly what you want, try browsing eBay Stores or tell the eBay Community what you're looking for by creating a post on Want It Now, or save a search on My eBay and eBay will email you when a matching item becomes available.