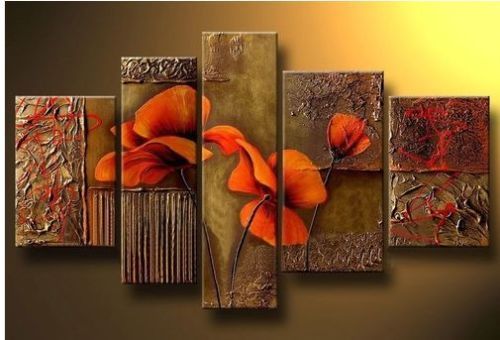 By eBay's standards, modern paintings are considered to be those created between the years of 1900 to 1979, with paintings from then on being chronologically considered as 'contemporary'.
Many of the famous artists celebrated amongst popular culture made their names through the world of modern painting. However, there are lesser-known artists who produced work of the highest quality. Paintings such as these are available on eBay at affordable prices.
Buying a modern painting on an auction site like eBay can be made easier through the buyer being knowledgeable about the types, mediums and subjects of painting available.
Mediums of Modern Painting
There are two very popular mediums of modern painting that take up the majority of the modern painting canon. The decision of which medium of modern painting to purchase beforehand can make the buying process a lot more efficient. Here is a table defining the two mediums:
| | |
| --- | --- |
| Modern Painting Medium | Description |
| | The first popular medium of modern painting is that of watercolour paints. The paints used in the creation of watercolour paintings are water based. The creation process involves the mixing of specialised paints with water in order to gain effects and colours that cannot be achieved through any other mediums of painting. Watercolour paintings are distinguishable and exclusive in the translucent layers that can be achieved during the painting process. Water-based paint also allows for the use of softer colours. In turn, the contrast of colour in watercolour paintings is subtle and less harsh. However, watercolour paintings were not created as often during the late modern era, making them of higher value to those wishing to purchase them. |
| Oil Painting | During the 20th Century, oil paintings became very popular with both painters and buyers alike. This is due to the qualities that oil-based paints lent to the prevalent styles of painting during this era. With oil paints being naturally thicker than watercolour paints, a higher contrast of colours can be created on canvas. This medium of paint was devoured by the artists of the Pop Art and surrealism movements. It was also used frequently by the artists concerned with the creation of abstract and expressionist paintings. Thick, bright colours can be created using oil-based paints, another advantage to painters of the modern era. |
Popular Subjects of Modern Painting
Another section that paintings of the modern era can be split into is their subject matter, or theme. In recognising which subject is preferred, a buyer may be able to find a painting that suits them more accurately. Some of the more commonly utilised subjects are detailed below:
Landscapes
Popular amongst watercolour painters of the pre-World War II era of modern painting, landscape paintings appeal to those who wish to appreciate the aesthetically pleasing sights of the world through the medium of painting. Everyday life is represented through paintings of landscapes and they are attractive to buyers for their insight into the way the world was perceived at the time of the painting. Buildings and towns are often portrayed through the paintings of landscapes in the modern era.
Nature
The beauty of the natural world was utilised by both oil and watercolour painters during the modern era. Wildlife and scenes from the natural world were interpreted throughout this time period and paintings of this ilk are available at affordable prices from the likes of eBay. Popular searches for modern paintings of the natural world include gardens and 'still life' representations.
Portraits
Whilst portraits are generally painted in every era of art, modern artists used to paint representations of people in order to keep the tradition alive. With the introduction and rise in popularity of photography, there may have been no need to paint a portrait of what could be created in an exact, truthful representation through a photograph. However, painters of the modern era began to utilise the portrait to experiment with style and form, especially in the likes of abstract and surrealist paintings.
Styles of Modern Painting
There are a variety of different styles of modern painting available. Most of the styles popular during the era were reactions to the styles that had been popular before them, many of which are also popular in contemporary art. The best way of buying modern art is by being comprehensive in the knowledge of the styles available so as to ensure a cost-effective and accurate search. The most popular styles of modern painting, all of which are widely available on eBay, are as follows:
Expressionism
Expressionist painting became part of the expressionist movement after the popularity of The Scream by Edvard Munch in the late 19th Century. Expressionist art was created in opposition to the popular Impressionist style that took up a lot of the late 1800's. The paintings of expressionist artists set out to evoke emotion and feelings of the unfamiliar and angst amongst both the subject of the painting and the viewer. Colours in expressionist paintings contrast in darker shades than the likes of abstract painting. Shapes and contours are very much outline and distinctive in the work of expressionist artists.
Surrealism
Surrealism as an art movement was considered to be revolutionary in its rise. Artists from the movement stepped away from the normality of most art being created at the time. It was an escape from the carefully thought out ideals that encompassed the world of painting. Surrealism was essentially an escape from the mundane nature of reality. The unusual shapes, subjects and colours that are used in their creation can be used to identify surrealist paintings. If a painting looks like something that has never been seen before or portrays a normality in an unusual manner, then it is usually considered to be surrealist. Artist such as Jackson Pollock and Salvador Dali are celebrated examples of surrealist artists.
Pop Art
Just as surrealism was a reaction to the mundane nature of reality, pop art was then made in opposition to the abstract images used in surrealism. Featuring everyday objects and modern phenomena, pop art was created as an answer to the mass-produced goods that were forced upon everyday people. The likes of Andy Warhol made sure that pop art became a recognised art form. Toning colours and iconography are common themes that run through modern painting.
Abstract
Art labelled as 'abstract' features regularly on sites such as eBay. It is extremely popular for the bright colours and unusual shapes it uses to convey everyday objects or even in portraits. Whilst the subjects of abstract paintings may not be immediately obvious to the viewer, the paintings are generally based on a certain theme that has been distorted through either colour or shape use.
Buying a Modern Painting Online
There are two different options available when buying a modern painting online. One can either purchase a brand new painting that has not had any previous owners. It may have been either recently created or in some cases this may be the first time it has been sold since its creation. These may be limited edition pieces that can be of high value not only at the time of purchase but also further down the line. There are also new reproductions of famous paintings available to buy that are labelled as new due their being no previous owners.
On the other hand, one can purchase a painting that is 'used' or has been owned by more than one or more people. In this case the painting may be older than lot of paintings or may be a popular piece. If it is second hand, it is more than likely to be an original piece. If buying a used modern painting, bear in mind that its condition may not be perfect. Study the images provided thoroughly and if feasible, research the painting and find out as much information about it as possible. Use online resources such as art history discussion forums to gain as much knowledge about the painting as possible.
Buying a Modern Painting on eBay
eBay is a great place to find modern paintings of all styles, mediums and subjects. In the quest for a specific type of modern painting, use the keyword search bar to type in your requirements and eradicate any unnecessary results. There are filter tabs to distinguish results between 'new' and 'used' paintings, as well as enable the buyer to be able to sort through subjects and mediums.
When buying a modern painting on eBay, be sure to be buying from a reputable seller. There a plenty of sellers who will provide all the necessary and useful information needed to ensure a secure and honest transaction. Information will be provided such as:
- Previous transaction history.
- Email link to ask questions.
- Clear digital images of the painting.
- A thorough and knowledgeable product description.
- Postage and packaging conditions.
Be sure to be fully aware of all of this information so as to guarantee a purchase that is hassle free, affordable and fair.
Conclusion
Modern paintings can be purchased safely, smoothly and efficiently from eBay if one understands all the considerations that come with the buying of a modern painting. By understanding specific requirements and things to look out for, one can purchase a modern painting to suit a variety of tastes.