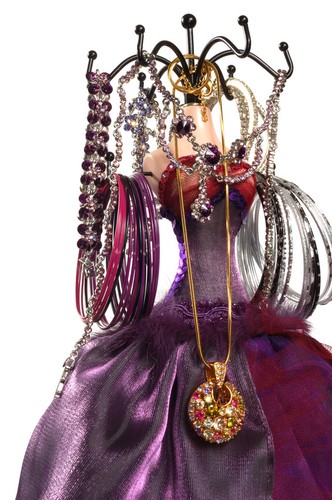 Most women like jewellery, and their jewellery boxes are often cluttered with numerous, rings, bracelets, and necklaces. The problem with having so much jewellery in one box is the fact that they tend to become intertwined with each other. Bracelets and rings can often go together without an issue, but when necklaces are added to the mix, it is best to get a necklace organiser to ensure that they do not become tangled with one another or other pieces of jewellery.
The time consuming task of separating tangled necklaces can be very inconvenient, especially when women are in a rush to get on with their day. All women who wear jewellery should invest in a good quality necklace organiser to avoid the time consuming detangling process and the risk of destroying their precious necklaces. Selecting a good necklace organiser is not complex, but it can be daunting when there are many styles and features to consider. Buyers simply need to ensure that the organiser can accommodate their current collection and any future additions. The necklace organiser can also include additional compartments for other jewellery types, and its style and design should fit into the current décor.
Types of Necklace Organisers
There are different types of necklace organisers with various designs. Some are more elaborate and made to accommodate commercial displays, while others are more conducive to consumer storage.
Hanger Necklace Organiser
Hanger necklace organisers are popular because they can accommodate all necklace types and length. In addition, they can easily be placed anywhere in the home by attaching it to a nail on the wall or hanging it in a wardrobe. They feature a plastic or fabric sheet with loops or hooks that are strategically placed to facilitate hung necklaces in an organised fashion. The sheet is in turn attached to a hanger at the top, which facilitates hanging the organiser.
Wall Necklace Organiser
Wall necklace organisers often look similar to hanger organisers with the exception that they do not have a hanger at the top but have instead a hook, string, or rope that allows it to be hung to a nail on the wall. Some can be rolled up and rolled out like a scroll, which means that they can also be placed flat as well. Other types of wall necklace organisers are installed directly onto the wall and look like large plaques with hooks. These organisers are a more permanent structure and can be painted or decorated to match the room's décor.
Necklace Stand Organiser
Necklace stands are pretty self-explanatory. They refer to metal or plastic stands with various hooks and loops to facilitate the hanging of necklaces. Some stands have a lamp like appearance with a single stem and a circular rim at the top that extends from the middle. It would resemble a lamp shade without the fabric. Another type of necklace stand resembles a small tree without leaves. The branches serve as the hooks to hold the necklaces, and these tree organisers can also be used for bracelets, rings, and other types of jewellery.
Necklace Display Organiser
Display necklace organisers are also very popular and are often used in shops and stores. They are, however, great for home use as well. They are generally flat cases or boxes that allow necklaces to be placed beside each other along the length of the box.
Armoire Necklace Organisers
Armoire necklace organisers are almost specifically for home use because they are generally kept closed to shelter the necklaces from dust and moisture. Their doors are generally opaque and decorated so that they fit in like miniature furniture. In essence, they do not aim to display jewellery but keep them safe and organised.
How to Choose the Right Necklace Organiser
Buyers need to count the number of necklaces that they currently own and consider the possibilities of acquiring new ones. They then need to ensure that the necklace organiser that is chosen can facilitate the volume. In addition, if buyers want to store their necklaces with other types of jewellery, they can opt for an organiser that also has compartments for rings and earrings. The bracelets can often be stored in the same slots as the necklaces.
The least important decision concerns the design and outer appearance of the organiser. This is always considered but should only be factored in after the more integral decisions have been made. Some organisers, depending on the types, are made from wood, metal or plastic. They often retain their natural tints or are sprayed in various warm colours.
Storing Long Necklaces
Necklaces are found in various styles and lengths. Therefore, buyers need to ensure that their organiser can also facilitate the length of their tallest necklace. If the necklaces have to be folded at the bottom, they may still become entangled; however, buyers can opt to double loop necklaces around the hooks to make them shorter, but that method may also take up more space.
Best Necklace Organiser for Various Necklace Materials
While all organisers serve the same basic purpose, they do not all store items the exact same way, and different material types require different storage patterns. In essence, organisers that can store pearl necklaces may not be suitable for gold or silver necklaces. The chart below provides some insight on the best organisers for different necklace types.
| Necklace Material | Organiser Type | Reason |
| --- | --- | --- |
| Gold | Hanger, display, armoire | Dust and moisture reduces shine and corrodes metal; owner should be able to close organiser |
| Silver | Hanger, display, armoire | Dust and moisture reduces shine and corrodes metal; owner should be able to close organiser |
| Pearl | Hanger, display, armoire, stand | Pearl necklaces can be stored in all organisers; need regular cleaning |
| Plastic Beads | Hanger, display, armoire, stand | Plastic beads look great in an open display; they stand up better against the elements |
| Stones | Hanger, display, armoire, stand | Stone bead necklaces can be stored similarly to plastic beads |
| Art Glass | Hanger, display, armoire, stand | Art glass necklaces look great in an open display and do not easily corrode |
| Wood | Armoire | Wooden bead necklaces are best stored in covered organisers |
Women often have a preference for a particular type of material even though their collection of necklaces consists of a mixture of types. In purchasing an organiser, buyers simply need to cater to the majority of their collection or purchase an organiser with closure. If a stand or wall organiser is chosen, a small piece of fabric can be used to cover the necklaces at times to minimise the collection of dirt and dust.
How to Buy Necklace Organisers on eBay
Buying necklace organisers on eBay is pretty simple. All you have to do is conduct a search for necklace organisers from the eBay homepage to generate results pages with numerous options. You can then browse through the generated results to find a suitable organiser. However, if you do not wish to browse through the entire collection, you can incorporate various filters to narrow down the results. Filters include the organiser construction material and the types of organisers. This allows you to easily eliminate unwanted choices to find an organiser that suits your needs.
Another way to eliminate unwanted choices would be to perform a specific search from the beginning. In essence, instead of performing a generic search for necklace organisers, you can perform a search for plastic necklace organisers or velvet necklace organisers. This specific search only generates organisers that are made with the specific material that was indicated. You can then include additional filers if you wish or browse through the already narrowed down selection.
If you are on a budget, you can save yourself the aggravation of falling in love with an organiser that you cannot afford by enabling a price filter. This is done by inputting a price range and all the organisers that are displayed are in your budget range. This may drastically reduce the collection, but it will in turn simplify the selection process. Now all you have to do is select one or two options and contact the seller to finalise details.
Conclusion
Everyone with multiple necklaces would love to have them organised and easily in reach at all times. This is possible with a good necklace organiser, but finding a good one takes a little skill and knowledge. Before buyers attempt to find the perfect necklace organiser, they need to first learn the various types that are available. After learning the various available options, buyers then need to ensure that their current collection can fit into the desired organiser. In addition to volume, buyers have to also consider the types of necklaces that are in their collection and which organiser is better suited for them.
The last consideration is sometimes the first thing that some people consider. They tend to visualise how the organiser may fit into their current décor, but they should always consider the aforementioned factors first and then think about décor. Once all things are considered, buyers should find a store that is equipped with all the organiser types. eBay is a very good choice and their filters and search engine make the selection process quick and simple.