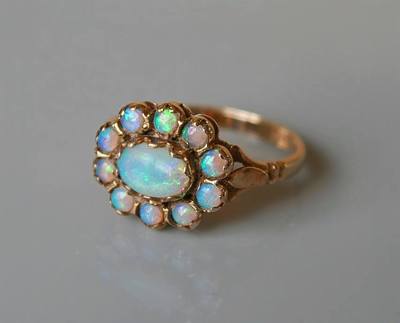 Precious Opal ranges from clear through white, grey, red, orange, yellow, green, blue, magenta, rose, pink, slate, olive, brown, and black. Of these hues, the reds against black are the rarest, whereas white and greens are the most common. It varies in optical density from opaque to semi-transparent. For jewellery use, its natural colour is often enhanced by placing thin layers of Opal on a darker underlying stone, like Basalt. Opals are a versatile gemstone and can be used in a wide assortment of designs. Opals are set in bangles, a line of graduated cabochons with diamonds in between, crescent brooches, necklaces and cluster rings. Commonly used in the art nouveau era.
Types of Opal
Doublets - Doublet Opals consist of two layers, a thin slice of Opal and a black backing. The slice of Opal is cemented to the backing in order to enhance the colour.
Triplets - Similar to doublets, triplets also include a third transparent layer on the top (Quartz or glass) to protect the Opal and give it a rounder shape.
Solid Opal - Natural solid Opal which has only been cut and polished.
Caring for Opals
Opals can be cleaned gently with mild detergent in warm water, with a soft toothbrush or cloth. Avoid chemicals and cleaners, unless specified for Opals. Doublets & triplets may be wiped with a damp soft cloth and mild detergent, but should never be soaked or immersed. Do not use ultrasonic cleaners, as the vibrations can cause cracks in Opals and allow the cleaners to be absorbed into the gem.
Opals should not be worn every day, especially doing tasks such as gardening, cleaning- just remember that Opals are classed as 'mineraloids', as they contain a high water content. Exposing Opals to abrasive tasks such as sand/ soils and cleaning products will wear and penetrate the gemstones.
I've personally have found that if Opals need only a little TLC, I can wash them in warm soapy water, with a soft brush and cloth and then apply a tiny amount of Olive Oil to the gemstone. This has never harmed any of my Opal jewellery; it helps to add back a little fire and seals any non-visible cracks which may be in the gem. If your Opal has significant wear then it is advised to take to a specialist for restoration, or even replacement.
If you need to store your Opal away for a period of time, simply place it in a padded cloth bag for protection and store it away. For longer storage periods, place your Opal in cotton wool with a few drops of water, then into a sealed plastic bag just to be safe. The water is not intended to soak into the gem (as Opal is impervious) but will prevent water coming out of the stone if it is exposed to very low humidity environments (for example, zero humidity storage safes).