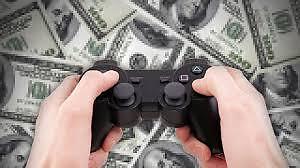 Cash For Playing Video Games...
Has anyone ever said to you, in a futile bid to cut back your gaming habit, "you won't make money playing video games"? Well we disagree with them. You may well be able to make some money from your favourite past time. You probably won't make a huge amount, you almost certainly won't get rich, but you can earn enough to reward your gaming expertise. And, let's face it, what gamer wouldn't like to earn a little dosh for playing the games they love? So here are five ways to start making money from video games.
Set up a gaming blog
Write video game guides
Monetise your YouTube videos
Become a games tester
SET UP A GAMING BLOG
Setting up a gaming blog is probably the simplest and easiest way to start earning money from video games. Gaming is a hugely popular topic on the internet and there are countless amounts of things you could write about that are video game related. For example you could set up a straight forward review site, where you give your verdict on all the latest releases. You could set up a site that looks back at games of the past, or even one that looks at particular topics in video games, for example there are currently very popular feminist blogs looking at the portrayal of female characters in video games.
Gaming is a good blog subject because it already has an active, internet savvy market of potential readers who are looking to [blogging-jobs] stumble across great gaming articles.
Don't forget to make your blog stand out. Writing reviews is great, but what is going to make readers take a look at your review rather than those from an already established source? Readers will be looking for something unique that only you can give them; if you can manage that you're likely to gain a substantial loyal following.
Make sure to get your blog out there once you've written an article. Share it on social media, such as Twitter and Facebook, and post links on some of the countless gaming forums online where you have a ready made source of interest for your article. The idea is to build up as much traffic as possible because this is what will begin to earn you money.
Sign up to Google AdSense or Yahoo! Publisher Network, which use specialist search technology to target your site with suitable advertising. Every time a reader clicks one of the adverts you get a percentage of the revenue. The more informative your site is the more likely it is the reader will click on an advert. Make sure you pick relevant targeted advertisements, and don't go overboard because no-one wants to go onto a blog that is predominantly advertisements.
Also, if you are reviewing games and generating a healthy amount of traffic you can approach game manufacturers to ask them for a free copy of a particular game so you can review it. Smaller game manufacturers in particular will often appreciate the chance to get their games noticed. You might not be getting money from them but if you're a true gamer then receiving free video games is just cutting out the middle man, right?