There is something invigorating about hosting an event at your home. You imagine an overall jovial spirit and the smiling faces of the guests enjoying themselves over a cocktail or crowding around the snack table eagerly awaiting the pièce de résistance baking in the oven. Atmosphere plays a major role in a successful party or event. A "story" is necessary to bring a theme to life, and in turn, transport your guests into something beautiful and memorable.

A trend in party planning has been an idea of "rustic chic" - a marriage of fashion-forward elements laden with rustic, effortless charm. (Think less Little House on the Prairie, more Town & Country) To bring any party theme to life, it's important that the focal elements truly tell this story and weave the story through the room. Give guests a natural flow. Here are four steps to throwing a fabulous "rustic chic" dinner party that will have your friends talking about long after it's over.

1. Set the Table
For any dinner party, the table is the focal point and, as such, the most important element of all. Rustic charm starts with a wooden table and chairs. If you don't have one already, opt for a
weathered version
which you can rent from a local event rentals company or purchase one online - sites like eBay carry fantastic
table options
. (Pro Tip: Get crafty and liven up the table legs or chair tops with some pastel colors.)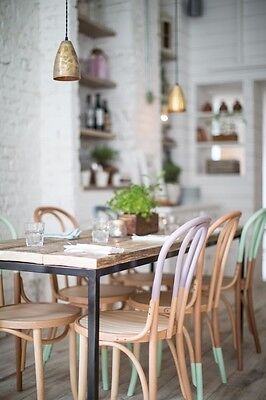 Another important element is the table-scape. It's important to set up a fascinating display of mixed-and-matched
glass vases
and
candles
. Grab a few bouquets of your favorite flowers and scatter them among the vases. Don't be afraid to mix floral heights - the beauty of a "rustic chic" party is in the unorganized arrangement.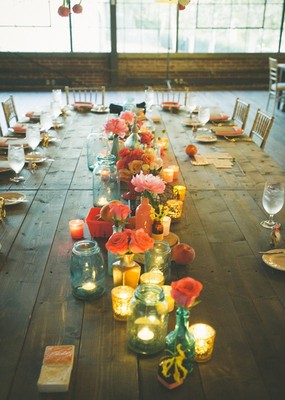 2. Pour A Drink
A party isn't a party without a special drink. Rustic-themed parties gain an extra bit of mystery from a colorful cocktail. Mixing a lavender option will give the guests a pop of mysterious color they can really taste, but can't quite put their finger on. Serve in
vintage glasses
for added effect!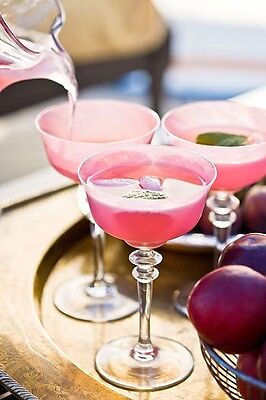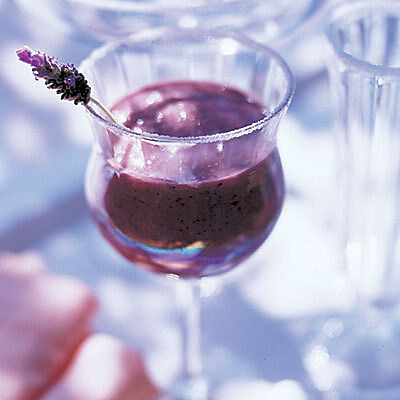 Lavender Dream Cocktail
12 blueberries
20ml Lavender syrup
12.5ml Blueberry liqueur
25ml lime juice
50ml Beija-Flor Velha Cachaca
Shake over ice and double-strain into a glass of your choice.
(cocktail via about.com)
3. Serve the Sweets
While the snack and meals are an integral part of any party, a "rustic chic" party turns up the volume with dessert. Serve
delicate macarons
in a variety of colors to reinforce the color scheme you've created around the space. Petit fours and cake pops also make great options. It's important to keep the dessert to bite-size items - you don't want to make your guests struggle to enjoy a plated dessert. (Pro Tip: Cake tiers and intricate
metal serving dishes
provide a wonderful display for any dessert bites.)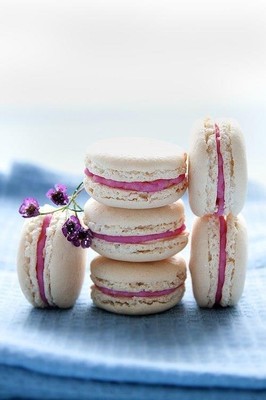 4. Make Some Memories
At any party, you want to make memories. Some hosts provide a guestbook to sign, others give out gift bags. Here is a unique and special way to engage your guests but also leave a lasting memory:
Hang two strings across the entry wall.
Using wooden clips, attach the names of each guest or couple to the wall.
Have a polaroid camera and permanent markers sitting below the installation.
As guests enter, have them take a polaroid of themselves (as singles or a couple) and replace their name cards with their polaroid.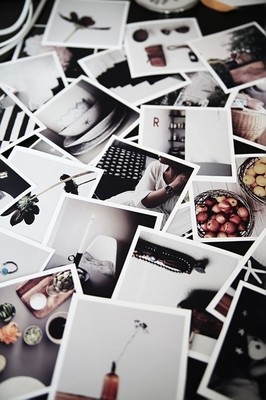 This is a fun way to bring visual elements to the party. For parties where some guests may not know one another, this installation becomes a life-saver.