Identify UK Vertigo Swirl 1st pressings the easy way!
Check out my new book which goes into significantly more detail and shows all variations of each UK swirl released - at rarerecordcollector. net.
Without a doubt, UK Vertigo Swirl LPs are amongst the most desirable, collectible and therefore most valuable vinyl LPs on ebay! It's crucial to understand exactly what you are bidding on, as there are plenty of sellers out there offering what they claim to be UK 1st pressings (either unintentionally or deliberately!) - quite often these turn out to be second or third issues of the LP, and in some instances not from the UK at all!
Whether UK pressings are better or not than any other country's release, it's what pretty much all collectors are willing to shell out for, so you need to be assured that you are bidding on the correct LP.
There are, in total, only 88 official UK releases on Vertigo Swirl - (2 compilations were prepared for release but only ever issued as white label promos - so they have been excluded from the total.
Values are incredibly subjective! Record Collector guide prices for Vertigo Swirl have been blown out of all proportion on ebay in the last 12 months or so; indicative of just how highly sought after these records are.
OUTER SLEEVES:
Nearly all UK Vertigo sleeves were originally issued as NON laminate gatefold sleeves - which does make them prone to wear and tear - a few exceptions are Uriah Heep's 'very 'eavy...' Kraftwerk, Aphrodite's Child and Atlantis. Some sleeves were issued with more complex, so-called gimmick covers - these will be detailed against their specific artist.
An example of a later sleeve issue, is Black Sabbath's "Paranoid" - if a copy is offered for sale with a laminated sleeve, the sleeve is NOT a 1st issue sleeve. It is from around mid-1971 onwards and coincided with a redesigned 'B-side' label. More on that shortly! It is possible that a collector has substituted a 1971 2nd or 3rd issue laminated sleeve for an earlier, worn out, non-laminated sleeve - to create a 'better looking set'. In this instance, you must refer to the 'B-side' label design to accurately determine the presing version of the vinyl.
LABEL DESIGN
:
Version 1 - A PHILIPS RECORD PRODUCT
The 'A-side' label consists of the large Vertigo 'swirl' (often called 'spiral' too) and remains constant throughout the 4 year production cycle. There are slight variants of this by country, but the best method of identifying pressings is the 'B-side' (white) label design.
The first 6 releases on UK Vertigo Swirl ALL carried a VO prefix to the catalogue number. And, most importantly, all 6 of these releases ALWAYS had the text A PHILIPS RECORD PRODUCT in bold type, semi circular, beneath the VERTIGO. The swirl design is the larger size and sits above the spindle hole, the VERTIGO is below the spindle. The most common examples of 1st pressings from this era being mis-identified are Colosseum's "Valentyne Suite", Black Sabbath's debut - "Black Sabbath" and Rod Stewart's "An Old Raincoat Won't Ever Let You Down"
The VO series:
COLOSSEUM - VALENTYNE SUITE
VO1 (847 900 VTY) - 1969 - gatefold, unlaminated
JUICY LUCY
VO2 (847 901 VTY) - 1969 - gatefold, unlaminated
MANFRED MANN CHAPTER III
V03 (847 902 VTY) - 1969 - gatefold, unlaminated
ROD STEWART - AN OLD RAINCOAT WON'T EVER LET YOU DOWN
V04 (847 200 VTY) - 1969 - gatefold, unlaminated
BLACK SABBATH
V06 (847 903 VTY) - 1970 - gatefold, unlaminated
CRESSIDA
V07 (847 904 VTY) - 1970 - gatefold, unlaminated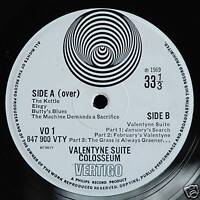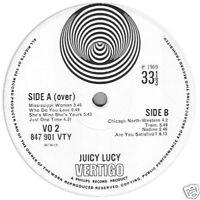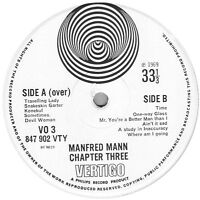 Note the subtle differences in type sizes and positioning of some elements;
Colosseum label text is all quite big and a bit cramped;
Juicy Lucy song titles are now a bit smaller;
Manfred Mann consistent with Juicy Lucy style;
Rod Stewart - 1969 is higher above 33 1/3, song titles now in upper case throughout, album title and artist and catalogue number smaller than 3 previous releases;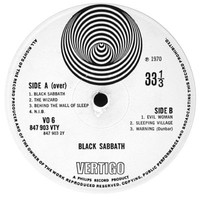 Black Sabbath style now follows the Rod Stewart layout
Cressida as above
(NB - VO5 was never issued to a release so don't bother looking for it!)
what remains constant through all these initial 6 releases, is the large swirl above spindle, VERTIGO below the spindle and A PHILIPS RECORD PRODUCT below VERTIGO. If your label does not look like this, it's NOT a UK 1st press.
Examples of mis-described Black Sabbath 1st pressings: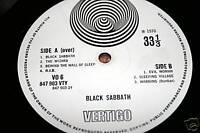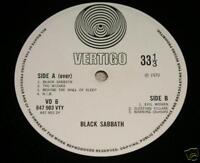 on the left, a 2nd issue (missing the all important "A PHILIPS RECORD PRODUCT') - this is from mid 1970 to early 1971
on the right, a 3rd issue with the smaller swirl logo and VERTIGO now above the spindle - from mid 1971 up to 1973 (Black Sabbath's catalogue was then reissued on WWA, then NEMS!)
Please see parts 2 and 3 for 6360 series and variations on label design 2, 3 and 3a!