Many years ago my mum told me that you should only use clear light bulbs to light your crystal chandeliers. This is particularly true when you light a bag style chandelier as the clear light bulb (as opposed to pearl or opaque) really does help the crystals to shimmer and sparkle!
This also works well with branch style chandeliers and another trick is not only to use clear light bulbs but low wattage bulbs.
You'll not only save on electricity consumption but your chandelier wont light up your room so brightly as to dazzle you! unless of course that is what you want.
Low wattage bulbs will help you to create a lovely warm ambient light and will give your chandelier a more magical appeal, more akin to candlelight. After all all early chandeliers were only lit by candlelight.
I have been able to track down very low wattage candle bulbs on the internet, as low as 15w and if you are wondering if that will give you enough light to illuminate your room simply add up the wattage for each arm/branch. So for example if you have a 5arm/branch chandelier this will give you approx 75w if you want to use 15w bulbs.
So if you haven't already hung your chandelier and you have a pendant light fitting in the room pop in a 60w bulb (60w being the nearest wattage to 75w) and see if it will be enough light for your needs. If your chandelier is already hung simply remove all the other bulbs and leave just one 60w in place.
You can also apply this wattage guide to chandelier table lamps and wall lights.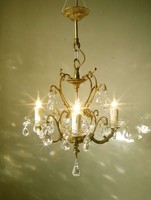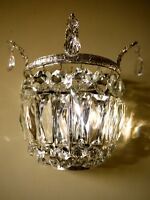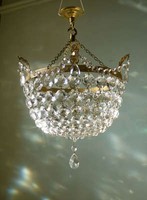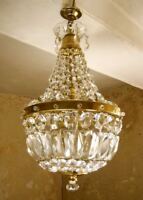 If you have found this article helpful please select the yes button below.
Many thanks for taking the time to read my article
Niki
The Painted Room