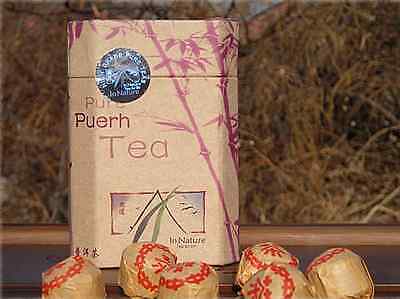 Puerh (Puh'er) Tea Preparation
1. Use fresh cold water. If you are using tap water, let the cold tap run for awhile first to avoid flat-tasting water. Never make tea with water from the hot tap.

2. While the water is heating, get the tea things ready. We suggest using a ceramic pot or large heatproof glass and cup to prepare Puerh teas. A small ceramic pot is preferable to a large one, as the amount of boiling water used in a large one may 'stew' the leaves and results in flat-tasting tea.

3. Warm the pot by rinsing it with hot water.

4. Just before the water in the kettle boils, empty the hot water from the teapot and add the tea.

5. A necessary step before adding boiling water to tea is called 'rinsing the tea leaves'. It is mandatory in making Pu'er tea, but can improve any type of tea except broken black tea. After the small tea blocks (or individual small portions) have been placed into the tea pot, pour in a little boiling water and drain it off immediately.

6. Next, pour boiling water (100 degrees C) into the tea pot or glass to the two-thirds level and cover.

7. Let the tea stand for a few minutes. 3 to 5 minutes is recommended, with the shorter time preferred. 8. When it is ready to drink the colour is burgundy transparent … if it is black, you have used too much tea.

8. Rinse the tea drinking cups with hot water.

9. Never use cream (which will curdle) or milk; Puerh is to be drunk pure, nothing to be added.

10. Pour into the cups through a tea strainer or you may drink in the original cup, after the tea leaves have settled in the bottom (the simple way).

11. Strain off any tea liquor left in the pot into another warmed pot and cover it. Don't let the tea stand with the leaves in, it will ruin the taste.

12. You can then make a second infusion from the leaves. Many people say the second infusion is the best.

13. A good quality Puerh such as ours may be enjoyed with 2 or 3 infusions after the first.

Summer Tea Tip ...

In the summer, you may prepare large bottles and leave in the fridge. It is a great drink to quench the thirst and alleviate heat.