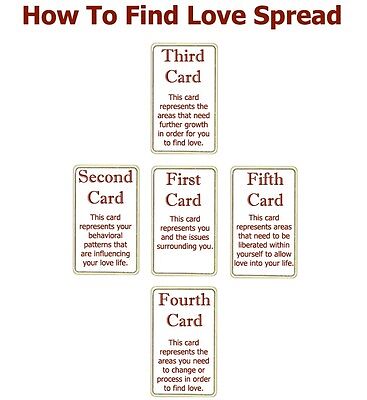 The Secret Tarot Spread of Love

[tarot-true-spread-true-love]

In this picture you can clearly see an example of a tarot card spread to find the true love.

As you can notice, this spread is very similar to the celtic cross.

After you properly shuffle your tarot deck you need to place the first card on the center of the table facing to you. This card will represent the current issues of your life.

The second card is placed to the left of the first one. This will show you the behavior that has influence over your relationships.

The third card is placed above the first one. That is the symbolic representation of what you need to improve in your life if you really want to find the true love.

The next card goes right below the first one, this is what you need to change completely from your way of thinking.

The last card goes to the right of the center, completing the cross pattern. This is probably the most important of all, it will show you what you need to let go in order to find the true love.

After you successfully complete your tarot card reading, take at least two more days to meditate about that consultation. Take a picture of that spread if you need to.

Consider all the aspects in your life that were shown by the cards before deciding if your love reading was accurate or not.