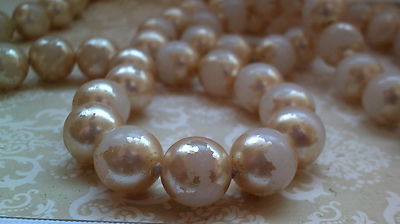 What is Abandoned Jewellery?
To Me, "Abandoned Jewellery" is in the same genre as abandoned buildings and life in the past, that is no more, but something remains...
Every piece of Abandoned Jewellery has a potential story attached to it - either real (in your family tree you might have a picture of grandma wearing a piece of jewellery just like it, for example) or fictional - if you are a creative writer - you might find inspiration for a character in a story - the story could even be around the jewellery!
A crafter might come across a curious jewellery piece that inspires a crochet pattern or card design, or painting or poem etc.
Old Cracked Pearls
are the starting point on the search for Abandoned Jewellery as there seem to be a lot of them about - pretty clasps might be working / intact but the beads are peeling, as long as they aren't too stinky, I think they made interesting curios.
Other Examples
might be necklaces that have working clasps, the chain is fine but the centre focus piece, the flower, the pendant, the shell maybe scratched or other wise looked like its be abandoned and deserted and nature / time has taken its course.
Scuffed cuff links, fancy brooches where the main stone has gone, but you can see the filigree decoration and think - I will keep that - just to know what good jewellery making looks like.
"Grown up" Goths that haven't morphed into Vampires might like this Genre, Family Tree People, or Zombie Fans. I have more items separated as Photo Examples I will add soon, but needless to say it is a different style to Steam Punk or Gothic.
To sum up:
Miss Havisham
would have worn a lot of Abandoned Jewellery!
http://en.wikipedia.org/wiki/Miss_Havisham