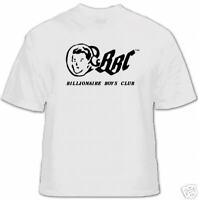 Hi There...
I just want to contribute this guide "How To Spot Fake BBC and Ice Cream's" that i found on
http://www.billionaire-boys-club.co.uk

These are the checklists before buying or bidding BBC & Ice Cream's

BBC TSHIRTS
Price

- Is it too good to be true? Well, it probably is then!

The Logo

- Check the large BBC logo on the front. The lines around the face are supposed to be thin, not thick like the fakes.
FAKE - REAL BBC

Font

- Check the font for the words "Billionaire Boys Club". It should be Italic. Again, The difference can be amazing!

Shirt Tags

- The first run of BBC shirts came with two tags on the inside collar. One was a small BBC logo tag and the other was longer and had washing instructions. Black BBC tags are NOT authentic.

Price Tags

- The original run of BBC shirts came with 3 seperate tags tied together with one piece of string. The first tag is a large red spaceship, that opens into two. The second was a single piece moonman, and the the third was a circular red moonman tag with the BBC mantra and number out of 5900.

Inside collar

- The rear inside collar should have the BBC mantra underneath the tags. It should say "Wealth is of the heart and mind not the pocket". The mantra should be spread over two lines.

Moonman

- The moonman should be on the back of the shirt. The detail is quite good and the lines should be relatively thin, not chunky.

Screen Printed

- Every BBC related logo on the shirt (minus the tags) should be screen printed. Iron-ons are fake!

Errors

- The headphone around the head of the astronaut should not connect to the BBC text.

Packaging

- The original run of BBC shirts came in BAPE style zip bags, but with a large moonman on the front. There were no BAPE logos at all with the shirt.

BAPE logo

- The official, original run did not have a single BAPE logo on the shirt. Anything with a BAPE logo on the sleeve, cannot be confirmed by me! The reason some fakes have the BAPE logo is because Pharrell can be seen wearing t-shirts like this. It is possible that BAPE produced a few like this, but the official release did not carry this logo.
ICE CREAMS
Box

- Ice Creams were sold in Ice Cream boxes, they should have rounded corners. Not square, like a lot of fakes. Real boxes are also larger than the fake ones
Shoehorn

- You got a sealed, pink shoehorn in the box.

Laces

- You got a second pair of laces in the box too. The colour depended on the style and variant of the Ice Creams you bought.

Keyring

- Each pair also carried an Ice Cream cone keyring with it. It's rubber. 1 per pair.

Number

- Each shoe has it's number stitched to the inside of the tongue. Different variants had different runs. Some as little as 2000, others as much as 5500.

Inside Stitching

- The inside of the tongue should have the Ice Cream logo and "ice cream footwear" stitched to the inside. Fakes say the same. Beeper and Dice flavour Ice Creams also say "Made In China". All other editions just say "ice cream footwear". The stitching around this should be rounded in the corners. Fake's are almost completely square.

Ice Cream Cone

- The Ice Cream logo should be detailed and clear on the rear of the shoe.

Print Contrast

- The contrast of the print is far higher on the fakes. It may not be that noticeable at first, but the real ones have more definition to them.

More Stitching

- The front of the tongue is stitched with the Ice Cream font, which should be very clear. Fakes can be very badly stitched.

Soles

- The soles of fakes often have a yellow tint and the image can be unclear.

Variants

- Officially released variants:

Diamond Dollar
Mone1y Rolls
Mini Diamond Dollar
Dice
Pager/Beeper
Name Chain
Teddy Bear
Lipstick
ALL THESE INFORMATION IS TAKEN FROM THE SITE http://www.billionaire-boys-club.co.uk/