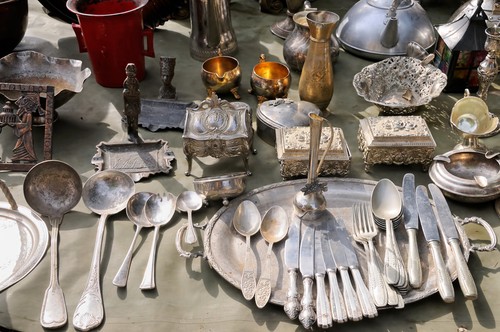 Antique solid silver cutlery is an elegant addition to any dinner table or collection. Its signature shine and durability has made genuine silverware famous around the world. Antique solid silver cutlery comes in a variety of types and designs, from intricate and ornate to simple and refined. Antique silver cutlery can be very valuable, and requires proper maintenance and care to stay looking its best. There are a few easy storage guidelines to be followed in order to keep antique pieces in good condition while on display or after a meal. By considering a few simple points, solid silver cutlery can be kept out of harm's way and securely stored for years, or even centuries, to come. With more than one common approach to storage, an owner must first consider (1) what risks their pieces are exposed to, (2) the types of storage possibilities at their disposal, and (3) the impact of those choices on their cutlery and home.
History of Storing Antique Solid Silver
The solid, or sterling, standard of silver was established in England in around the 1300s. Sterling silver items were considered those comprised of 92.5 percent silver and 7.5 percent other metal (notably copper) as pure silver was too delicate to use on its own. Silver-made items would be taken to the local Assaying Office for testing and then would be stamped with a hallmark that identified its quality. It wasn't until about the 18th century; however, that solid silver cutlery was a household standard used by those who could afford it. Upper class homes would employ professionals, such as silver butlers, who were in charge of keeping solid silver cutlery clean, untarnished, and protected. With intricate patterns and no modern-day products to help, cleaning silverware could be a long and arduous process. Many of the boxes, cloths, and cabinets used by silvermen of the past are now also considered antiques and highly collectable on their own.
Discover Antique Solid Silver Cutlery Storage
Solid silver, though generally beautiful to behold, reacts relatively easily with chemicals in food, water, and even the air. Regardless of whether antique solid silver cutlery is displayed as a collection, stored away for occasional use, or a mainstay of family dinners, these unwanted reactions can occur and permanently damage antique solid silver pieces. This damage is commonly known as tarnishing, and results in the discolouration of the silver as a result of chemical reaction with oxygen. Light tarnishing typically appears as a yellowish colour, while a black colour is an indicator of heavy tarnish and can be more difficult to remove. Proper storage and can help slow down the tarnishing process and keep antique solid silver cutlery protected.
Considering that most buyers of antique solid silver cutlery purchase these items because of their beauty and value, it is no wonder that a selection of storage solutions exist to keep antique solid silver cutlery protected. In view of the fact that substances as simple as water or oxygen have the power to change the composition of silver, it is imperative that the items be kept free and clear of damage or risk. Without little doubt, a specific antique silver storage solution is an important consideration for any antique solid silver cutlery collection.
Types of Storage for Antique Solid Silver Cutlery
Various containers and methods can be found for storing antique silver and are suited to different spaces and needs.
Type

Description

Advantages

Considerations

Cloth Roll

A long piece of fabric with individual pockets for cutlery pieces

Keeps cutlery storage compact

Cutlery can still be exposed to air

Box or Chest

Often carefully crafted wooden box with shelves and grooves for holding cutlery

Airtight storage keeps moisture and oxygen away from the cutlery surface

Not as space-saving as cutlery rolls or bags

Cabinet

Large furniture piece with glass-filled doors for exhibition

Allows the silverware to be seen

Not always airtight and can therefore allow oxidation

Large and generally expensive

Bag

Airtight and often zippered cloth bag

Comes in a variety of sizes and can be used for various solid silver items

Each bag generally only has one pouch, meaning multiple pieces can rub against each other
Factors to Consider When Storing Antique Solid Silver Cutlery
When investigating which of the methods of storage is best suited to caring for particular antique solid silver cutlery needs, it is important to consider the following list of factors.
Cloth Type – If choosing cloth, consider that many high-end brands are designed to absorb gases that can tarnish silver. A buyer should investigate the type of cloth and any added protection that it may bring.
Bags Within Bags – A buyer should be aware that once their antique solid silver cutlery is contained in a cloth roll or cloth bag, it is then viable to put this in a zip-lock polythene bag for airtight storage.
Size – Consider how many antique solid silver cutlery pieces require storage. Most boxes and cloth rolls come with a limited number of spaces for a specific selection of cutlery.
Safety – Antique solid silver cutlery is a valuable asset, and like all valuable assets, it is recommended that the owner consider what storage solution keeps their collection from prying eyes.
Space – While a silver cabinet may be a stunning addition to a room, it may not be a practical solution if the owner is simply looking for protective storage.
How to Care for Antique Solid Silver Cutlery
Considering the high value of most antique solid silver cutlery, it is important to care for these pieces so that they retain their lustre and can be enjoyed for years to come. Even before the pieces are actively place away in their containers, the consideration of careful storage should already be well underway.
The most important step is to keep foreign contaminants off the cutlery. Gently washing the piece (or pieces) in warm soapy water after use, avoiding citrus detergents, helps ensure that the silver is protected. Small amounts of olive oil or vinegar can be used to remove marks and streaking. It is also important to dry antique solid silver cutlery with a non-abrasive cloth, so as not to undermine the effort of storing it correctly. Regardless of the storage type, the pieces should always remain as dry as possible. However, most collectors and manufacturers advise to avoid dishwasher drying, as it is often too harsh. Following these easy tips, as well as frequent use, will help silverware retain its stunning finish.
Popular Manufacturers of Antique Solid Silver Cutlery Storage
The options for antique solid silver cutlery storage are many. Owners can choose from a simple cutlery storage unit, suitable for many cutlery types such as stainless steel,, or they could spend thousands on a designer chest. Some common manufacturers of silver storage options are listed below.
AC Silver
McGraw Wood
Pacific Silvercloth
Robert Welch
Silverguard
Reed & Barton
Wallace
Accessories and Add-ons for Antique Solid Silver Cutlery Storage
To keep the environment surrounding antique solid silver cutlery as contaminant free as possible, there are a few additional tools to consider.
Silica Gel – These small packets of crystals help absorb moisture in the air, reducing humidity.
Anti-Tarnish Strips – These are placed with the cutlery and help absorb gases that react with silver.
Silver Polishing Cloth – A non-abrasive cloth that can help remove surface elements prior to storage.
Finding Antique Solid Silver Storage on eBay
Once you determine the type of antique solid silver cutlery storage that you want to purchase, visit the Home, Furniture and DIY portal on eBay, click on `Furniture & Living´, then `Home Décor´ and start searching item listings. The Categories list on the left-hand side of the eBay page helps to narrow the search.
Searching for Antique Solid Silver Cutlery Storage on eBay
Search eBay listing titles for specific words when shopping for antique solid silver cutlery storage. For example, to find a Reed & Barton silverware chest, type `Reed & Barton Silverware Chest´ into the search box, and then click the Advanced button to customise the results. Also visit eBay's Search Tips page for more advice on searching for antique solid silver cutlery storage with keywords. If you can't find the exact storage solution you want, try shopping eBay Stores..
Conclusion
It is safe to say that owners of antique solid silver cutlery generally wish to maintain its beauty and value. After making it through centuries, many of these pieces are already, or soon will be, important parts of history. Part of being a responsible antique owner is the understanding of how storage can impact the life of a piece. With the consideration of the risks associated with silver's longevity, the options available for safe storage, the relevance of storage choices for each individual, and the awareness of what other considerations are necessary prior to storage; owners can help ensure that precious silverware is protected. Once you have collected this information, you can buy a suitable storage solution for your antique solid silver cutlery safely and securely on eBay..