This guide will show you how to use a Jump Ring Opener. This handy little tool is a perfect time saver, especially if you are making Chain Maille jewellery or hanging charms from a bracelet. It is a low cost item that is essential for anyone who makes jewellery. Jump rings can be fiddly to open but this tool makes it a very easy job.
The Jump Ring Opener can fit many different size and thickness of jump rings, It does not have to fit at the bottom of your finger (where you would normally wear a ring). It is much easier to use when it is held towards the top of your index finger.
I hope you find this guide helpful. Please refer to the pictures as it gives a clear demonstration of how to use a Jump Ring Opener Tool.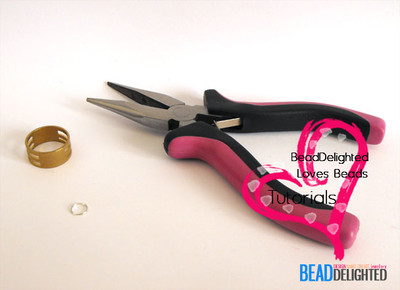 1. You will need
A Jump Ring Opener
A Jump Ring
A Flat Nose Plier
2. Place the Jump Ring Opener onto your index finger, as shown in the photo. Use the opposite hand to the one you write with.
3. Holding the jump ring between your pliers place it into one of the slots.
4. Twist the jump ring towards you with your pliers so that it opens.