How To Use Calottes (Clamshells/Necklace Ends) In Your Jewellery Making
Necklace Ends, also known as calottes or clamshells, are a great way to finish the ends of your jewellery creations. They give a much neater finish than simply tying a knot around a jump ring or clasp and so give a nice professional look at minimum expense. They also protect your stringing material against chaffing so your creations will last longer. If you have never used them before this step by step guide should have you using them like a pro in no time at all.
Calottes are available in a variety of styles and finishes to suit whatever project you are working on:



Here you see a normal knot used to stop the beads sliding off the beading cord (Tiger Tail in this case). Functional but hardly inspiring.
The First Step
The first thing you need to do is thread a Calotte onto your beading cord then tie a simple knot. If the hole in the Calotte is much bigger than your bead cord you can tie a small seed bead on the end to ensure the cord will not pull back through. Make sure you thread the Calotte on the right way as in the picture below.
Now simply side the Calotte all the way up the cord until the knot lays within the core of the Calotte. Trim the end of the cord if necesary to avoid any cord ends sticking out of the Clamshell.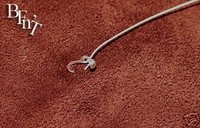 Now the fun part, using a good pair of small pliers gently squeeze the Calotte closed around the knot/bead until it is completly shut.
Almost There
Now easy the loop from the one half of the shell over the other half to secure it in place. This can be a little tricky at first until you master the technique. Don't worry you will soon get the hang of it. Make sure you leave enough of the loop at the front so that you can attached a jump ring later. You can now either go staight to threading your beads or finish this end completely ready for later. Lets finish it off.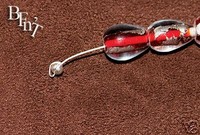 On this example I have now threaded on an open jump ring. Once you get used to closing the Calottes you can combine this and the last step by threading the jump ring on before closing the loop. However I'd advise you to try without first otherwise the ring will just get in the way making a fairly simple job much more complicated than it really needs to be.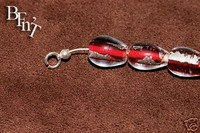 The final Step
You are now almost home and dry. Just a simple matter of threading on your clasp (in this case a 12mm Lobster Clasp) and closing your jump ring. You can now thread on your beads and once in place finish the other end with another Calotte and jump ring and you have a very neat finished article.
Items used in this Tutorial:
Round/Flat Nosed Jewellery Pliers
Tiger Tail in White
Silver Plated Calottes
6mm Heavy Duty Silver Palted Jump Rings
12mm Silver Plated Lobster Clasp
15mm Silver Foil Glass Beads
All items are available in our eBay Store Here.
THANKS FOR VOTING