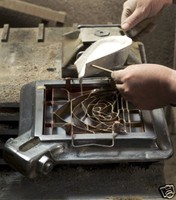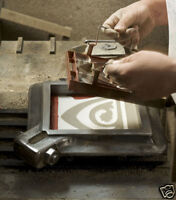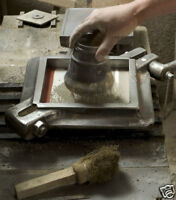 How are Cement Encaustic Tiles Made?
Manchester Mosaics Tiles has a large collection of floor tiles which are produced according to a centuries-old process. All tiles are hand-made with high-grade raw materials through which they have a wear-resistant colour lay.
Step 1 - A copper frame is made of the tile design and placed inside the tile mould.
Step 2 - A mixture of natural marble & granite dust, colour pigment, and wet cement is poured by hand into the copper frame
Step 3 - As the copper frame is removed, the top of the tile is formed leaving a design layer of 5mm depth.
Step 4 - On top of that an 11mm layer of dry Portland cement is added by hand that creates the solid tile backing
Step 5 - This combination is pressed with 4,000 pounds of hydraulic pressure, drawing moisture from the coloured wet cement through the dry backing and left to dry naturally for no less than 4 weeks.
Step 6 - The end product is a beautiful tile with a colour pattern that goes through and through. Thanks to its depth of pigment, the tile can sustain surface chips and still retain its colour. If the tile is exposed to heavy usage, the depth of the colour ensures that the design is renewed time and again.
It is by this traditional production method that the beauty of these tiles have lasted hundred years!
Thank you for your interest and for further information on our range of cement encaustic Victorian styled tiles, please visit our eBay shop - 'Manchester Mosaics Tiles'.
We look forward to helping you find tiles that are uniquely different.