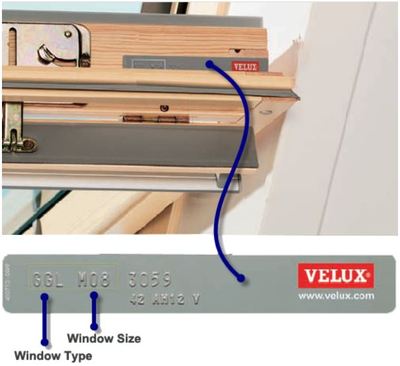 For a perfect fit, you need to discover the reference on the window type sign at the top of the window. You will need to record this information for the order process. Type signs differ in appearance depending on the model of your window. Most roof window manufacturers include a type sign on their windows that shows the window type and size. To order a blind you will need to specify: window type and window size and select the type and size group from the size drop-down menu above the Buy Now button that includes these.

For instance, if your VELUX roof window has the reference code GGL M08, then the corresponding type and size group in the drop-down menu is GGL, GHL, GHU, GPL/M08, 308, 2. This long sequence of references might look confusing but the reason for this is that there are other VELUX roof windows with different reference codes that have the same glass dimensions hence, the same blind fits them all.

Please note, that in order to be able to install a VELUX branded blind on a roof window, it has to be a VELUX made window as well.

Please contact our professional Customer Support Team if you have any questions on 0161 713 0400 (Mo-Fr 08.30h - 16.30h).