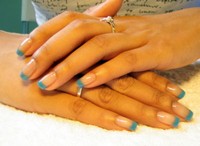 Again this will depend on the client and her lifestyle.
If you are an office worker and are at a computer most of the day.. you could get away with changing your top coat every 3 days..
Busy mums who do lots of house work and runs after her kids all day would probably benefit from changing the top coat every 2 days. The reason for this is that these ladies have VERY busy hands and I have found that the 'seal' along her free-edge is worn away very quickly from all the cleaning, scrubbing and water she comes into contact with. Replacing her top coat frequently will help to seal her gel again preventing water from seeping under her gel causing the gel to lift.