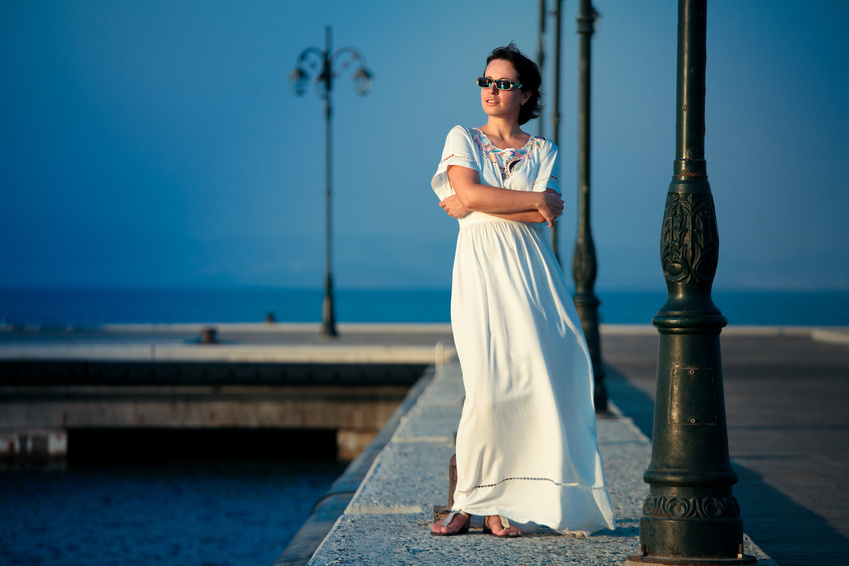 Short sleeve maxi dresses are a great addition to any woman's wardrobe. Designed to fit almost any occasion, these dresses are ideal for casual wear. They can also be dressed up with the help of the right accessories for a more polished look. Most short sleeve options have an empire waist or natural waistline and are longer in style, often reaching floor length.
Jewellery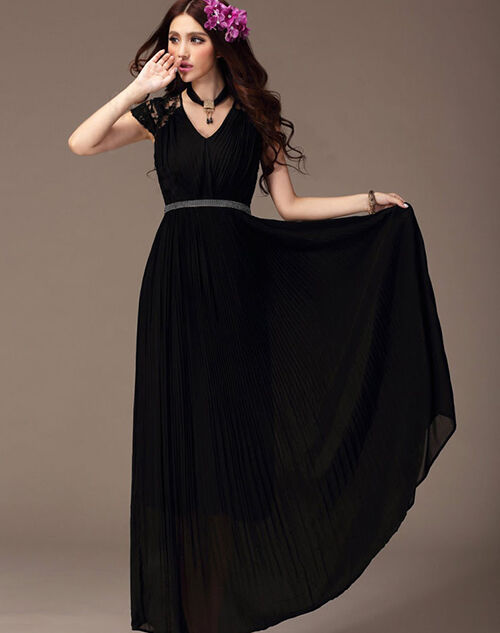 A simple maxi dress in a neutral block colour, such as black, brown, grey, white, dark navy, plum, or olive goes well with virtually anything. Pearl necklaces and crystals can help dress up the outfit, while a beaded necklace or hemp bracelet gives the dress a bohemian vibe. Still, a pair of earrings can help bring the short sleeve maxi dress from casual to chic. Consider feathered earrings or various sized hoop earrings. Complementing bracelets also help add to the simplicity of a short sleeve dress; a bold cuff or layered bangle bracelets help add character when worn on one or both wrists.
Footwear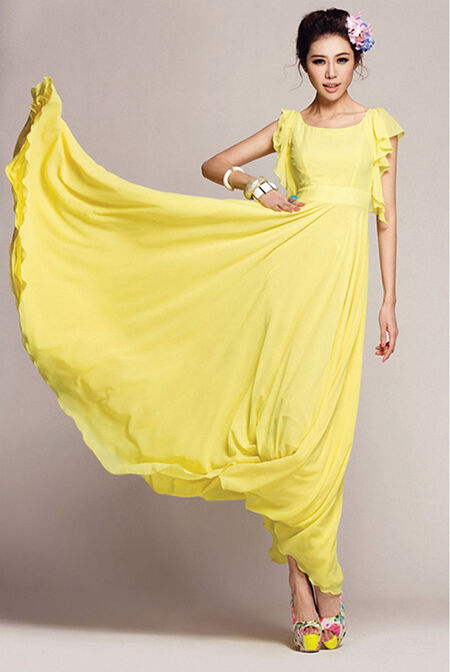 Due to the simplicity of a short sleeve maxi dress, consider a pair of shoes that help showcase your outfit. Maxi dresses are flowy in form and commonly paired with simple strappy sandals, such as gladiator sandals, or wedges for a casual feel. Still, open-toe and strappy pumps that add more height are ideal for more formal occasions. Avoid close-toed shoes, as this footwear tends to clash with the flowiness of the dress.
Belts
Most short sleeve maxi dresses are loose-fitted, and therefore, may cause your body to appear boxy. A belt wrapped around the natural waistline or right below the bust can give the dress a whole new feel, making it look polished and chic. Skinny belts tend to look better on slimmer figures, while medium to large belts help bring a larger woman's body into proportion. Consider a black or dark brown belt that visually slims your midsection and accentuates your curves.
Purse
Consider a handbag that matches or complements the short sleeve maxi dress. Give a black short sleeve maxi dress a splash of colour with a brightly coloured tote if planning to head to the beach, or pair a black leather clutch with a maxi dress made of sheer fabric, such as silk or chiffon, for a night out with friends. Black leather clutches also go well with pleated short sleeve maxi dresses.
Wrap
A wrap can help transform a short sleeve maxi dress from day to evening wear. A denim jacket is perfect for casual settings, while a shawl or cardigan can add to the dress' formality.