Jumpers are a staple for every woman's wardrobe. While many jumpers are comfortable, snuggly, warm winter wear, you can still accessorise them to suit almost any occasion. This keeps you comfortably warm while allowing you to look fabulous, in fashion, and on trend. Knowing how to accessorise different jumper styles ensures you achieve the best possible look from your favourite jumper.
Accessorising a Turtleneck Jumper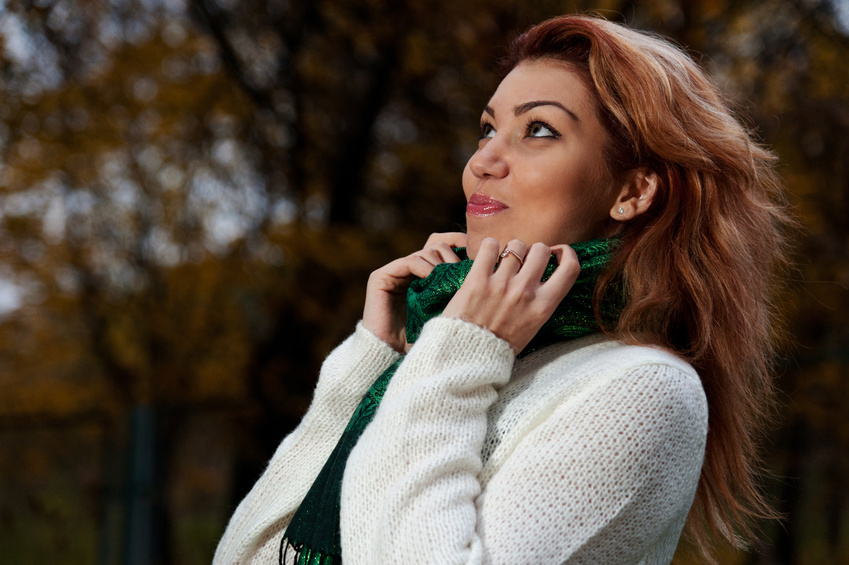 Turtleneck jumpers, also known as roll-neck jumpers, have long, close-fitting necks which reach just below your chin. There is no point in wearing a small, delicate necklace below your turtleneck, as nobody can see it. Instead, wear a large statement necklace on the top, such as a colourful bead necklace, large pendant, or pearl necklace. Alternatively be daring and mix several different necklaces. Add a pashmina or silk scarf to add interest, colour, and texture. For a smart ensemble, wear formal trousers, and pull your look together with a contrasting belt. Adding a belt accentuates your curves and gives definition to your waist. Almost any earring type works well with turtlenecks, including drop earrings and large statement earrings and hoops, as these help lengthen the appearance of your neck. Large, bold studs, such as diamonds or pearls, also look fabulous.
Accessorising a Crew-neck Jumper
Simple, rounded necks, crew-necks jumpers, are easy to accessorise by adding a close-fitting collared shirt underneath. Choose a shirt that compliments the colour of your crew neck, but do not be afraid to experiment with a mixture of colours and patterns. However, try not to overwhelm the observer by wearing too many different patterns and prints. As a general rule of thumb, if you have a patterned jumper, opt for a plain shirt, and vice versa. Alternatively, opt for a detachable collar, to dress up your crew-neck jumper, without having to wear a shirt beneath. Choose from sequins, glitter, faux fur, silk, cotton, linen, or plain detachable collars. Scarves, from chunky snoods, to delicate silk, work well draped loosely around the neck and shoulders. A choker necklace or collar adds interest and texture just above the neckline and adds a touch of drama to your look. To draw the eyes away from your upper body, push your sleeves up to three-quarter length and add multiple bracelets.
Accessorising a V-neck Jumper

A V-neck jumper, as the name implies, has a V-shaped neckline. Accessorise a V-neck by using a necklace which sits above the neckline, drawing attention to you face and upper body. To elongate the appearance of your neck, choose long, drop earrings. To cover the expanse of your chest visible above the neckline, add a large, bold statement necklace or a scarf. Go stylish but casual by pairing a V-neck with a pair of boot-cut jeans and flat pumps or loafers.